How Much Does It Cost To Build an App Like Airbnb?
Do you Want to build an app like Airbnb? Check out Airbnb like app development process, cost estimation, and technology stack.
Answer This Question
The perfect blend of mobile technology has changed the complete scenario of e-hospitality. People tend to share their apartments for travelers in order to earn money. Airbnb is one of the most popular booking services in the world.

Airbnb is an online marketplace that has incredibly added a new chapter in the books of the e-hospitality and rental industry.

Factors that influence the cost of app development like Airbnb

- The choice of the development platform
- Design complexity
- Features and functionality
- Country of the development team
- The team size

So, there is no fixed answer for the cost to develop an app like Airbnb. On average, it may cost you between $15,000 – $35,000.
Nowadays people are getting more and more familiar with the on-demand travel booking application for planning their tours and travels. You can get the hassle-free bookings and get several options with all the necessary details.

There are various on-demand applications like Airbnb, TripAdvisors Rental, etc. are popular for their services and are known across worldwide. When it comes to the cost of developing an app like Airbnb it is difficult to analyze without knowing the actual requirements or scope of the project.

The cost of these travel booking solutions depends upon several factors but the major ones are: Dedicated Team, Customization & Features included, Geographic Location, Skills & Expertise of Developers, Technology Selected, etc.

Benefits of these on-demand travel booking apps:

-> Shared Room Option
-> Multi-Currency Support
-> A Wide Range of Options
-> Free Listing
-> Personalized Pricing Structure
-> Elite & Special places
-> Occasion Plan
-> Advanced Search Option

The cost for these travel and accommodation booking solutions lies somewhere around $20,000 - $30,000 with basic features and functionalities.
Everybody loves to go for vacation. Travel and tourism industries are seasonal yet evergreen business segments.This has always been a profitable business. The emergence of apps in the travel industry is the game changing moment. The inter-networking of the travel and accommodation agencies in a single interface is the most welcoming innovation in this industry.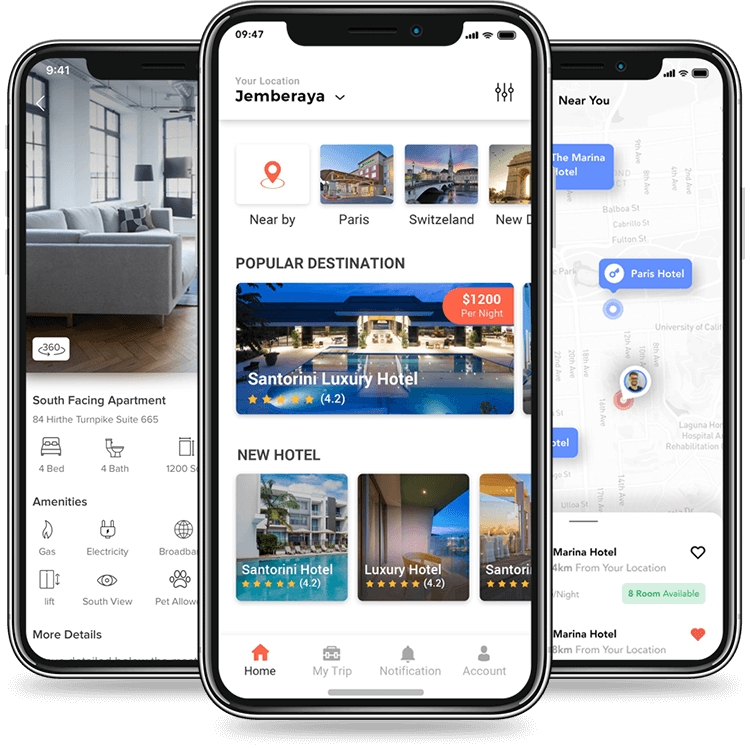 Airbnb is one of the most successful participants in this industry. It's known for its best in class features and best in class services. Those are the main secrets behind the success story of Airbnb. But how about developing an app like Airbnb? How much will that cost you?
The main elements are the features, depending on which the costs are determined. Anyways the processes cannot be skipped during the development of an application, however a rough calculations of the time taken for each process has been mentioned below,
UI/UX designing: 150 to 170 hours
Backend Development : 200 to 250 hour
Frontend development : 150- 200 hours
Project Management: 100- 120 hours
QA (testing and trails): 160- 175 hours
These are the stages or process in the development of an application. To talk about the costs, again it is all subjective, There's no fixed rate of cost for an application. It depends on the needs and requirements of the business. However, the universal rate chart for few countries are mentioned below for your reference,
India : $10 to $80/hour
Australia : $50 to $150/hour
Eastern Europe : $20 to $150/hour
USA/Canada-based dev teams: $50 to $250/hour
Eastern Europe : $20 to $150/hour
Since the exact amount of cost that incurs during the process of development of an application varies from one to another, We haven't mentioned the exact cost rather we have mentioned the time it takes and the hourly charges. This will give a rough estimate or an idea on the cost of developing an app like Airbnb. There's one more alternative you might not want to miss, it's the Airbnb clone app development. Which is comparatively cheaper and time saving. Visit Appdupe for more, it is one of the best in the market.
A sturdy business model is a base for every business. Airbnb is the perfect example that caught the attention of many people. If you are planning about developing an app like Airbnb, consider the following requirements.
Create your business plan
Initially, you have to create a descriptive business plan as it helps you to stay organized and recall your business goal. Make sure to understand your target audience and analyze the recent market trends before you plan your business.
Find a trustworthy mobile app development company
You can hire an app developer or approach a mobile app development company for Airbnb clone app development. There are two possible ways to create a mobile app, namely, conventional technique and modern technique.
Developing your app from scratch is a conventional technique that requires a lot of time and money. On the counter side, creating an app using the Airbnb clone script takes less time and it is budget-friendly.
Concentrate on developing a user-friendly app
In general, users will not prefer an app that lags proper navigation. Therefore, it is necessary to create a user-friendly app with a simple yet intuitive design that appeals to the users.
Incorporate the essential and advanced features
It is necessary to integrate all the important features in the Airbnb clone app. Here is a list of the essential features.
Guest app
Quick search
Filter options
Multi-currency support
Chat with host
Wishlist
Ratings & Reviews
Host app
Special offer
Switch to Host
List your space
Transaction history
In addition to this, incorporating advanced features make your app unique from your competitors. A few of the advanced features of the Airbnb clone app are as follows.
Multi-language compatibility
If you plan to launch your app globally, it is essential that you incorporate the Multi-language compatibility feature into your app. This feature will allow users to use this app in their native language.
Neighborhoods
This feature will facilitate the user to browse for listings according to their neighborhood preferences.
Email list for hosts
This feature will let the host send personalized emails to a larger guest list or people who intend to have an email regarding their property. If people do not show any interest in receiving, the host can opt-out of them for future personalized emails.
Activities planner
This feature is helpful for guests as it informs them about nearby activities and entertainment. So, they can plan their vacation accordingly.
App testing
Before deploying your app on Android or iOS, it is mandatory to test your app. Ensure that your app passes all the testing levels so that the app will be bug-free. As an outcome, this enhances the user experience.
App launching
Once done, you can launch the Airbnb like app on Android, iOS, or both. To withstand your business, you have to bring regular updates for fixing bugs and errors. This only helps to improve the user experience.
Airbnb clone app development cost:
Now, coming to the point of
Airbnb clone app development cost
.. The cost is highly variable as it changes from project to project. It solely depends on app complexity, feature-set integration, app platform, time frame, and much more. Visit our UberLikeApp and schedule a meeting to get a rough cost estimation. Get your customized Airbnb clone app from us.
Online booking while traveling has become a favorite choice for travelers to have a hassle-free trip and Airbnb has been successful in providing an online platform for accommodation facilities. If you are thinking about building an application like Airbnb, then considering certain factors are crucial. For instance, the primary concern for you would be the cost of building the application. Of course, the price differs for various applications. The cost majorly depends on the complexities involved in creating the application.

Also, it depends on which way you decide to make your application. There are two ways to build an Airbnb clone. Either develop it from scratch or directly buy the ready-made Airbnb clone available in the market. For those who are not aware of the difference between the two, let me brief you about it.

Build the app with one of these options:-

Building an application from scratch means an app designed from scratch. It offers all the features and designs as per your requirement. You can also choose technology as per your requirements. Also, it gives the benefit to you or the app developer to be creative. Therefore, designing an app from scratch takes a lot of time and investment, which may not be affordable.

App clone refers to taking inspiration from any other website or app theme, which is unique and different, and copying that concept to create another App clone. To get the best Airbnb clone script for your business, research a few things like trending frameworks, essential features, payment gateway, etc. After that, make a list of a few shortlisted companies and look for which matches your requirements. Apurple is one such company offering this service.

COST OF BUILDING THE APP

The cost of developing an app like Airbnb would differ from company to company. However, I can give you a hint of the price range. To construct an Airbnb-like app from Scratch will cost you around 30,000$. On the contrary, the cost of building an Airbnb clone app would start around 8,000$.

I hope this helps!
Determining the final cost of developing an app like Airbnb is quite a challenging task. Still, with a thorough analysis and a discussion, all the features can help you know the overall cost of the application. Majorly, the factors that are contributing to the final development cost are features, project complexity, technology stack and cost of the developer per hour and more. According to the survey, the average cost to build an application like Airbnb is ranging from $40,000 to $ 55,000+, but it can be significantly fluctuated depending upon the requirements of your business.

Apart, here is the list of engineers you need for the app development estimated hours they take to customize the app:

UI/UX designer: 150–170 hours
Backend Developer: 200–250 hours
Frontend developer: 150- 200 hours
Project Manager: 100- 120 hours
QA Engineer: 160- 175 hours

Here I would like to suggest best company for develop Airbnb app at an affordable price with quality.

WebClues Infotech is the best company for develop app like Airbnb. They offer best app development solution at an affordable price with quality work. they have dedicated team of a developers.

Here you can hire portfolio: https://bit.ly/3tCGI69

For Contact Click here https://bit.ly/3eY1UiZ
For any query below my answer then contact me on My page

One of the most influential apartment-providing services worldwide and travel app at the same time, it took more or less 9 years for the founders of Airbnb to generate sustainable revenue out of their product, and to turn it into Airbnb mobile application finally, once starting with a website. In this article we will go all the way through the making of an app like Airbnb, getting rid of potential losses and calculating the future costs.

A Home-Away-From-Home Idea.

There is no need to educate you about the purpose of the service created within a pure coincidence, a bit of luck and a genuinely creative idea. Speaking of which, it all started back in 2007, when two future Airbnb's founders Brian Chesky and Joe Gebbia had simply no money to pay their accommodation fee; so the solution they came up with at the time was to rent a mattress in their room using a B&B scheme, with an initial goal just to earn a few bucks.

As Business Insider claims, the realization this idea had potential hit both founders soon, and despite the numerous rejections they received from angel investors' side, they have still managed to grow into Airbnb out of Air Bed&Breakfast by 2009, and by the time this article is published (March 2018) this platform can be found in 191 countries and more than 65 000 cities.

Universally-known fact - applications like Uber and Airbnb are considered to be the most progressive ways of human within-society interaction, as there are two factors they help with:

They help to build a "sharing economy" model, a system where assets or services are shared between private individuals, either free or for a certain fee.

They help building the famous "trust loop", the environment where the credence among people is built via certain services and assets.

More to this, the globalization aspect comes into play; as we live in the century of Internet, more free space and more interest to travelling and foreign cultures, it results in the rise of lodging reservation website or app development.

Is booking app like airbnb successful? Let the numbers speak for themselves.

According to WSJ magazine, Air Bed and Breakfast earned almost $1 million in 2009, and then a dramatic hike has begun:

2010: $6.8 millions
2011: $25 millions
2012: $100 millions
2014: $500 millions
2015: $900 millions

2 years after it now, and the "cash flow" tendency has only grown volumes ever since.

However, Airbnb is not the only service on Earth offering B&B within your own house: there are platforms like HomeAway, TripAdvisor, Tripping.com and so on; basically, all of these companies do the same job, attracting customers via various new features, intuitive user experience and loads of freebies. So, property rental app development - what does it take?

Inside the Airbnb's Apartment.

First things first, and in case of property rental business, it is a business model that comes first - a simple, but of a high-risk one. The service you create needs to have at least 2 types of users: those who have something of value and want to share it; and those who don't have a certain service but would be seeking to get it. You as a service would charge a small commission for your assets. The risk this model involves (so it has to be all well-thought) lies in why customers would call for your platform, and the ultimate answer is "for protection".

Read more: How to Make a Business Model Canvas for Mobile App

Taking Airbnb as a role-model
Taking Airbnb as a role-model, their safety is exemplementry because they have combined all 3 types of safety within the app. The mentioned 3 types basically are:

Deposits for the services given. It doesn't work if a client works with a service-provider though (e. g. Uber).

Account verification via social networks. Social media today allow us to receive all the info we want, and when it comes to services like Airbnb, personal data helps to verify the person you're going to live with is not going to fraud you.

Post-charge option, when a credit card number is tied to a certain account so that your product charges for the assistance given. Although this is risky again, for the system first - there always are "empty card/no on-card money" options; so sanctions for these should also be assumed.

A perfect model for a startup aiming at Airbnb clone would be the blended one - where deposit and verification systems are combined, under the circumstance that you as a service keep this deposit, just to be on a safe side.

Regarding safety issues, an important one is an insurance you need to provide - but don't try to hit the 10000000 dollar one Airbnb currently holds; remember that Rome was not built in a day, and Chesky together with Gebbia once started with a 50 000 $ of insurance compensation per person.

So, the basic application structure would consist out of several points (user's interface):

Listing platform - where all the relevant content (apartments, events, places, etc.) is posted.
Users - logged and unlogged; the last ones can go through the whole listing, just can not interact with it, or whichever the option you choose is.
Service verification model, to insure deals go safe and sound.
Deal model - as a connection between users + payment provider.
For Admin things should work in a slightly different manner:

A role system (support, manager, owner for instance); support is required to consult users once there appear crashes in the system; manager needs to cover the communication issues and interact with customers; as an owner, you need to analyze the data in order to make it more lucrative.

The system of financial accounts, integrated with a payment provider you choose, as your application is going to have in-app "purchases" in it.

Analytics (to implement changes within the right time) about the top filters, best locations, favorite apartments and so on.

Though the system seems (and really is) enormously huge at first sight, bear in mind there has been a long way up to the top for the whole Airbnb team, so the success-bringing tricks in their way might not work for you samely. The best cynosure to follow is yet Air Bed&Breakfast company - but back in 2007, when their startup was launched.

Read also: Real estate app development

How much does an app like Airbnb cost?

Of course, every product has a price tag on it, and with a cost to create an app similar to Airbnb many questions might become resolved from the very beginning. For the start, when calculating the cost of creating an app similar to Airbnb, a wise step to make would be an MVP-version for iPhone first, to test product's performance and viability. According to our developers, An iOS application would require several stages of essences development (in hours) as for guest app, including:


Discover the benefits of developing for iOS and Adroid

Making Your App Generate Some Revenue
Fortune.com claims Airbnb's earnings to reach the peak of $3.5 billion a year by 2020, which is a high bar to clear. The two main points affecting the wages your business brings are a business model and monetization plan, which can be "different colors and sizes".

With an app where you can offer apartment reservations services the best revenue-generating "map" would perhaps be in-app purchases once your platform charges a fee for its services. Of course, it is always possible to get some extra cash flow by adding in-app paid advertisement, but we wouldn't recommend sticking to it. Imagine launching a new platform where the increase in the number of active users is the main goal for a first quartile...Statistics proved people are threatened by intrusive banners and rising-everywhere pop-ups, so it might cause a detestation to your app, and that's something you definitely don't want to happen right from the start.
Have you ever experienced it? Travel, it's one among the simplest belongings you should experience it once in your life. And, it's now easy or is often done through mobile apps like Airbnb. Within the era of growing technology, most are dreaming of creating their plans about the travel adventure but at the foremost economical rates.

Airbnb, Homeaway, Flipkey, and Roomorama are the foremost popular apps and in great demand worldwide.
But, the way to build an app like Airbnb? It's the foremost commonly asked questions which it comes develop Airbnb app clone. You'll build Travel App Like Airbnb or Hotel Booking App with advanced features with simple steps. Airbnb mobile app is featured with impressive interface and functionality.

How To Create An App Like – Airbnb?
Panels, features, technology, and cost of Airbnb Like App Development that you simply got to specialize in. There are various things like advanced technology, panels, and advanced features that you simply got to consider in building an app like Airbnb.

User Panel
• Signup/Sign-in
• User Profile
• Inbox
• Booking History
• Home Listing
• Home/Hotel Search by Location
• Explore Hotels
• Filter
• Calendar
• Add to Favorite
• Hotel Rating & Reviews
• Gallery
• Hotel/Room Booking
• View Amenities
• Offers
• Payment
• Social Sharing
• Refer & Earn
• Cancel Booking
• Notifications

Host Panel
• Registration
• Sign in
• Manage Profile And Profile Information
• Manage Home Listing
• Booking Listing
• Manage Room Services
• Rate and Review Guests
• Account Details
• Booking History

Admin Panel
• Dashboard
• Manage Users
• Manage Hosts
• Manage New Listing
• Manage Booking
• Offers
• Booking History
• Manage Host's Commission
• Feedback and complaints
• Push Notifications
• Sales Insights

Technologies (Language & Framework)

To build an application like Airbnb, you ought to highly specialize in the subsequent aspects.
• Android Development: Android Studio
• IOS Development: Swift
• PHP Framework: PHP, CSS3, HTML5, JavaScript, JQuery
• Database: MySQL
• Hosting: Amazon Cloud
• Twilio: Sinch or similar- for text messaging.
• MapKit: for straightforward map integration.
• CoreLocation: this is often wont to provide real-time tracking of the user's geolocation.
• Facebook SDK and Google Sign In: For a quick, and straightforward check-in via social channels.
• PayPal Payments Pro/Stripe Payments Tool And Mail Chimp: for online payments.
• Real-time Analytics: Google Analytics, Flurry, etc.
• Cloud Technology: Amazon Data Servers, Google Cloud Server.
• MongoDB, Postgress, or similar: For database.

How Much Does It Cost to Make An Airbnb Like App
How to build an Airbnb application? After the deep analysis, and discussion of all features, we've come to the ultimate conclusion i.e. the general cost of application. what proportion does it cost to create an app like Airbnb?

Pricing of developers supported the location:
• India – $10 to $80/hour
• Australia – $50 to $150/hour
• Eastern Europe – $20 to $150/hour
• USA/Canada-based dev teams – $50 to $250/hour
• Eastern Europe – $20 to $150/hour

App-like Airbnb the event cost would be around $20,000 to $60,000 in India.