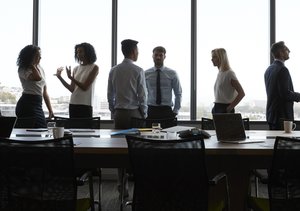 Have the option to work from home? Here are 6 tips on how to organize your home office to maximize productivity and comfort.
According to Forbes magazine, a study by the Telework Research Network revealed that 30 million Americans work from home at least part of the time, and that number is expected to increase by 63% in the next five years. Your boss may mutter about productivity at home, but there's a good chance you'll have the opportunity to give it a try at some point during your career.
1. Defining the Space
A Stanford study, recently reported in The Atlantic, found that telecommuters are more efficient, at least partially because they don't need as many breaks or sick days. They also seem to get more work done during the day. Other studies suggest that heightened productivity at home is due to having fewer distractions than we do at the office.
Related Article: 3 Steps to Avoid the Distractions of Working from Home
That's why it's important to dedicate a space in your home that is just about work. Create your office space as far from the main living area as you can in order to avoid distractions from home. If you're working with a small space, do your best to keep the office out of view when it's time to clock out. Any space behind a door or curtain will work—even building a workspace into a closet allows you to create the illusion of separation. 
2. Lighting
Layering ambient, task and accent lighting throughout the space will allow you to create serenity or focus, depending on what the moment requires. Natural light is key too—it keeps your mood and motivation on the upswing. At my design firm, we love Roman shades for the lighting control they offer, and their clean lines come together with the warmth and texture of the fabric to create a user-friendly sense of order and efficiency.
If you like the economy and efficiency of window blinds, consider upgrading from vinyl mini-blinds to interior shutters. They also offer good lighting control and privacy, but bring a great sense of timeless tradition to a professional setting.
3. Look Beneath the Surface
Most of us require a little space to spread out now and again, but we forget to account for that when designing the office. An L-shaped work area maximizes space and even allows for a second tenant in your home office. Modular furniture is trending right now, and allows ease and flexibility in design, but don't be afraid to go luxe with custom cabinetry designed just for you. If you're working from home, this can be well worth the investment.
4. Go Ahead, Buy the Chair
We know you've had your eye on that great office chair—and now is the time to go for it! Today's ergonomic designs will actually keep you more alert and lengthen your attention span. You may not have much administrative support at home, but you should not do without the ergonomic support you need.
Related Article: 7 Affordable Productivity Tools for Small Business Owners
5. File under "Fabulous"
Rethink how you organize. Baskets, made of fabric, metal or wood look great, hold files and supplies nicely, and have no hardware to deal with. Color coded three-ring binders are a great alternative to more industrial options for organizing paperwork. If you really need to go big, consider tucking those cabinets under your work surface—or even in a closet.
6. Be Your Own Equipment Manager
Electronic equipment can quickly destroy your sense of order. Tuck printers, scanners and routers into a cabinet, or install shelves beneath the work surface and hide them there while keeping them easily accessible. There are lots of cable management systems available these days, so just shop for what works best in your space. Be sure to include this element. A tangled twist of cords is sure to distract you from the work at hand.
Almost half the people who are given the choice to telecommute report that they like their jobs, according to Telework and Forbes, while only 27% of people required to stay in the office make the same statement. Of course, satisfaction nurtures motivation and motivation nurtures productivity, so it makes perfect sense to us. If you'd rather do what you do from home, make a few simple changes to your home office setting, and then make the most of the chance to work from home when it comes your way.