An excellent business or organizational blog is a digital marketing strategy that engages a target audience, drives website traffic, helps people and boosts sales. However, starting, running and maintaining a blog might seem overwhelming to a busy SMB owner. 
One way to get inspired and move forward with your blog is to study successful blogs that consistently provide quality content to an engaged audience. 
7 excellent blogs to emulate
While there's no one formula for blog success, we're highlighting seven organizations that deliver valuable content via high-quality blog posts so you can learn from their approaches. 
Livestrong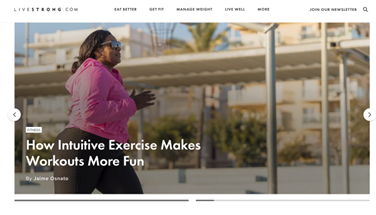 Livestrong.com is a wellness blog that started as a partnership with infamous Tour de France winner Lance Armstrong, who is no longer involved. Livestrong.com is separate from – but supportive of – the Livestrong Foundation, which aims to provide financial, physical and emotional support to people affected by cancer. 
Livestrong.com began with a focus on exercise but now also covers eating well, weight management and general health topics. Rather than appealing to hardcore fitness devotees only, its broad appeal makes the content approachable for people of every age, ability level and stage of their wellness journey. The tone is relaxed and informative, not judgmental.
The takeaway: Livestrong.com concentrates on health information and recommendations but appeals to a broader audience because of its laid-back approach. In addition to eye-catching headlines and quality written content, the blog uses images of everyday people so readers can easily relate to the content. You'll find plenty of healthy food, exercise and weight loss advice, as well as posts about aging, physical concerns and mental health.
Gizmodo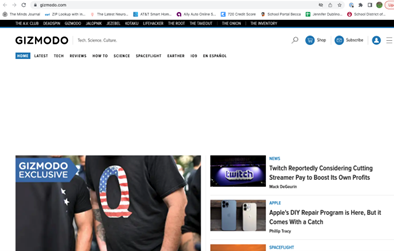 Gizmodo is a tech blog that goes beyond technology to explore topics that appeal to its target market, including science, spaceflight, and the intersection between technology and culture. This broad focus makes Gizmodo more than somewhere to check out the latest tech gadget's features; readers can put the technology in the context of its real-world applications.
The takeaway: Gizmodo doesn't limit itself to one strict category. Instead, it discovers its readership's interests and delivers the content. Because readers spend more time browsing the site, encountering various advertisers, it's easier for the blog to sell advertising and increase revenue.
To get the most SEO benefit from your blog, include three to five instances of a keyword in each post, link between your blog posts, link to outside (noncompeting) websites, and try to get outside websites to link to your blog.
SmartBlogger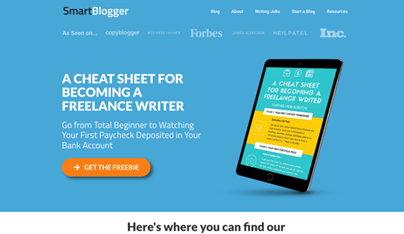 With more than 4 million readers, SmartBlogger is one of the most popular online resources for active or aspiring paid freelance writers and bloggers. While many blogs provide excellent information to people in an online magazine form, SmartBlogger takes a more proactive approach. In addition to regular-length blog posts, it offers comprehensive, free multi-chapter guides on finding paid freelance writing jobs and starting your own blog.
SmartBlogger doesn't have any advertising; instead, it makes money by selling courses to its readers. It starts with a "freemium" offering to get readers on its email list, then promotes its two courses. One course offers a content marketing certification, and the other shows readers how to earn passive income from their blog. [Related article: How to Repurpose Old Content to Boost Marketing Results] 
As an additional revenue stream, SmartBlogger shares other products that might interest its target market via affiliate links. Every person who signs up via a link generates money for SmartBlogger.
The takeaway: SmartBlogger understands that people who want to make money freelancing need and want details – not generalities – and it delivers. Its decision not to have advertising on its site lets readers focus on essential detailed information, while the blog earns revenue in two ways.
The Pioneer Woman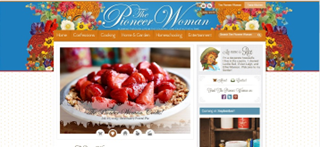 It started with just a blog, but today, Ree Drummond is a TV star, celebrity chef and the author of several cookbooks and children's books. Her down-to-earth honesty, gently snarky humor and hearty rustic cooking have taken The Pioneer Woman to blogging superstardom. Drummond speaks to the boot-scootin' country folk in all of us – that place inside that craves Grandma's cooking and the smell of an open campfire. Rustic is in, and The Pioneer Woman is riding the crest of the wave. 
The takeaway: The biggest takeaway from Drummond is to be yourself. Her blog posts and shows are full of personal insight, family triumphs and tribulations, and passion for her life, family and food.
Seth Godin
Marketer Seth Godin's blog is go-to reading for those in advertising, other creative disciplines and people who just want to think about life with a little more introspection. Yes, the proflic author of books like Purple Cow: Transform Your Business by Being Remarkable and This Is Marketing: You Can't Be Seen Until You Learn To See weaves marketing advice into his blog posts, but many of the themes are applicable to life in general. 
A recent post on "the power of TK," the editing notation that means a piece of information is still to come, contained this revelation: "The existence of TK means we don't have to stop and wait for everything to be perfect before we proceed … Our lives are filled with TK moments. It'll come. No need to stop and wait for it." Godin's short, easily readable daily dispatches are guaranteed to make you think about life, and business, in a new way.
The takeaway: Your blog should be about your area of expertise, but that doesn't mean you can't convey larger, deeper lessons about life and offer nuggets of wisdom that transcend your particular industry. Your posts also needn't be long. Sometimes the best points only need a handful of short sentences. Most of Godin's posts take less than five minutes to read; his audience may be even more devoted because of that brevity.
Richard Branson's Blog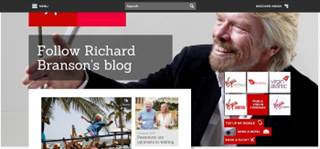 Richard Branson, the personable CEO of Virgin, shares wit, wisdom and general life advice on his blog, aptly titled Richard Branson's Blog. He advocates a positive work-life balance, and his blog is loaded with photos of him doing interesting, extraordinary and absolutely ordinary things. There's something inherently fascinating about the not-so-secret life of a billionaire who likes to have fun.
The takeaway: Unleash your inner CEO. Starting a business isn't easy. It takes a fighter: someone passionate, interested and involved. Most CEOs have plenty of stories about success, failure and what it takes to win. Branson's award-winning blog is full of personal stories sure to appeal to entrepreneurs everywhere. 
Careful Cents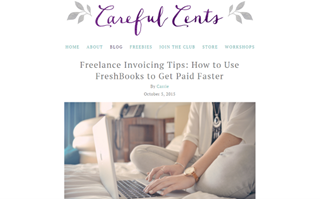 Carrie Smith turned her passion into her business and brought an active community along for the ride. Her Careful Cents blog is clean and inviting, and each post is a direct answer to the most burning financial questions every freelancer and startup entrepreneur wants to know. Her award-winning blog is successful because it delivers exactly what visitors want – information, inspiration and honest answers that are often difficult to find elsewhere.
The takeaway: Smith's Careful Cents blog demonstrates how to find your niche by identifying what your intended audience most wants to know. Research what competitors in your niche cover, figure out what they don't and then break the mold. Go where no one else goes. Address challenges, such as how to handle non-paying customers and how to deal with international clients.