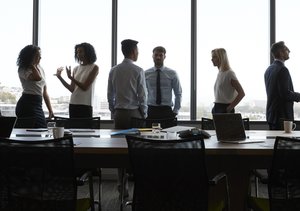 Assertiveness skills are essential traits for your employees to possess. If they are able to express their feelings, thoughts and ...
Assertiveness skills are essential traits for your employees to possess. If they are able to express their feelings, thoughts and beliefs in an honest, confident and open way, they'll make the sale or close the deal. Being assertive is hard for many people, because it is generally a learned trait. Often, people are either aggressive or passive. That's not the same as being assertive.

Assertiveness training teaches employees communication techniques, so they can better express themself. They learn to speak in a positive, productive and effective way. They become comfortable dealing with clients and customers, especially those who are not receptive to your company's message. Training helps them make requests and state complaints constructively and learn how to share ideas and concerns with more diplomacy and freedom. Help your employees improve relationships by:

1. Measuring their assertiveness skills to identify what they need to improve.

2. Signing them up for assertiveness training classes that are hands-on and interactive.

3. Using assertiveness courses to develop positive communication skills among your employees.
Provide a quiz to determine the extent of pre-existing assertive communication skills
Your employees can't begin improving assertiveness until you figure out how assertive they already are. A quiz can measure assertiveness. It tells you the areas in which they do well and the areas in which they need training.

Promote your employees to use assertiveness in business to accomplish their goals
Your staff is never going to make the sale or strike the deal if they take no for an answer. Assertiveness in business is not the same thing as aggressiveness, though. Aggressiveness can be rude, mean or obnoxious. Assertiveness is about learning not to take criticism which is not constructive, learning to say no and asking others if you're being clear.

Pay your employees to attend training sessions and seminars focused on improving assertiveness
Assertiveness training enhances people's self-confidence and their professional rapport with others. People who work in commission-based fields, tele-marketing or other jobs that rely on getting a "yes" answer should take advantage of a seminar or class that's interactive and hands-on. The classes include role-playing and interactions to help get your employees comfortable with putting the idea of assertiveness into action.

Encourage employees to use online assertiveness training on a regular basis to brush up on their assertiveness skills in the workplace.