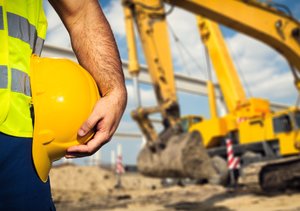 High-risk industries, like construction, need workers' comp insurance, but how much coverage does your business need?
Nearly every state in the union requires that employers provide workers' compensation to cover medical expenses and lost wages should someone get hurt on the job. It also compensates the family if the worker dies. Employers purchase workers' compensation insurance to cover not only these costs but also legal fees should the employee sue for damages related to the injuries. 
In general, how much workers' compensation you need to purchase depends on state law and varies by industry. A reputable insurance agency should be able to advise you, but if you prefer to do your homework first, here are some things to consider. 
What does your state require?
To know the minimum workers' compensation you need to get, check your state laws. Only Texas does not mandate that companies provide workers' compensation for their employees. State laws further require that your workers' comp policies be audited regularly to ensure you are paying an appropriate amount for the risk exposure your people face on the job. 

Some states exempt small businesses from having to get workers' comp coverage if you are the sole proprietor of your business. However, before choosing this option, weigh the potential expense of a claim against the costs of the insurance. 

Check with your state department of labor or labor commission to find out the standards. The National Federation of Independent Business has a chart comparing workers' comp laws by state.
What risks do your workers face?
Construction is the riskiest of all professions, according to OSHA. It has identified the four most serious accidents as falls, being struck by an object, electrocution, and getting caught in or between equipment. With greater risk comes a greater need for workers' comp.  
The risks vary by specific jobs as well. For example, in Florida in December 2016, workers' comp for roofers was $21.32 per $100 of payroll, while carpentry ran $10.31 to $16.92, depending on the type of dwelling. 

While strong safety standards and procedures can offset the danger, the more hazards your employees work with, the more coverage you should consider. The National Council on Compensation Insurance has compiled a list of the most common risks associated with specific jobs. In addition, OSHA has identified the most common accident risks associated with construction:
Falls 
Scaffolding  
Respiratory hazards 
Hazardous energy  
Powered industrial trucks  
Ladders  
Machinery 
Electrical and wiring work 
What are the financial risks?
Some areas have a higher cost of living than others. That means employees need to make more than their peers elsewhere in order to achieve a similar standard of living. It also means the noninsured costs of medical treatment are higher. Therefore, their losses due to injuries on the job are higher than if they were employed in a different city or state, and they will need more workers' comp. Conversely, if you are in an area where the cost of living is lower, their financial need is less. 
How much does workers' comp insurance cost?
Workers' compensation insurance varies widely, not only by industry but by the particular job. The Bureau of Labor Statistics provides a breakdown of workers' comp insurance costs by occupational group, industry, and part-time vs. full-time work.  
According to Insureon.com, workers' compensation insurance costs $5,723 to $7,656 per employee per year on average for general contracting. This is for a $500,000 policy with no deductible.  
If you are shopping for a workers' comp insurance broker, you should not only compare prices but also coverage and reputation. Find an agent who answers your calls quickly and understands your state's requirements as well as the specific hazards of your industry. 

Workers' comp and workers' comp insurance are required by law in nearly every state. Even where they aren't, having coverage makes sense, especially in the hazardous career of construction, to protect your business as well as your workers.