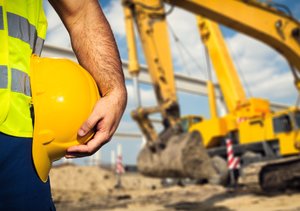 Almost every state requires businesses to have workers' comp insurance. Here are some things to consider when figuring out how much you need.
In almost every state, employers are required to provide workers' compensation to cover expenses such as medical costs and lost wages if someone gets hurt on the job. It provides crucial coverage to protect both employees and your business.
"When employees are injured on the job, workers' compensation provides financial coverage for their medical bills, lost wages and other expenses," said Jeff Somers, president of Insureon. "In addition to protecting employees, workers' compensation limits employers' exposure to lawsuits after work-related injuries."
Editor's note: Looking for workers' compensation insurance? Fill out the below questionnaire to have our vendor partners contact you with free information.
How much workers' compensation you need depends on a number of factors, including state laws and your industry. Reputable insurance agencies should be able to help you determine how much you need. But if you want to do your homework, here are some things to consider.
What does your state require?
To understand workers' compensation requirements, you need to check your state laws. Only Texas doesn't mandate that companies provide workers' compensation for their employees. State laws further require that your workers' comp policies be audited regularly to ensure you are paying an appropriate amount for the risk exposure your people face on the job.
"Since workers' compensation laws are regulated at the state level, business owners should first determine when workers' compensation insurance is required for their business," Somers said. "Usually, it's as soon as they hire an employee." [Interested in business liability insurance? Check out our best picks.] 
Some states exempt you from getting workers' comp coverage if you are the sole employee of your business. Before you opt to use this exemption, Somers suggests weighing the potential expense of the claim against the cost of insurance.
"Since most health insurance plans exclude coverage for work-related injuries, sole proprietors may be putting their livelihood on the line if they opt to skip workers' comp coverage for themselves," he added.
What risks do your workers face?
Many factors impact how much workers' compensation coverage a business owner needs and how much it'll cost, including the risks workers face. With higher risk comes greater need for workers' compensation.
"High-risk industries, such as construction, will typically pay more than companies where most workers have desk jobs," said Somers.
Risks vary by job and industry. For example, in Florida in December 2016, workers' comp for roofers was $21.32 per $100 of payroll, while carpentry ran $10.31 to $15.92, depending on the type of dwelling.
While strong safety standards and procedures can offset the danger, the more hazards your employees work with, the more coverage you should consider. Common risks associated with construction include falls, trench or scaffold collapse, electric shock, and repetitive-motion injuries, according to OSHA.
What are the financial risks?
Some cities and states have higher costs of living than others. That means employees need to make more to achieve a similar standard of living. It also means the noninsured costs of medical treatment are higher. Therefore, their losses due to injuries on the job are higher than if they were employed in a different city or state, and they will need more workers' comp.
How much does workers' comp insurance cost?
Workers' compensation insurance varies widely by industry and job type. According to Insureon, workers' comp costs in the U.S. range from 75 cents in Texas to $2.74 in Alaska per $100 in employee wages.
If you are shopping for a workers' comp insurance broker, you should compare prices, coverage and reputation. You'll want an agent who answers your calls quickly and understands your state's requirements as well as the specific hazards of your industry.
John Espenschied, agency principal and owner at Insurance Brokers Group, recommends shopping around when you're searching for workers compensation insurance.
"Each insurance carrier will have different risk appetites for business," he said. "Some companies will consider high-risk companies like roofers, while other companies will never offer work comp for [a] roofing business. This means the rates can fluctuate between one carrier and another."
Additional reporting by Karina Fabian.