Cybercriminals are targeting mobile apps more than ever, with headline-making victims like Verizon, Amazon, Slack and Klarna. Security breaches and cyber attacks destroy consumer trust, devastating a company's reputation and bottom line. For this reason, companies must integrate application security testing into the software development life cycle (SDLC). 
Application security testing isn't always a developer's top priority. It can be frustrating and challenging. It's tempting to ignore security testing when you're under pressure to meet release-date deadlines, which leads to a host of additional problems and software development costs if vulnerabilities are detected later in the process. 
In truth, application security testing doesn't have to be arduous. We'll explore how you can integrate security testing without incurring excessive technical and managerial overhead.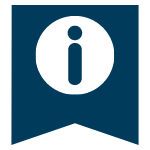 FYI: Cyber insurance can help cover the costs associated with a data breach. But there's no way to mitigate the brand damage and regulatory consequences of a cybercrime incident.
Static application security testing tools explained
Static application security testing (SAST) tools take much of the hassle out of application security testing. While dynamic testing tools (DAST) only work on compiled and executable binaries, SAST tools scan at the source-code level. They're easier for development teams to apply, making them essentially a software development team's best friend.
Here are some of the benefits of SAST tools for application security testing: 
SAST tools find problems early. SAST tools help reduce the costs and rippling effects when security risks are discovered late. With SAST, teams engage in application security testing in the development process's early stages, making it easier for developers, project managers, and application security professionals to make adjustments while safeguarding agility.
SAST tools can be automated. Teams can also automate and transparently integrate SAST application testing into the development process. This minimizes the extra effort that usually goes into assessing applications for security.
SAST tool example
The Checkmarx SAST engine, part of the Checkmarx One application security platform, is an excellent SAST tool example. This security tool helps developers self-test their code before committing it for compile, and far before launch. 
Checkmarx discovers security flaws and offers recommendations on fixing bugs and complying with development best practices.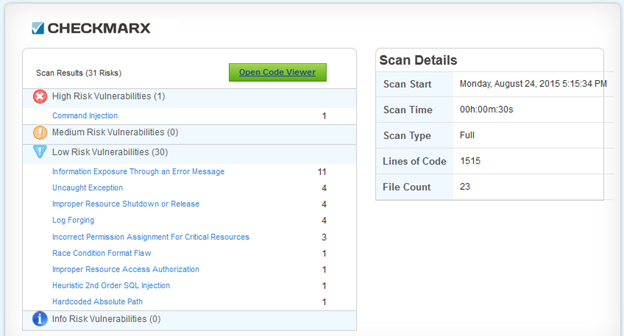 Source: Checkmarx
How to implement application security testing
After familiarizing your team with SAST tools, take the following steps when implementing application security testing. 
1. Fit security testing into your development life cycle.
Integrating security responsibilities between AppSec and development teams is crucial.
Security testing should not be a separate phase of your development process. Instead, you should incorporate security in parallel to all other development disciplines, including requirement analysis, software design and construction. 
Here's how to fit security testing into your development life cycle: 
Create smaller tasks. Distributing application security testing into smaller tasks can make the job easier, faster and cheaper.
Prioritize tasks. Task prioritization is also crucial. You'll be able to schedule bundles of tasks for each iteration by classifying them by nature and criticality. This helps ensure all tasks are covered through the software development life cycle. For example, you might want to ensure user input is escaped to prevent SQL injection and Cross Site Scripting (XSS) attacks. This is a critical task the team must perform at each iteration. For less important tasks like user account control (UAC) testing, you could perform application security testing every second or third iteration.
2. Perform threat modeling on new features.
Threat modeling analyzes coding from a hacker's point of view, allowing you to identify and fix threats and security loopholes before adding other code layers.
A number of commercial threat-modeling tools exist, including Cairis, OWASP Threat Dragon, IriusRisk and securiCAD.
3. Perform penetration testing on new features.
Finding vulnerabilities that stem from design flaws – such as bad sanitation techniques and weak cloud data encryption – is one of the more challenging aspects of application security testing. These vulnerabilities can become major headaches if you discover them too late in the development cycle when dozens – or even hundreds – of modules will break if you fix the bug.
To avoid this, examine every new feature from a security perspective to see if hackers could exploit it for malicious purposes.
Well-established penetration-testing tools include Wireshark, Nessus, Netsparker, Acunetix and Nmap.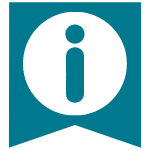 Did you know? Leading containerized programming platforms AWS and Microsoft Azure both provide high-level encryption and security.
4. Ensure security team members communicate. 
Almost 70% of security professionals say there's a cultural divide between them and the development teams they work with, according to the Ponemon Institute. Developers often see co-workers responsible for security as "project completion prevention teams."
Overcoming this disconnect isn't easy. You must facilitate communication between different teams involved with your application security testing process, including in-house and outsourced software development teams. If you don't, individual members will generally only focus on their own concerns.
Keep an open line of internal communication across management, the AppSec team and software developers so everyone is on the same page about priorities, expectations and goals.
Earlier, we discussed the Checkmarx SAST engine. This tool helps streamline communication among different members of the development team. You can integrate the suite into most developers' tools, including IDEs, bug-tracking tools, build servers, source code repositories and reporting systems.
With Checkmarx, everyone has a central point through which they can raise awareness of and manage security alerts and flaws. They can also track enhancements and changes throughout the app's entire life cycle.
5. Employ foundational security practices.
Make every development team member responsible for the security of the products they create. This act alone will contribute to your product's overall reliability.
Developers are, by nature, focused on functionality. AppSec professionals focus on security. Creating a security-focused culture within your business will require developers to be aware of and use secure coding techniques and best practices.
6. Be aware of vulnerabilities.
Developers should focus on understanding potential attack vectors, addressing common security flaws in programming languages, and avoiding bad coding habits. Knowing what to do – and what not to do – helps plug security gaps from the get-go.
Adopt agreed security testing standards and metrics for all your applications. For example, ensuring applications run with underprivileged accounts can prevent disasters even when security holes are discovered in your application.
7. Review software from a security perspective. 
Periodically review your software's architecture from a security perspective. Focus on how systems interact and how bad actors could exploit API and other factors beyond your system's boundaries.
As a best practice, check your coding style and structure against security standards defined by prominent institutes such as SANS and OWASP.
You're more likely to find and fix potential security flaws before your app goes into production when the following is true:
You have clear, secure application standards.
There are measures in place for when those standards aren't achieved.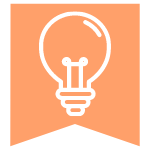 Tip: Include DevOps in your next cybersecurity risk assessment to ensure company-wide protection, especially if your team uses sensitive data when modeling and testing systems and apps.
Incorporate security in the development process
Much of the pain when companies suffer data breaches results from inadequate testing and poor coding practices. If you incorporate security at all levels during the development process, you'll spot flaws much sooner, avoiding the risks of a damaged brand, lost revenues and legal costs.
The right practices and tools will help you build secure apps in a frictionless way, eliminating the unpleasant and expensive security surprises that may haunt your team after your application's release.
Daan Pepijn contributed to the reporting and writing in this article.