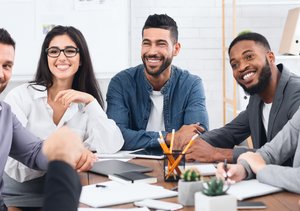 Charles Handy is considered to be one of the greatest business minds of the 20th century, and continues to make contributions to the ...
Charles Handy is considered to be one of the greatest business minds of the 20th century, and continues to make contributions to the field of management today. The management theory of Charles Handy uses innovative approaches to examine the individuals that make up an organization and how they can work more effectively and authentically.

The Charles Handy theory of management is informed by ideas about motivation and the structure of work, different cultures of organization and predictions about the changing nature of work. Charles Handy has authored a range of books and participated in interviews that can help you apply Handy's theory in your own work environment.

Consider the following factors for making the most of the management theory of Charles Handy:

Use the Charles Handy management theory of motivation to create a more effective organization.
Consider the different organizational cultures to see where your business fits into Charles Handy theory.
Stay current with Handy's predictions about the future of work.
Learn about the motivational theories developed by Charles Handy
Charles Handy discusses motivation in the workplace by using the term "motivation calculus," which comprises three main factors: needs, results and effectiveness. Handy also uses a village metaphor to explain the structure of most organizations, suggesting that people are more motivated to work in a setting that is responsive to social relationships.

Understand which culture of work your business uses based on Charles Handy management theory
Another main contribution of Charles Handy in the management field has been the idea of organizational cultures. Handy suggested four main types of organizational culture: the power culture, represented by Zeus, the role culture, represented by Apollo, the task culture, represent by Athena and the person culture, represented by Dionysus.

Keep your business current using Charles Handy management theory
Charles Handy was one of the first people to predict the changing nature of 21st-century work. Handy suggested that people would no longer stay with a single career their entire lives, and that more and more people would become involved in individualized and entrepreneurial work. You can use a detailed knowledge of Charles Handy management theory to keep your business structure current in the trends of a changing business world.

Charles Handy is well known for thinking about the big picture, rather than small pieces of an organization. To really make the most of Handy's ideas, try to envision your business as a complex network of people, rather than attempting to break work down into small, distinct components.