It's often said that we live in a digital world, but maybe "distracting world" would be a more accurate term.
In the old days, phone calls and snail mail made up the bulk of our communication. Today, we're on the receiving end of a barrage of pings and dings: texts, emails, messaging apps, video calls and countless other notifications. Besides the constant switching between apps, information flow within a business has also become more siloed. How can teams keep track of conversation threads spread out over many different communication apps and tools, especially those involving customers?
Enter Nextiva. The business communications provider just released a new version of its unified communications platform – one that could potentially change the game for how companies approach team productivity and customer relationship management (CRM). 
What is NextivaONE?
Nextiva has long been a top business phone system provider. Its cloud based system combines voice, text and video communications into one platform. However, the newest version of its platform, NextivaONE, takes things a step further by attempting to solve the communication app overload that businesses and employees are currently facing. 
In addition to its voice, video and text services, NextivaONE is folding other communication services, such as email and instant messaging, into its existing platform. The idea is that you can view all communications – emails, texts, phone calls, etc. – from a customer or a colleague on one screen, significantly cutting down on digital clutter and productivity-draining context switching.
How NextivaONE benefits small businesses
As any office worker can attest, this jumble of apps has become incredibly unwieldy. In fact, the average worker moves between tasks, tools or projects up to 30 times a day. Known as "context switching," this jumping around is a massive drain on productivity for companies. With every switch, it can take a worker 20 to 30 minutes to mentally re-engage with the previous activity. How often have you sat in front of a computer for five hours at a time, only to accomplish one hour of work?
The average worker juggles notifications from over six different apps, according to Qatalog and GitLab.
As Nextiva co-founder and CEO Tomas Gorny told us, oftentimes "you're looking for information." With conversations spread across multiple apps, retrieving information becomes a time-consuming affair. By keeping all communications in one thread, search becomes a lot easier. 
With NextivaONE's threaded conversations, the entire history of interactions from texts, emails and phone calls lives on one continuous message thread. For example, let's say you receive a text message from a customer. Instead of checking your phone, the message will appear on the NextivaONE screen. Then, maybe that same customer gives you a phone call. That will appear in your NextivaONE conversation thread as well, along with a transcription of the conversation. 
While you can currently connect your email (Outlook or Gmail), text messages and instant messaging service Slack to the platform, Nextiva plans on rolling out additional integrations in the near future, including WhatsApp, social media networks and online fax services. 
Gorny compares the functionality to the advent of smartphones, which brought together "everything in one pane of glass, with communication being the core."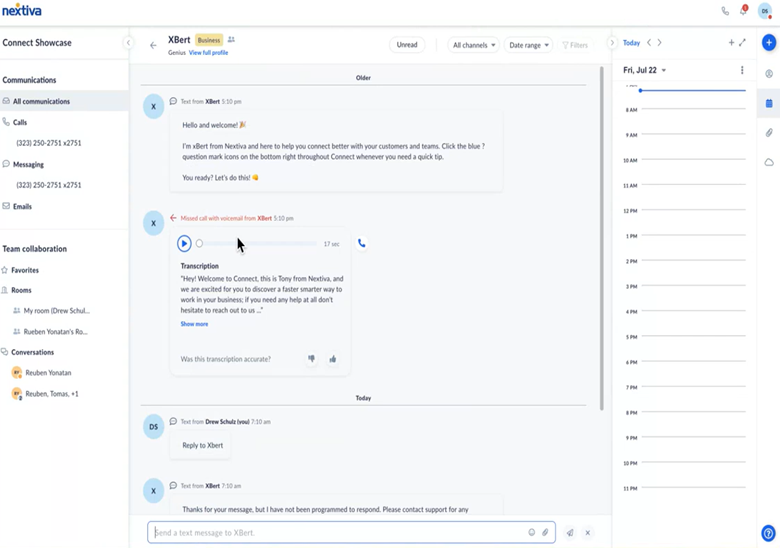 With NextivaONE, all communications are visible in one thread.
Source: Nextiva
NextivaONE also includes a team productivity feature that it calls Rooms, which functions similarly to a group chat. With Rooms, you can add colleagues, share files, designate a group moderator (or "owner"), and set visibility to public or private. Collaboration tools include texting, phone calls and video chat, with all communications stored in a continuous thread like the example above. In today's increasingly remote world, technology that brings employees together might be one of the biggest business hacks for increasing productivity. 
Gorny also foresees NextivaONE providing a much more personalized experience for CRM users. Today, people have more ways than ever to contact companies, but customer service has become impersonal. That problem is compounded by complex CRM software that employees fail to implement, which is one of the reasons why small businesses often fail at CRM. But with NextivaONE, conversations with customers across multiple communication mediums live forever in one conversation thread. That means little conversational details, such as a recent move or job change, remain visible, helping to make interactions feel more personal. 
"We're communicating more, but connecting less," Gorny said. 
Another use case is employee onboarding. Whenever workers leave a company, their knowledge of customers leaves with them. But with NextivaONE, those interactions don't disappear, so new employees can quickly bring themselves up to speed on a particular customer's needs. Gorny even envisions a day when NextivaONE will predict what customers will ask for based on data from previous conversations, potentially saving businesses big money when they invest in employee training.