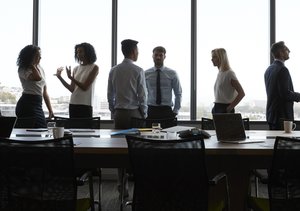 Water, ice and slippery surfaces can all make work dangerous without slip-resistant shoes and boots. Whether you work in the ...
Water, ice and slippery surfaces can all make work dangerous without slip-resistant shoes and boots. Whether you work in the construction industry, medical field or agriculture, you need non-slip shoes to help you accomplish your tasks with ease.

Slip-resistant shoes and boots have a number of benefits over regular shoes.


Slip resistant work shoes offer greater traction in slippery conditions.
They give weather resistant protection for wet and cold conditions.
Slip-resistant shoes keep your feet warm and comfortable.
Non-slip shoes and boots stand up to tough working conditions with durability.
Slip-resistant shoes and boots come in a wide range of attractive, useful styles. Before you suffer from a fall, wet feet or other slip related injury, look into the non-slip shoes and boots available.
Purchase non-slip shoes that offer good support
Although you need good traction, you also need shoes or boots that give your feet and body good support and comfort. Without good support, you may suffer from foot, knee or leg pain. Good arch and heel support as well as adequate padding for your feet is important to the health of your feet, so don't neglect this aspect.

Consider the conditions that you need your slip-resistant shoes to work in
The best traction is only good if the rest of the shoe fits your working conditions, whether those are on a construction site, in the emergency room or delivering the mail.


Buy attractive slip resistant work shoes
Just because your shoes need to fulfill a function doesn't mean that they have to be ugly. You can find stylish, attractive options with non-slip soles for most shoe and boot options. Check out the different color, material and style options to make a statement with your shoes.

Add extra traction to slip-resistant work shoes
If you find that your non-slip shoes need a little extra traction in very slippery conditions, you can add slip on products that fit over your shoes and give you added traction. These products will fit over both regular and work shoes, but they provide extra traction on ice and extreme slippery surfaces.


The right socks will also make your non-slip shoes more comfortable. If you're working outdoors, you want a warm sock that isn't bulky and that doesn't create friction on your foot. Try a wool sock or one made from a synthetic material that whisks wetness away from your foot.
Always try on work shoes that you're not familiar with. Even if you order online, look for local sources of the shoe to make sure that they fit well.