Consumers hate dealing with car problems.
This isn't a newsflash to anyone, as numerous studies, reports and news stories have proven it.
But thanks to new technologies, the face of the auto sales and services industry is changing, starting with the automobile itself.  
New onboard technology allows analysts to measure a vehicle's performance, increase the security of a vehicle, and control the environment of the vehicle through mobile devices.  
In a similar manner, customer service in the auto repair industry is going through it's own tech-based revolution and the implications could be fantastic news for consumers.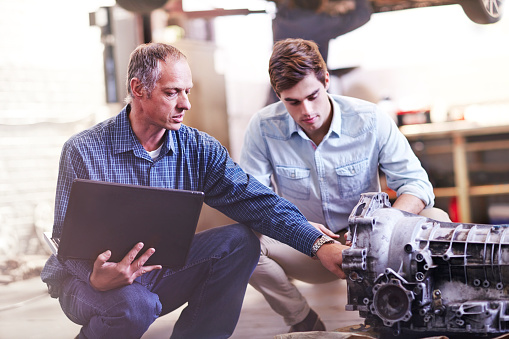 Video Technology Tells All
One of the largest customer complaints in new car buying is in being held accountable for the scratches and dents of their cars, when the damage occurred in transit.  
Mercedes has chosen an IP solution that involves video surveillance software and IP cameras.  
Exterior cameras record every detail of the vehicle being loaded onto the showroom, including every number of the license plate.  
The technology allows live video anywhere over the Internet. Specific dates, times, or incidents can be located on the video within seconds.
Any accidents or incidents involving theft or vandalism are instantly recorded. As this technology becomes a standard for dealerships, service and repair centers, customers can be more reassured they are not carrying the expense of someone else's carelessness.  
In addition, more and more consumers are taking matters into their own hands by leaving dash cams on when they go in for a repair.
Andrew Markel, editor at Underhood Service, a popular publication for auto repair professionals, said, "More and more customers are leaving their dash cams on when they give their keys over to a shop. This has created problems for technicians who work on flat rate."
He added a bit of positive technology news for both service centers and consumers, "Shift Mobility and Car Fax are working on a system where a camera reads a customer's plate as they drive up to a shop and the vehicle information is already populated on the repair order. In some states, the customer's name might even pop up."
In short, video technology is empowering customers and streamlining the repair process.
Service Center Benefits
There's nothing more stressful than car repairs, car accidents, body damage or even regular car maintenance.
Cars need to be maintained, whether they are directly off the assembly line or have been around for thirty years.  
Service and repair centers are competitive and do not have standard rates for their services, which can make it difficult for consumers to get a fair shake.
Even more startling, a U.S. News report from 2013 revealed that women really do get charged more for auto service and maintenance than men do.
But thanks to technology, that no longer has to be the case.
The days of choosing between potentially getting overcharged or spending hours comparing quotes online or over the phone are over.
Thanks to new platforms, such as the Blitzify app, customers can shop for auto repair services, maintenance and oil changes from a handy mobile app, without having to do a web search for multiple quotes and without ever picking up a phone.   
The app also allows users to sort auto service companies by reviews, areas of expertise, distance and more.
Technology like this is a win-win for both consumers and auto dealerships, as it instills a sense of trust and transparency in the transaction.
Consumers feel empowered and the auto service company gets exposure to customers that might not have found them otherwise.
In a recent survey, auto dealers and auto service centers were asked to describe the number one trend in the auto services industry.
Nick H, a service manager for City Buick in Toronto and part of the Humberview Group responded by saying, "The amount and speed of the advancement of technology, customers have more access than ever to information related to the auto service industry. They can shop around to find what business they want to take their car to for service by finding who is closest to them, what review scores they have, and so on."
Mobile Visibility
Customer service apps benefit both customers and the automotive service industry.  
Companies that use apps to transmit information concerning their offers, their services and their special deals gain instant visibility among the global mobile device users.  
They increase viewer interest with blogs and tips concerning such things as the differences between synthetic petroleum based oil, how to drive in adverse weather conditions, winter auto maintenance and trouble shooting for common vehicle problems.  
They can keep virtual records of the automobile's history from the assembly line to the show room, satisfying customer inquiries.  
By networking with other customer service providers, they can increase their cyber security, measure automobile performance and keep track of their company's growth.  
Steve Finlay, editor at Wards Auto, one of the leading publications in the auto industry, offered up this advice for auto service centers trying to keep up with the changing environment, "CRM providers have come a long way in making their systems easier to use and more 'dashboard' oriented, but there still remain plenty of instances of a dealership spending a lot of money on CRM software and the staff, for whatever reason, doesn't use it, or doesn't use it anywhere close to its capabilities. In stores where it is used optimally, it's because it is a management priority."
Finlay also suggests, "Prominently putting service department offerings on the dealership website. Advocates of that note that most of a typical dealership website's real estate is dedicated to selling cars. The advocates say some fixed-ops services and products should be featured on the website too, not buried somewhere, or not there at all."
Conclusion
Today's consumers  are more connected and informed than ever, and savvy car dealers and service providers are going all out to please today's mobile customers.  
Even waiting rooms at auto dealerships and service centers have changed.
While waiting in the service area, customers nowadays have access to high-speed Wi-Fi and work stations for their online needs.  
For the millions of customers who have made online transactions a part of their everyday lives and who run their businesses from a computer, this saves time and reduces stress when they're stuck at the repair shop.
Experts anticipate that the rise of in-car technology and consumer-centric mobile apps will truly put customers in the driver's seat when it comes to purchasing and repairing their vehicles.
As a result, auto dealers and service providers who pride themselves in doing fair, honest business and who are willing to evolve to a changing customer base will likely find themselves with the lion's share of the market, and it's about time.