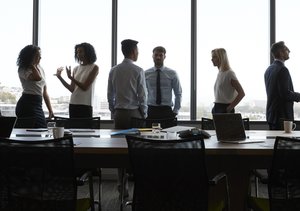 Commercial auto insurance is not the easiest type of policy to understand.  It offers different coverage options than a personal ...
Commercial auto insurance is not the easiest type of policy to understand. It offers different coverage options than a personal auto policy and different questions and concerns arise. Now that you have decided on purchasing a commercial auto insurance policy (See the Guide to Knowing When You Need Commercial Auto Insurance) here are the answers to just a few of the questions you might have concerning a commercial auto policy. Just remember that this guide does not cover all the different facets of commercial vehicle insurance and not all companies offer all these coverages. Talk to your insurance provider to see what coverages are offered and which ones are right for you.
Why can't I keep my business vehicle insured under my personal auto policy?
a) The personal auto policy is not designed to cover the amount of risk that is associated with commercial autos.
b) If your car is used in the course of your business, it is necessary to have the vehicle covered under a commercial policy to be sure you are properly insured.
c) A claim can be denied under a personal auto policy if the vehicle involved was being operated in the course of business.
What is cargo coverage?
a) Cargo coverage extends coverage to cargo being transported by the vehicle. It may be mandatory for businesses that transport goods for hire.
I am being asked to list a company that I am hauling for as a certificate holder, why?
a) The business requesting to be added as a certificate holder will be notified of the limits you carry on your commercial auto policy. This is done to protect its interests due to the liability associated with you working for another business.
Can I get coverage for a vehicle that I am leasing for business purposes?
a) Yes, such coverage is available. Discuss this with your insurance company to determine the extent of such coverage.
If I occasionally carry customers/clients in my vehicle, will they be covered?
a) In most cases you would have coverage for the occasional client that rides in your vehicle.
b) If you frequently have clients as passengers in your vehicle or transport passengers for hire, you may still be covered but you should let your agent know so that he or she can help make sure you carry adequate coverage.
Do I need to add Medical Coverages?
a) Medical Coverage for your commercial vehicle can be purchased for an additional premium to protect you and your passengers in the event of an accident. Discuss your needs with your insurance representative when you call for a quote.
Do I need a state or federal filing?
a) A filing is a mandatory notification sent to a state or federal agency that an insured satisfies the requirements of that agency. Filings are generally required for businesses that transport people/property for hire.
b) Check with your state Department of Transportation. You will be guided as to whether you need state or federal filings. If you're unsure, you can contact the Public Utilities Commission or Public Services Commission for more information. (DMV is also a good place to start)
c) Risks NOT LIKELY to require filings include: contractors, churches, farmers, delivery, etc.
d) Risks LIKELY to require filings include: taxis, buses, inter/intrastate hauling for hire, etc.
Do I have to add all of my employees to the policy?
a) Yes, if there is any chance that the employee has ACCESS to drive the vehicle, they should be added to the policy.
Can I insure my commercial grade vehicle that is used for personal use?
a) In many cases an insurance company can offer coverage for commercial body styles that are used for personal use. Ask your insurance provider for commercial van insurance or truck insurance.
b) Several examples include: delivery van, box truck, dump truck used to maintain your own property, flat bed truck used to transport your own show vehicles.
Disclaimer Please Note: The above-listed tips are for informational use only. Refer to your insurance policy contract for specific information regarding your coverages and for actual terms, conditions and exclusions. The above statements are general in nature and may or may not reflect the actual terms of your insurance policy.

Coverage is underwritten by Government Employees Insurance Company and in some cases coverage is provided through GEICO Insurance Agency, Inc., which has made an arrangement with National Indemnity Company (NICO), a Berkshire Hathaway affiliate. Some discounts, coverages, payment plans and features are not available in all states or in all GEICO companies. See geico.com for more details. Government Employees Employees Insurance Co. is a subsidiary of Berkshire Hathaway Inc. GEICO: Washington DC 20076. © 2009 GEICO