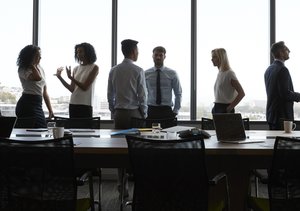 Restaurant pagers have evolved with new technology, and today's options sometimes don't even require that a restaurateur buy ...
Restaurant pagers have evolved with new technology, and today's options sometimes don't even require that a restaurateur buy any pagers. Cell phone paging is the newest innovation in dining services, but traditional handheld pagers, vibrating coasters with flashing lights, and even text pagers still have a place in restaurants of varying size and atmosphere.

Begin using restaurant paging systems confidently, and avoid embarrassing mistakes that could cost you patrons. Once you've chosen from among the restaurant pager systems that meet your needs, find out what it takes to get your restaurant paging system up and running.

1. Use the most widely recognized restaurant paging systems: coaster pagers.

2. Employ integrated restaurant paging systems for staff and servers.

3. Explore the next generation of restaurant guest pagers: customer cell phones.
Select and install restaurant guest pagers to get your patrons' attention
Fine eating establishments can easily put a restaurant reservation pager system into service with a few adjustments and some staff training. The first step to PA-free dining is to select a computer -- usually the one at the hostess or matre'd station -- and install the system software. Connect the wireless paging device to the computer's CPU, follow the installation instructions for your system software, and start using your pagers.


Train all your staff to use vibrating paging systems to improve customer service
Even the best restaurant paging systems, coaster pagers and computerized call programs won't do much to improve patron loyalty if the service is lacking. Implement a comprehensive paging system, especially for upscale dining establishments, to include server calling and valet paging services. Many of the most popular paging systems come a la carte, the perfect plan for a growing business that can start with the basics and expand to improve service even more.

Modernize your eatery with cell phone-based restaurant guest paging
A well-orchestrated service call paging system for restaurant use can do wonders to improve service in your establishment, but you can move into the 21st Century and offer customers the high-tech service they've come to expect with cell phone paging. The systems require access to an Internet-equipped computer, or even offer the option of a self-service kiosk that plays the role of hostess. Patrons simply make a few selections on the touch-screen to reserve a place in line. The system then calls with wait-time updates and ready-to-seat audio or text messages. Customers have the option to accept future marketing calls and text messages from your restaurant, a fact that could help you build an electronic marketing presence.

Charge and sanitize every restaurant pager you'll be using before its inaugural run in the hands of a customer, and repeat the practice every evening. Some pager providers offer products made from anti-microbial materials -- an investment in health that diners can appreciate.