AIG is a large insurance provider that has been in business for 100 years and offers a wide range of solutions for businesses of all sizes.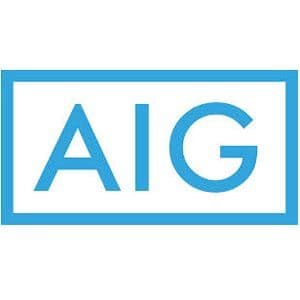 AIG offers customized general liability business insurance solutions for clients of various sizes. AIG has 100 years of experience and is one of the world's largest insurers, with customers in over 80 countries. The company offers coverage for bodily injury, property damage, advertising and personal injury, and additional coverage for industry-specific exposures.
Types of Insurance
AIG has a wide breadth of underwriting experience in industries with all levels of risk. Its nationwide network of underwriters and claims and loss control consultants includes dedicated units specializing in construction, energy, healthcare, real estate and transportation.
AIG's custom business liability insurance means your business is protected according to its level of risk. The company offers the standard general liability insurance coverage for small to large businesses, plus industry-specific coverage for building services contractors, financial institutions, government contractors, hospitality and gaming businesses, real estate, retail, and security guards.
In addition, AIG offers several other types of liability insurance, including product liability insurance, which protects you from the expenses of a product recall or contaminated product. It also has a selection of management liability policies, such as directors and officers (D&O) liability insurance, which protects company leaders from claims brought by shareholders, competitors and regulators; employment practices liability, which protects businesses from various employee claims; and fiduciary liability, which provides protection for benefit claims and the employees who oversee them.
AIG also offers a host of professional liability policies, including specialty professional liability, technology and robotics services, media content coverage, publishers and broadcasters coverage, managed care, and leaders' risk.
Besides liability, AIG can handle a wide range of your business's other insurance needs. Its commercial lines of insurance include accident and health, casualty, cyber, environmental, fronting and captive services, mergers and acquisitions, political risk, property, surety, surplus lines, and warranty. AIG also offers workers' compensation insurance.
Claims Process
AIG's claims services are segmented by specialty to ensure your claims are handled by professionals who have experience with your specific type of loss or product. Once you report a claim, AIG will initiate investigative, engineering and legal experts right away to help protect your business. The company has dedicated teams for construction, energy, entertainment, product liability, commercial auto, real estate, retail, transportation and fleets, and other industries that face uniquely complex risks.
AIG has a web-based claims management system that provides access to current claims data. The system allows you to report a claim online and routes the submission to the appropriate claim office. You can also review claim details at the client, account or policy level with AIG's dashboard displays. You can use it to locate nearby hospitals, doctors or other medical facilities and view state-specific regulations on provider selection. For businesses with sophisticated risk management needs, the company has advanced features, such as adjuster activity notes, alerts, profiling, OSHA facilitation and wireless access through web-enabled devices.
The best way to deal with claims, of course, is to avoid them altogether. AIG will evaluate your potential for loss and recommend cost-effective measures to mitigate those risks. The company offers loss-control services and web-based analysis tools to help you manage risks, create safety programs, and understand regulatory requirements for your industry.
AIG has a mobile-friendly solution that eases the process for employees to submit workers' compensation claims. Accessible from any computer or mobile device, the workers' compensation platform allows employees to track details about their claims and benefits, access the live call center to get immediate answers to any questions, set up direct deposit for any payments they are due, set reminders for doctor visits, and find in-network physicians, hospitals and pharmacies.
AIG has a worldwide presence and a long history of insuring businesses. This insurer focuses on providing your business agents and adjusters who specialize in your industry, and it has a robust tool set for making and tracking claims and devising ways to mitigate risk. AIG is a solid company to consider for general liability insurance as well as coverage enhancements specialized for your industry.
Customer Support
You can contact AIG by phone or online form with questions about its insurance policies. In addition, the AIG website has a number of helpful related materials, including articles by the company's risk specialists on a wide range of topics, such as emerging risks and innovative technology.
AIG is not an accredited member of the Better Business Bureau and it has no rating. Over the past three years, 148 complaints have been filed against the company with the BBB.