Earlier this week, the Supreme Court held hearings on the Biden Administration's plan to forgive $400 million in student loan debt. Legal experts are divided: Some predict that the White House will prevail while others are convinced that a majority of justices will rule against the plan.
Whatever SCOTUS decides, student loan debt remains a major concern for Gen Z and millennial workers. More and more companies are offering student loan repayment assistance as a competitive benefit. (Employers can allocate $5,250 — tax-free annually, per worker, to help with student debt.)
In an environment where CEOs' biggest concern is "workforce, workforce, workforce," as Commerce Secretary Gina Raimondo said Thursday, the best way to recruit fresh-out-of-college talent might be to help them pay their college debt off.
Sleep: Help your employees catch enough z's.
Slack: Is a colleague wasting time in the work chat?
Star: Emily in Paris showrunner compares U.S. and French work styles.
With Ruby, Your Customer Service Is Open 24/7/365
Exceptional customer service is essential for a new company's growth, but most small businesses lack the resources to build and staff support 24/7/365 like their larger competitors. Fortunately, Ruby provides quick answers and personalized service to customers all day, every day.
Trusted by 14,000+ business owners, Ruby's remote receptionists and chat specialists create meaningful human connections, building trust and helping win new business. With over 700 friendly and knowledgeable employees throughout the U.S., Ruby offers virtual receptionist services, managed live chat, informative analytics, and more, supported by dynamic proprietary technology.
Watch a demo and see what Ruby can do for the people you serve. Imagine your business, powered by Ruby.
A Good Night's Sleep Is Necessary for a Good Day's Work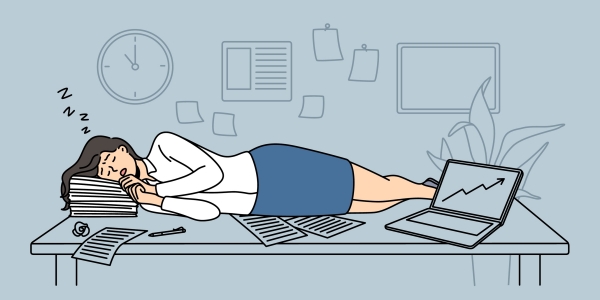 The average American tosses and turns during 10 sleepless nights per month. That's bad news for employees and employers alike, because sleeplessness costs U.S. businesses $150 billion to $400 billion per year due to poor performance, absenteeism, workplace accidents, and more.
The annual switch to daylight saving time alone causes a 68% spike in lost workdays, according to the American Psychological Association. Excelling at work with no sleep is darn near impossible, so whether your employees are catching enough "z's" should keep you up at night.
"When companies and organizations contact us, their wellness surveys show that difficulty sleeping is a top-rated issue among leaders and employees," says Alanna McGinn, CEO of Good Night Sleep Site, a sleep consulting business with clients such as Warner Bros. and Unilever. McGinn founded it in 2007 after her daughter was born and she struggled with sleep.
Sleep and stress management go hand in hand, McGinn explains. An increase in anxiety decreases one's sleep, which then causes even more anxiety. It's a terrible cycle that affects personal life, work life, and health. 
"When we're not sleeping well, we aren't making proper nutritional choices, we don't have the energy to move our body, and it affects our day to day," says McGinn, "which can affect everything from productivity to sales and workplace culture."
So, what can businesses do to help employees rest?
"Whether it's unhealthy shift work practices or team executives that feel they need to be on call 24/7, it can be increasingly difficult to establish consistent sleep patterns," McGinn says. "We need to change workplace cultures so CEOs aren't sending emails at 2 a.m. or not taking vacation days because that is where benchmarks are set for the rest of the company."
She also recommends the following quick tips to help companies see a boost in sleep habits and ensure productivity:
Create a wellness advisory board to conduct surveys and oversee systems that improve employee health, including mental health.

Set a designated rest area where employees can take a personal pause throughout the day.

Encourage proper sleep hygiene through internal newsletters and communication, or practice a team sleep challenge that all can take part in with encouragement through friendly competition.
Slacking On Slack: When a Colleague Wastes Your Time in the Work Chat
Dr. Eden King is a Rice University professor of psychology and former president of the Society for Industrial and Organizational Psychology.
A reader asks: "A coworker spends the entire day posting irrelevant links and comments on our work Slack channel. Actual work topics get buried in all the messages. Should I personally ask them to stop, ask our manager to intervene, mute them, or find a different solution?"
Any time someone gives us negative feedback about our behavior, we get defensive. It's a natural human response — we want and need to feel good about ourselves. 
So when you want to change a coworker's behavior (whether work-related or not), it's a good idea to approach the situation carefully to reduce defensiveness. The how, when, and where of this communication really matters. 
Find a time and place that is comfortable and quiet. It may also be a good idea to keep the first round of feedback casual and light and see if they take the hint. If they don't, you could be more direct and say something like, "Hey, listen, I've been having a hard time focusing on work. The posts are so funny/awesome/fabulous, it's hard for me to concentrate. I don't want to miss them, but I also don't want to miss work communication. Could you save some of them for non-work hours?"
This kind of framing still gives them some positive feedback (awesome posts!) and also centers you and your experience more than them and their behavior. If they react defensively or are unwilling to change, you still have the option to bring in your boss to make the muting decision.
Do you have a business question for the Organizational Psychologist's Couch? Send it to b.newsletter@business.com and our experts may answer in an upcoming issue.
Emily in Paris Showrunner Answers: Is French Work Culture So Laissez Faire?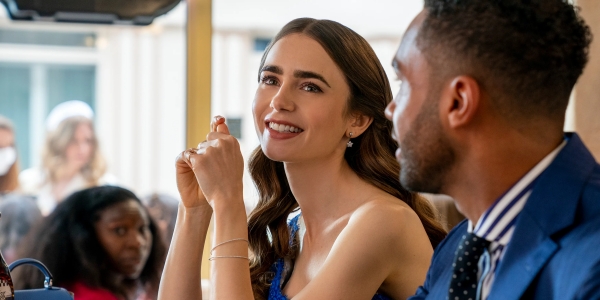 The Netflix series Emily in Paris follows Emily Cooper (Lily Collins), a Chicago marketing associate, as she navigates the differences between American and French work styles. One of the biggest culture shocks is the fact that unplugging away from the office is so commonplace. In fact, Emily's colleagues constantly quip about how illegal it is to send work emails on weekends.
As Emily adapts to this shift, she loosens up and begins to appreciate the beauty that Paris has to offer. Her key to business success is taking advantage of her unconfined schedule, making friendships and connections that ultimately help her secure major partnerships.
Some Parisians have criticized the show for its exaggerated cultural differences. (Most offices in Paris do, in fact, open before 10:30 a.m.) So, what's the truth?
We asked showrunner Darren Star, who also created TV classics Beverly Hills 90210, Melrose Place, and Sex and the City.
Star admits to b. that his depiction of office culture in Paris is a bit idealized, but it's to drive home a good point. "I think that we all need time for ourselves — time for a life — besides work," Star says. "That's one message of this show. It's my fantasy of what French work culture is like."
Beyond the work-life balance message, Emily in Paris is worth watching for its passionate affairs, high-end fashion shows, Michelin-starred restaurants, and other depictions of the lux life.
On March 3rd in business history:
1791: The U.S. House of Representatives instituted the first federal excise tax. It led to the Whiskey Rebellion.
1842: Massachusetts limited working hours for children to only 10 hours per day. (Labor laws had a way to go … )
1875: The first indoor game of ice hockey was played. Today, the average NHL franchise is worth $1 billion.
1910: John D. Rockefeller Jr. retired to focus on philanthropic efforts.
1923: The first issue of Time magazine was published.
2017: Nintendo released the Switch hybrid console. It would sell over 122 million units.
Written by Ali Saleh and Antonio Ferme. Comic by John McNamee.