So many unexpected things have affected businesses over the past few years — a viral outbreak, runaway inflation, sudden bank failures — that it's easy to forget the weather. But for Southern California businesses, months of heavy rainfall were unexpected as well.
Residents accustomed to sunny, albeit drought, conditions have been staying indoors; it's especially hurting restaurants, farmers markets, and car washes, reports the Los Angeles Times. (A COVID relief fund for local car wash employees — who've seen their incomes halved since December — has now become a literal rainy day fund.)
Meanwhile, tree and lawn maintenance companies in the region are receiving a "historical" number of emergency calls. However, these have been a financial wash since they "crowd out routine service work, or the rains have occasionally made it unsafe for crews to operate," according to the Times. At least everybody will have drinking water for a little while?
Upskillin' it: Why learning platforms are such a hot benefit.
Resilience: A positive trait with one potential downside.
The Last of Us: HBO won the game by trusting its audience.
Why Learning Platforms Are Such a Hot Employee Benefit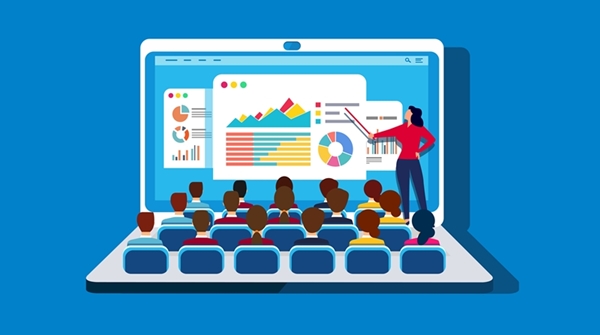 We didn't just spend the COVID era figuring out how to bake sourdough bread; user time spent on LinkedIn Learning more than doubled from 2019 to 2020. Now that professionals' thirsts have been whetted to learn, 48% would switch jobs for employer-provided skills training and two-thirds consider it "very important," according to Gallup.
How is that impacting business and employee satisfaction?
Continual learning is imperative for organizations that expect to grow, says John Brothers, vice president of talent and organization effectiveness at Acuity Brands. "Companies that are successful in developing employees [will] build a whole ecosystem around learning," he explains.
DIVE DEEPER:
So, which learning platform is right for your organization: LinkedIn Learning, MasterClass, Udemy, Great Courses, or Skillshare? There are so many options, it's hard to choose.
Brothers and his teammates look for social engagement factors like the ability for employees to share, comment, and "like" learning modules. These social interaction dynamics are valuable not just because they emulate familiar modern apps, but because "we're wired to be interested in what others are learning, from a social and psychological point of view."
On that note, upskilling often works best as a team activity. "Give time for employees to apply what they're learning, and build cohorts with a few people working on the same thing, and get feedback from one another — it's hugely impactful," Brothers says.
Worried that learning opportunities for employees will just encourage them to jump ship with their lucrative new skills? That's always a possibility, Brothers admits, but he recalls an anecdote he once heard: "A CFO and CEO are talking. One says to the other, 'What happens if we spend $1 million investing in employees and they leave?' And the other says, 'What if we don't invest in them and they stay?'"
Show Friday Night Baseball Exclusively Through DIRECTV FOR BUSINESS
Two heads are better than one, and Major League Baseball doubleheaders are better with DIRECTV FOR BUSINESS. That's because Friday Night Baseball from Apple TV+ — featuring two marquee games over 25 weeks during the regular MLB season — is now available to U.S. commercial establishments in 2023 exclusively through DIRECTV FOR BUSINESS.
On Friday, April 7, Friday Night Baseball starts off with the Texas Rangers at the Chicago Cubs (2 p.m. ET) and the San Diego Padres at the Atlanta Braves (7 p.m. ET). DIRECTV will deliver all the action to more than 300,000 restaurants, bars, hotel lounges, retail shops and other venues on channels 9528 and 9529.
Baseball fans are going to be glued to screens every Friday, so make sure that they're glued to one in your establishment. Sign up for DIRECTV FOR BUSINESS now.
Resilience Is a Positive Trait With One Potential Downside
Dr. Eden King isva Rice University professor and former president of the Society for Industrial and Organizational Psychology.
Managers tend to praise and promote workers for showing resilience. Likewise, organizational programs are designed to promote worker, team, and organizational resilience. For good reason! Resilience allows people and units to persist through difficult and adverse circumstances.
Yet, it's important for managers to recognize that resilience can have drawbacks.
Emerging evidence suggests that employees can engage in positive, productive behaviors at work even when their stress levels are unsustainably high. Just because someone seems to be performing well during difficult times doesn't mean that they are actually doing well. Employees who've learned they must respond to adversity by working harder may end up overstressed.
Managers might want to shift their emphasis away from encouraging resilience (or an expectation that workers should push through hardship) to highlighting the importance of recovery.
One way to communicate this is for leaders to create, and then to personally model, work-life boundaries. For example, leaders can refrain from weekend or nighttime emails, and take genuine vacations — with "away" messages — to normalize recovery experiences.
It could build something even more durable than resilience: work (and non-work) well-being.
Do you have a business question for the Organizational Psychologist's Couch? Send it to b.newsletter@business.com and our experts may answer in an upcoming issue.
The Last of Us: HBO Won the Game by Trusting Its Audience
Doom, Assassin's Creed, Street Fighter, Tomb Raider, Resident Evil, Warcraft, Uncharted … So many video game adaptations have been massive letdowns among critics, gamers, and casual viewers.
HBO's The Last of Us, however, has near-perfect ratings. Unlike most shows, its viewership increased every week during its first season. So, what made The Last of Us different?
The producers trusted the audience.
Specifically, the TV series didn't simplify or sanitize the game's storyline and action and also added to the source material. It took risks with big dramatic payoffs like the acclaimed love story between Bill (Nick Offerman) and Frank (Murray Bartlett), which the game only hinted at.
HBO could've easily made a brain-dead (sorry) zombie show, sacrificing character and world building in favor of action. Instead, it gave us a work of real craft and heart. Listening to your audience and putting quality first proved to be winners.
On March 31 in Business History:
1918: Daylight saving was implemented, but not to help the farming industry (to bust a myth); it was meant to save energy during World War I.
1932: Ford debuted the V-8. The single-piece engine block design made automobiles more affordable for everyday consumers.
1951: The first U.S. commercial computer, UNIVAC I, was released for business use. 
2005: Frank Perdue, the former president and CEO of Perdue Farms, died on this day. 
2009: Sun-Times Media Group, which published the Chicago Sun-Times, became the fifth newspaper company to file for bankruptcy at the height of the Great Recession.
Written by Carolyn Neuhausen and Ali Saleh. Comic by John McNamee.
Was this email forwarded to you? Sign up here.