Beloved singer Mariah Carey received coal this holiday season … from the U.S. Trademark Trial and Appeal Board.
Carey had filed last year to exclusively call herself the "Queen of Christmas," but she's not the first musician to claim the title — so the government "rejected and denied" her request on Tuesday. All she wanted for Christmas was to use the royal moniker to market various products. Alas, it will have to remain a sweet, sweet fantasy.
Securing a trademark can be essential for your business. Without this legal protection, it's harder to claim sole rights to your company name, logo, and slogan. (If you've visited New York, you might've noticed countless restaurants named Ray's Pizza or some variation.)
First decide on your brand identity. And then a hero comes along with the strength to carry on … it's your IP lawyer, filing the paperwork.
High-volume work: Keep loud coworkers from distracting you.
Psychologist: Asking for clarification shows you care.
Lucky Tree: A called-off wedding led to coffee shop success.
FIFA World Cup Is Meant To Be Experienced With Others
Three billion. That's how many soccer fans worldwide are expected to watch FIFA World Cup Qatar 2022™, hosting games almost every day from the November 20 kickoff to the December 18 final.
If you own a sports bar or restaurant, you can bet that your customers will want to watch those games all month with a bunch of fellow fans — a beer in hand and flags painted across their faces — instead of sitting home alone on the couch. If any sports event is meant to be experienced in a crowd, it's FIFA World Cup™.
And DIRECTV for BUSINESS will bring it to your establishment in crystal-clear HD.
England vs. USA … Netherlands vs. Ecuador… Argentina vs. Mexico. All FIFA World Cup Qatar 2022™ matches air live on FOX and FS1 with DIRECTV for BUSINESS. So, make your customers' dreams come true and don't miss any of the excitement yourself.
You probably can't fit all 3 billion FIFA World Cup™ fans into your bar or restaurant, but with DIRECTV for BUSINESS, you'll be that much closer to scoring your business goaaaaaaaaaaaaaaaaaals.
How to Keep Loud Coworkers From Distracting You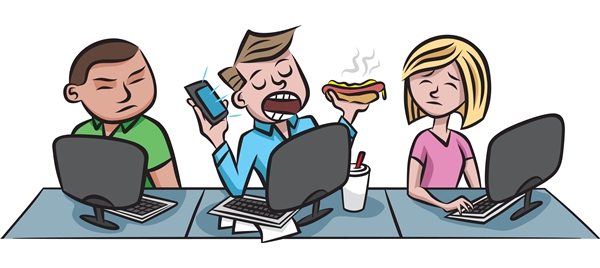 From gossiping in the kitchen to making deals over the phone to crunching potato chips, we all know that coworkers can be a major distraction at the office. It easily adds up to hours of unproductive time. A quick convo here, a quick convo there, and soon you're behind on all your projects.
This wasn't such an issue during the pandemic — but now that return to office is in full effect, how do you avoid a distracting coworker? Here are some quick fixes:
Wear headphones: They're the universal symbol for, "Not now chief. I'm in the zone." (AirPods, while convenient and fashionable, might not be large enough to send the message.)
Schedule quiet hours for yourself. There's no shame in letting coworkers know to leave you alone in the morning — or whenever you get the most work done — unless a matter is truly urgent. You can schedule quiet time on your calendar as well.
Mute digital communication channels: Set an away message or silence all notifications. It's even possible to just, y'know, turn Slack off.
Find a quiet space: If your office has a conference room that nobody ever uses — or a quiet nook with a comfy chair — take full advantage.
Have excuses ready: "Sorry, can't talk. Deadline." "Sorry, can't talk. Preparing for a meeting." Keep a list of these and rotate to keep it believable.
Check with HR: This is a last resort, obvi, but see if it's possible to physically move away from that distracting coworker by switching cubicles or even working from home on the days they come to the office.
And if your distracting coworker is actually the office puppy, the only solution is to give that good boy a treat and call it a day.
Asking for Clarification Shows You Care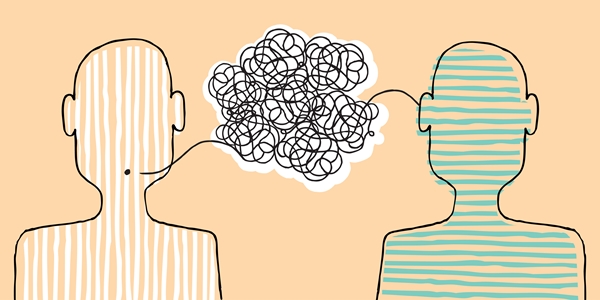 You don't want to hear distracting coworkers. However, you can't just ignore everybody at the office! A good colleague is someone who actively listens, explains Dr. Steven Rogelberg, Chancellor's Professor at UNC Charlotte and former president of the Society for Industrial and Organizational Psychology.
"We have two ears and one mouth, so we can listen twice as much as we speak," said the Greek philosopher Epictetus.
Listening is a critical skill to assure our success at work and in life. It allows us to learn and grow, build relationships, elevate others, and discover unexpected solutions to vexing problems.
Sadly, many of us struggle with how to be a good listener. Too often, we're more focused on what we'll say next rather than what we are hearing now. People can think at much higher speeds than the average person speaks, so our mind drifts and we can lose focus on what someone is saying to us.
The Power of Paraphrasing
Try repeating back what the other party shares before making your point. Ask clarifying questions such as, "When you said X, what did you mean by that?" By doing this, you'll listen to absorb what the other person is saying rather than listening to respond.
It's also important to ask open-ended questions. For example, "What do you think is driving this issue?" The goal is to build an understanding of the person's situation and how they feel about it.
Express Empathy
While you can often infer emotions from someone's body language and tone, ask questions to better understand. Acknowledge their emotions with comments such as "that sounds really trying" and "I can see why that would be frustrating."
The key is being genuine, which demonstrates you're open to other perspectives and "truths." All the above will make the difference between simply hearing and truly listening.
From Cold Feet to Cold Brew
In 2012, Ashley Faries and her fiancé called off their upcoming wedding and ended the relationship. She still had $7,000 saved up for the ceremony, so instead of wallowing in heartbreak, she approached her twin sister Amanda with an idea: starting a business together.
The sisters had always wanted to recreate their childhood treehouse; in fact, they chose it as the theme of a coffee shop and art gallery, Lucky Tree, located in Raleigh, North Carolina. They adorned the space with ladders, chandeliers made of succulents and tissue paper, and tire swings hanging from the ceiling.
Lucky Tree hosts poetry, spoken word, and music events — and features over 50 paintings by local artists. While Ashley runs the day-to-day operations, Amanda lives on a farm, growing their organic produce. 
If you ever hit an existential crossroads, sometimes you just need to look to your roots and see what sprouts up.
As Thanksgiving approaches, it's time to decide what beverage should accompany the holiday meal … or simply get you through several days with the extended family. 
Perhaps the most seasonal choice is Tamworth Bird of Courage, a whiskey infused with roasted turkey, chestnuts, celery, squash, parsley, sage, and cranberries (you read that correctly). It's an entire Thanksgiving feast in 92-proof liquid form. Just add pumpkin pie.
Tamworth, a New Hampshire craft distillery, releases a limited supply of this intriguing whiskey once per year. It's difficult to find but an ideal glass of gobble.
If you're a vegetarian, however, there's always green bean casserole seltzer from beverage maker Aura Bora.
Written by Skye Schooley, Ali Saleh, and Aaron Goldfarb. Comic by John McNamee.