48Hour Print Review
By Business.com Editorial Staff
Last Modified: January 7, 2019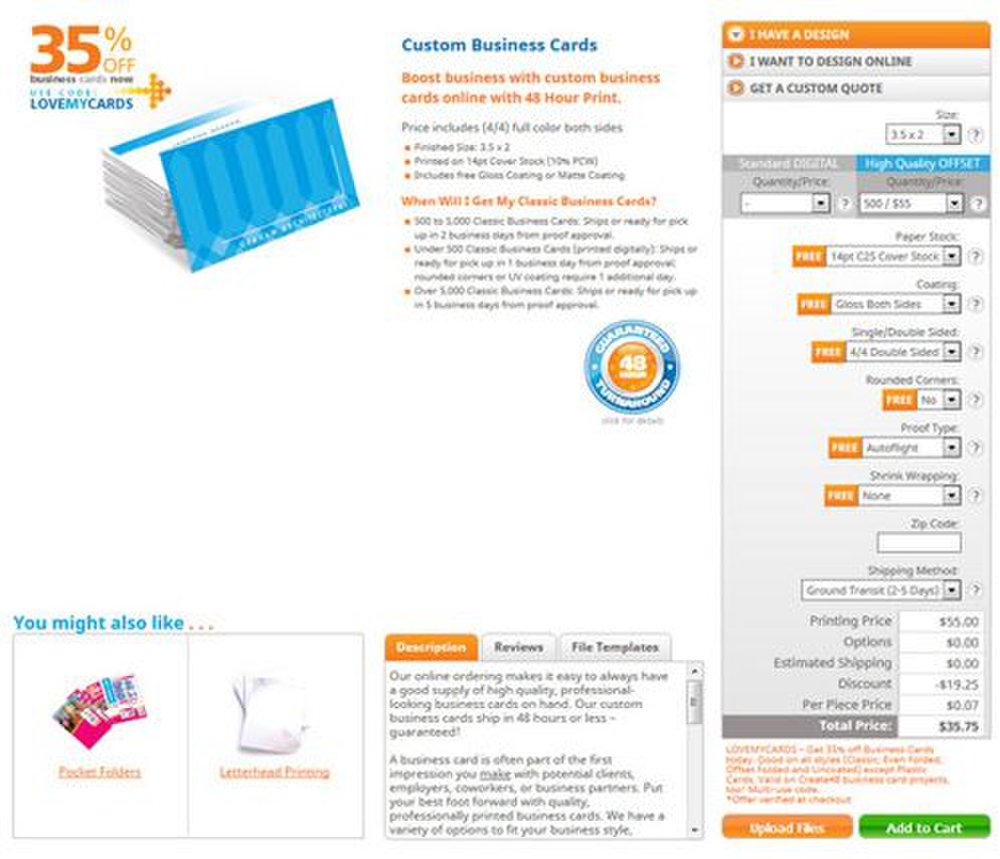 48Hour Print image: When placing your order, you can select which cardstock, coating and corners you want, in addition to other features.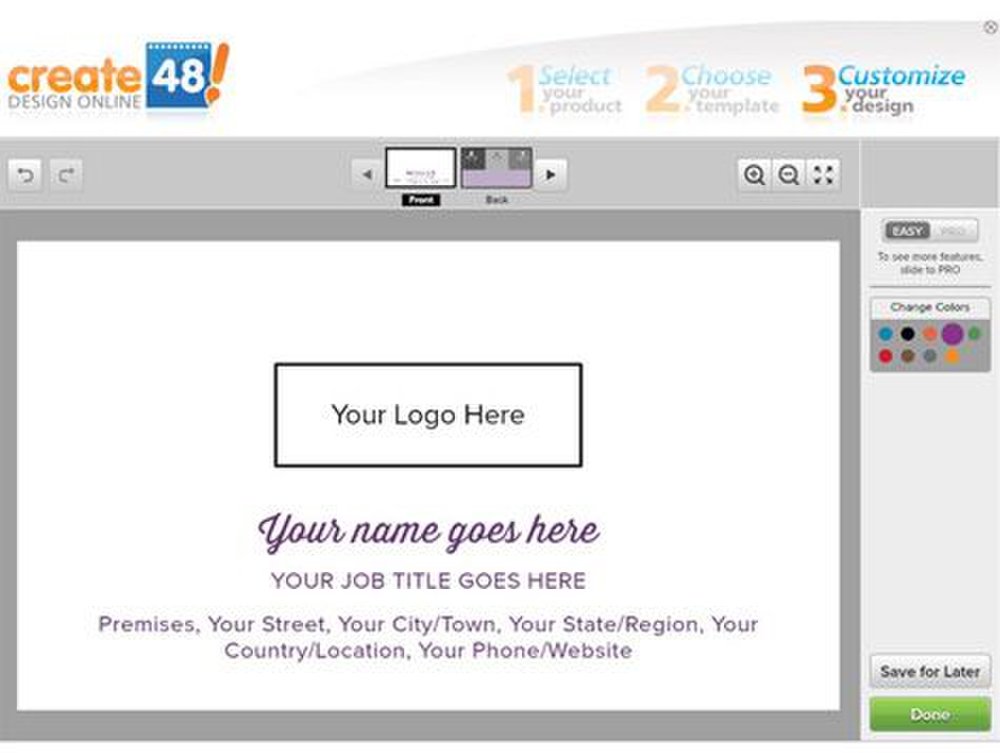 48Hour Print image: The online design tool has both an easy and pro interface to help you customize your business cards. This image features the easy interface.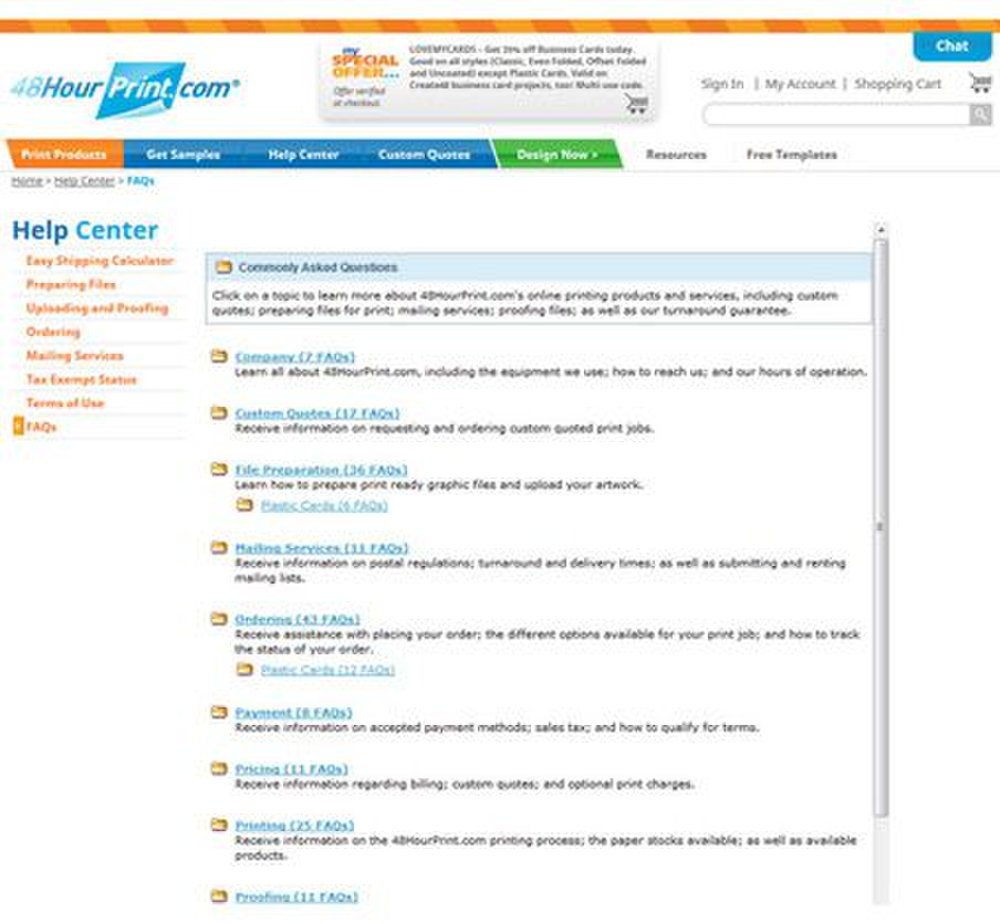 48Hour Print image: The Help Center has several helpful resources, including a FAQs page.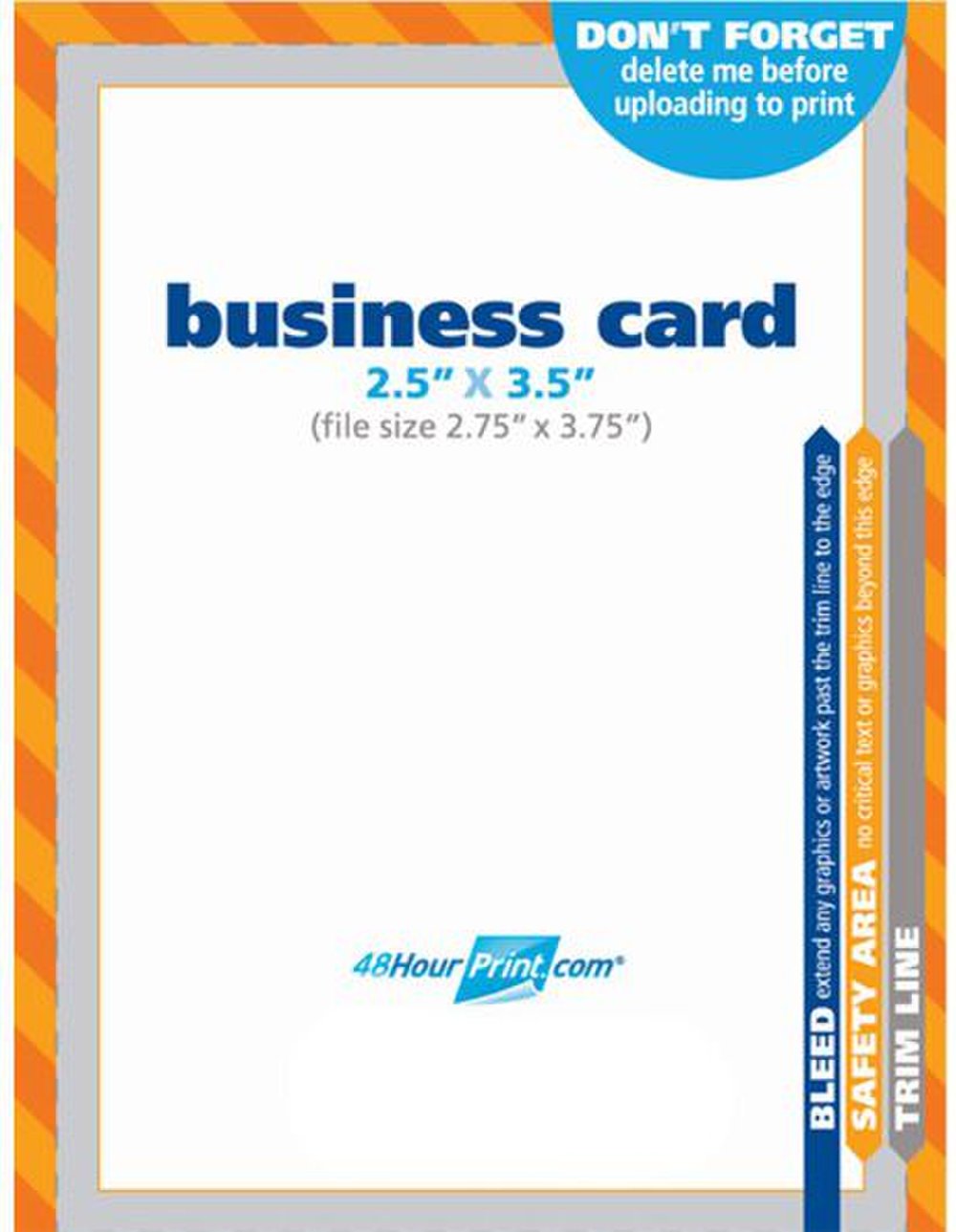 48Hour Print image: In addition to stock images and templates, this service has different layouts, including vertical orientation, you can use.
48Hour Print guarantees your custom business cards will be printed and delivered to you within three days, which is faster than the standard five to seven-day turnaround most services advertise. For a little extra, you can even have your cards delivered within 24 hours.
The business cards available through 48Hour Print are standard and only available in landscape orientation. Vertical or specialty shaped cards aren't available, but you can order mini cards or request rounded corners. You can also choose between matte, gloss or UV spot finishes.

While cardstock is the only paper available for printing your business cards, you have the option to print magnetic or even plastic cards. Though the selection of finishes and shapes are limited compared to some of our top-rated services, the quality of 48Hour Print is still very good. The ink quality, picture, paper weight and finishes all compared to our top-rated business card printing services. And the price for standard professional business cards is very reasonable compared to most other services.
48Hour Print gives you easy-to-use, but somewhat limited, design tools so you can create custom business cards that include your company logo and other identifying information. The design tool includes pre-designed templates and stock photos, though you can also upload your own images.
While this service offers quality business cards, the customer support and the design tool lag behind the other services on our lineup. We found that the design tool has advanced features, but it limits how much you can customize a business card.
You also have the option of creating your business cards with a third-party program and then uploading the file for printing. In both cases, you are sent an electronic proof to double check and approve before its printed.
Besides printing business cards, 48Hour Prints can produce envelopes, address labels, flyers, brochures, door hangers and postcards. You can design and have calendars printed as a promotional item, and custom banners are also available.
An additional drawback with this online printer is that its customer support was not as good as other services. We often had to wait for responses, resubmit requests, and it took an extended period of time to receive our order.
The selection of business card material is limited with 48Hour Print, compared to the other services on our review. You can print your professional cards with rounded corners, and UV spot finish is available. 48Hour Print has a simple online design tool that helps you create high-quality business cards, though you are limited in how much you can customize your business card design.

Business.com Editorial Staff
The purpose of our community is to connect small business owners with experienced industry experts who can address their questions, offer direction, and share best practices. We are always looking for fresh perspectives to join our contributor program. If you're an expert working in your field – whether as an employee, entrepreneur, or consultant – we'd love to help you share your voice with our readers and the Business.com community. We work hard to only publish high-quality and relevant content to our small business audience. To help us ensure you are the right fit, we ask that you take the time to complete a short application: https://www.business.com/contributor/apply/ We can't wait to hear what you have to say!