4Over4 Review
By Business.com Editorial Staff
Last Modified: January 7, 2019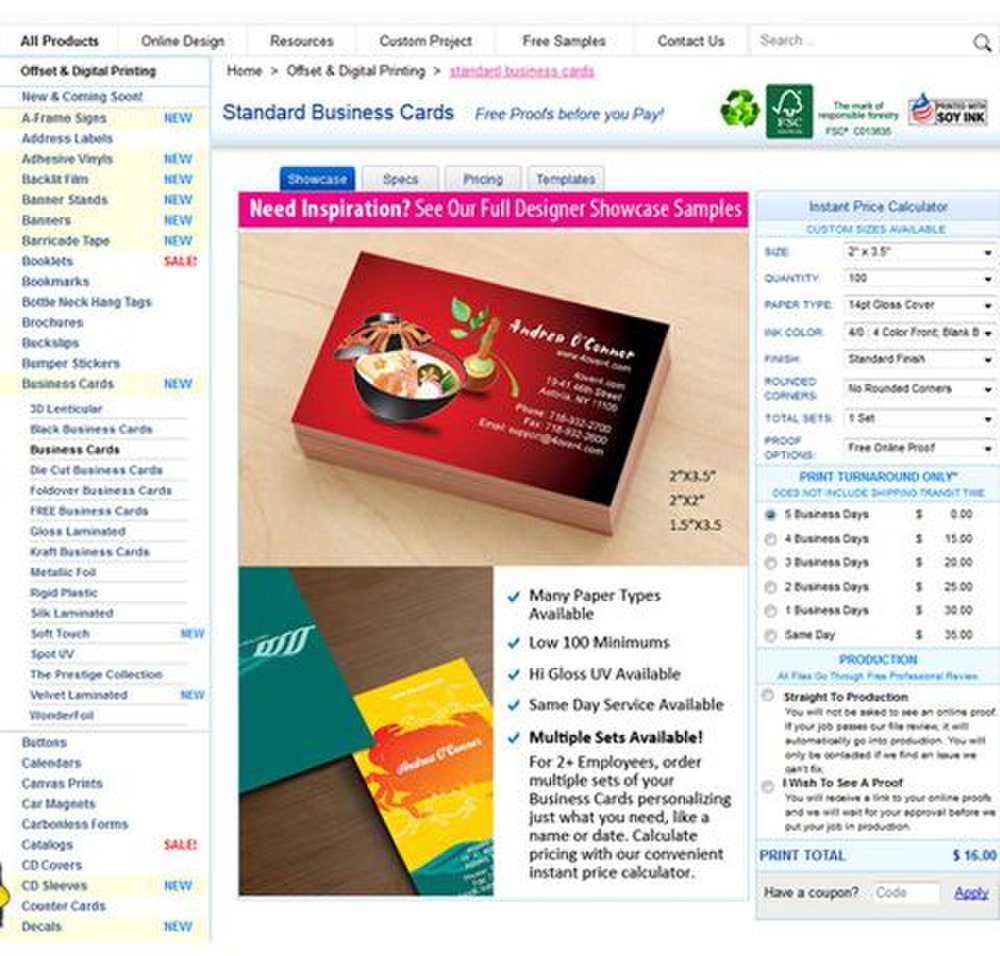 4Over4 image: You can choose from a variety of sizes, paper types and finishes for your business cards.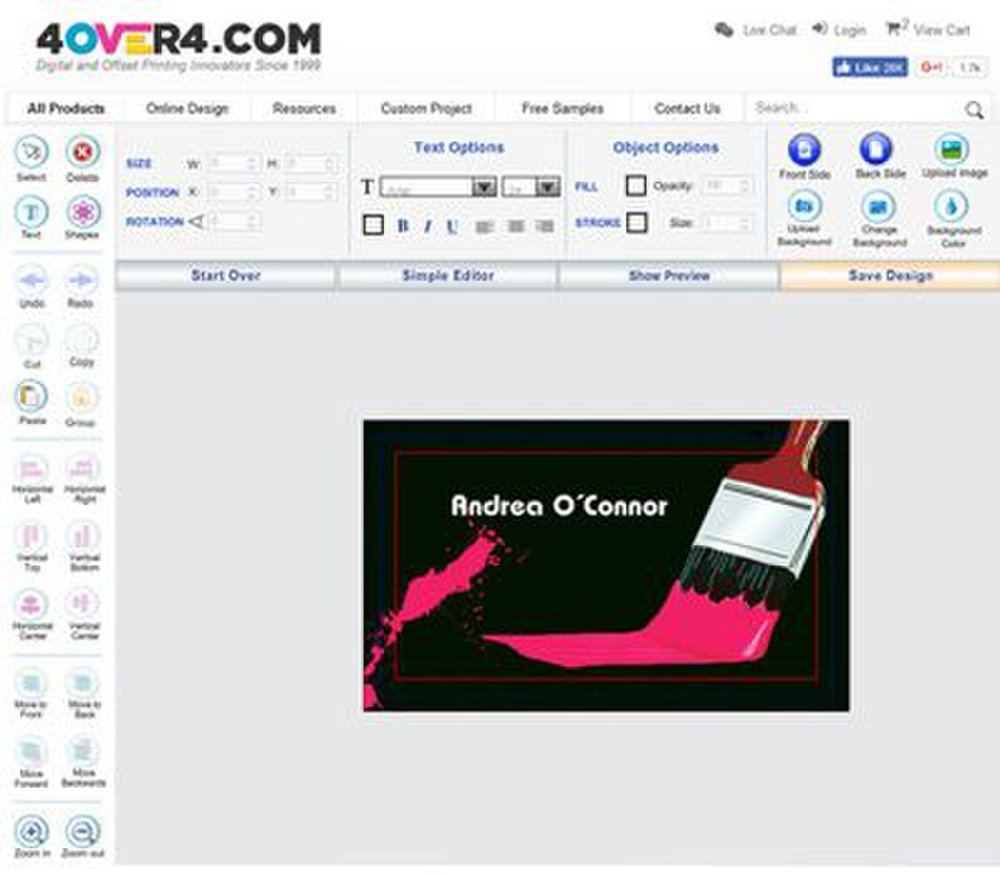 4Over4 image: The online design tool has both a simple and advanced editor to help you alter the templates to fit your needs.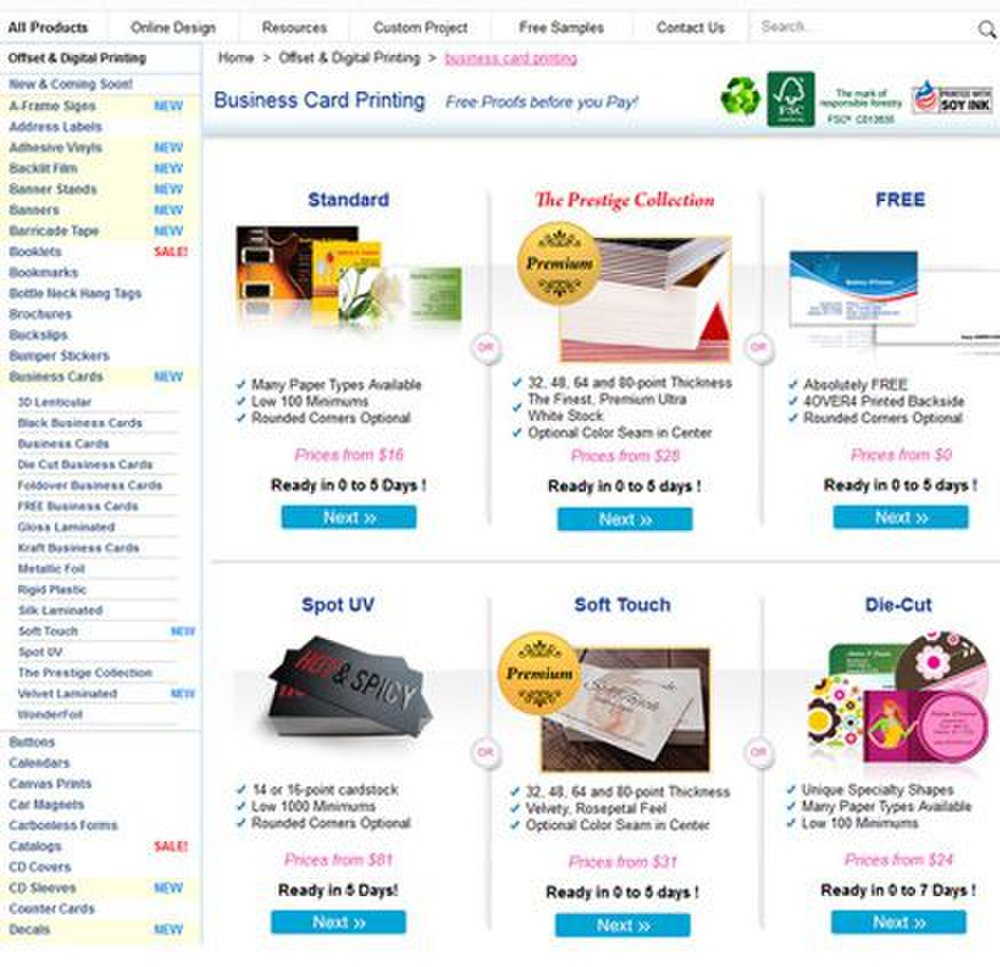 4Over4 image: You can create unique shapes with this service's die-cut selection.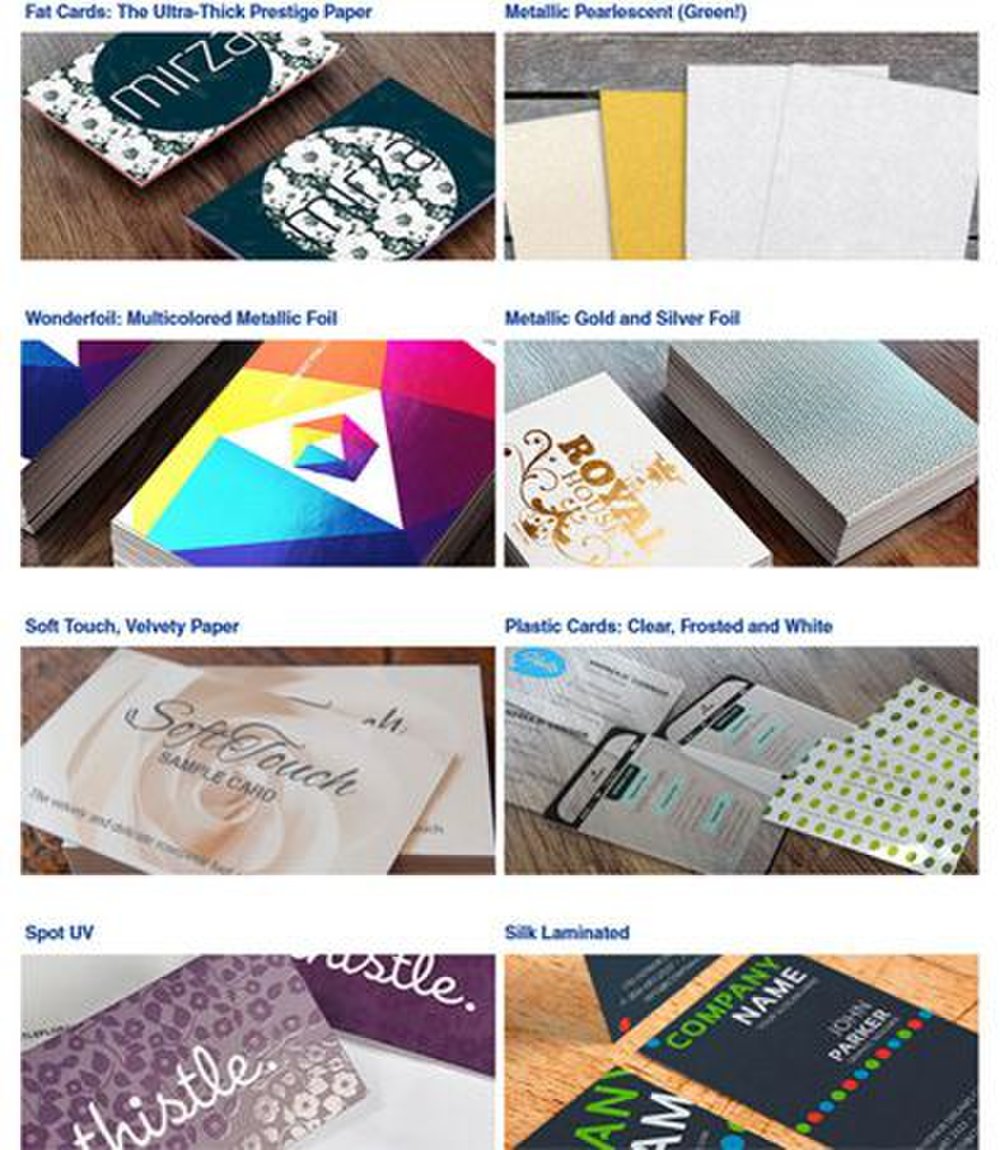 4Over4 image: This service has a large selection of finishes you can add to your business card that will leave potential customers with a good impression.
4Over4 image: The service has a large selection of pre-designed templates.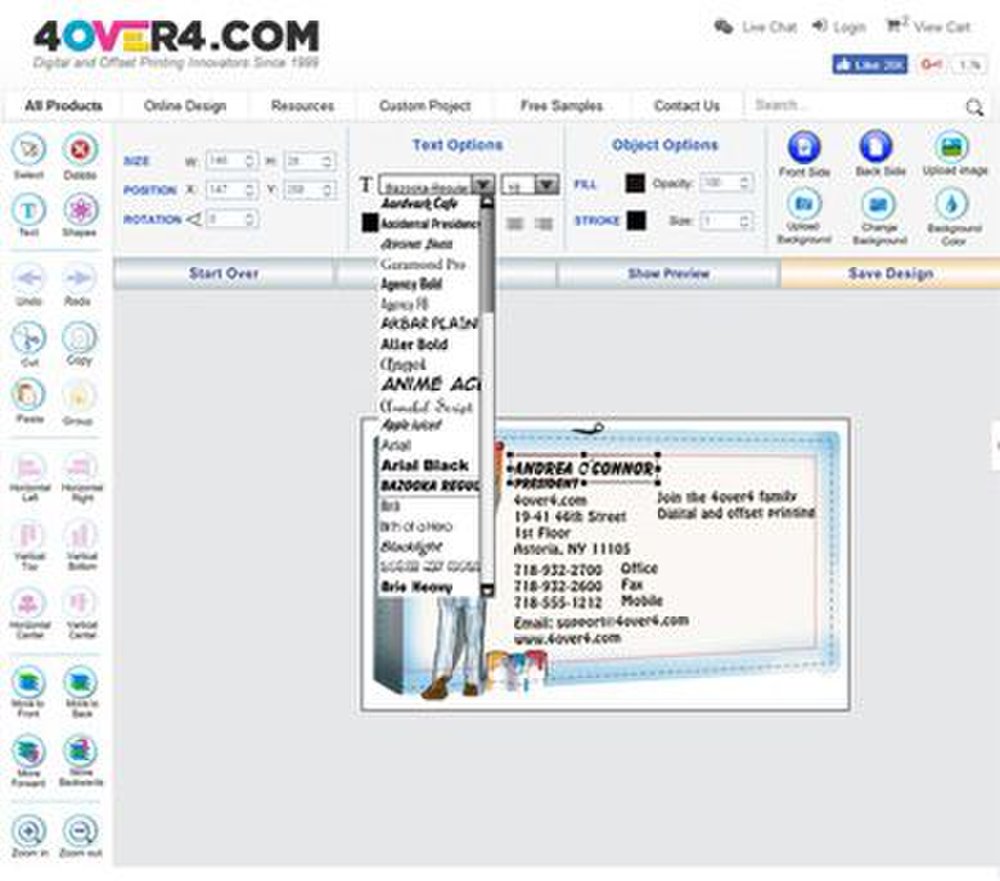 4Over4 image: The comprehensive design tool allows you to make a business card completely your own.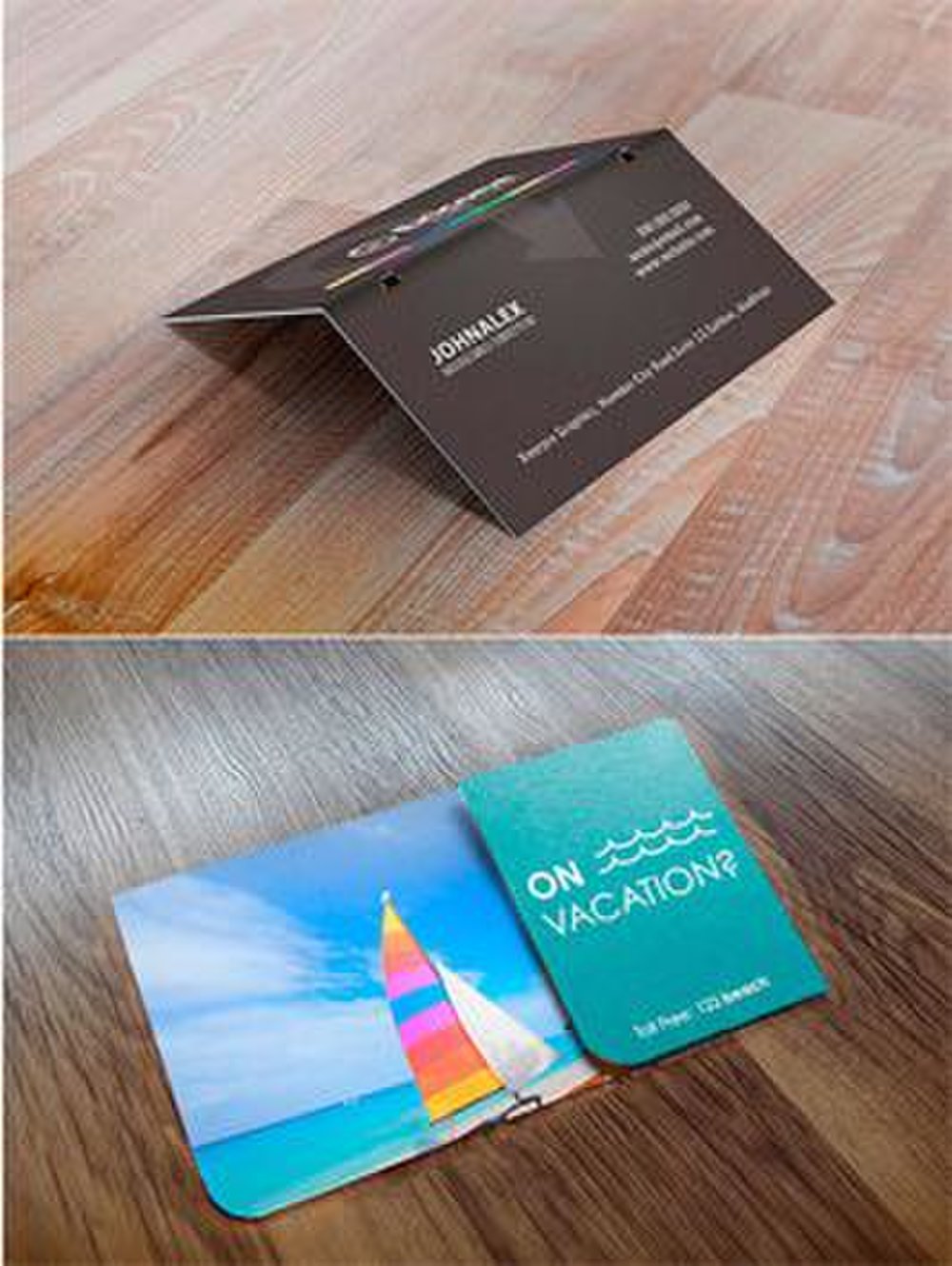 4Over4 image: To help your business cards stand out, you can purchase folded cards.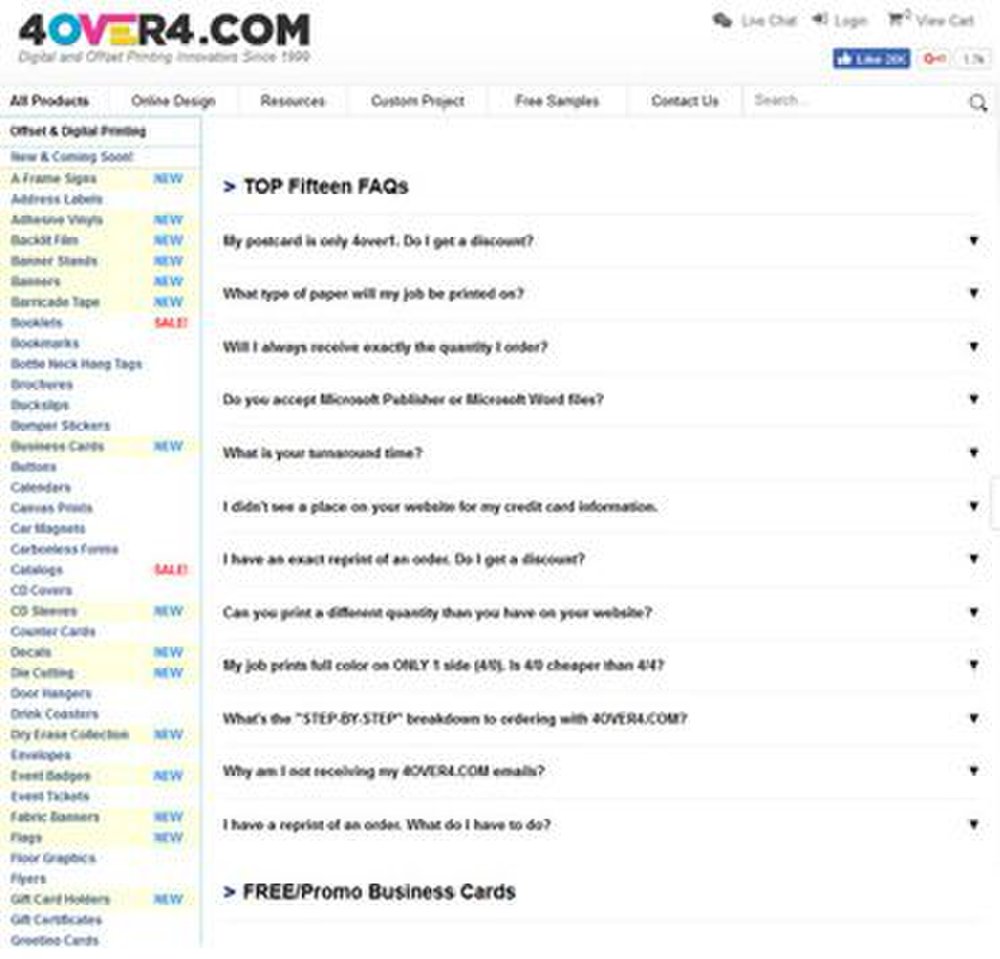 4Over4 image: The company website has a frequently asked questions page you can use as a resource when designing your business card.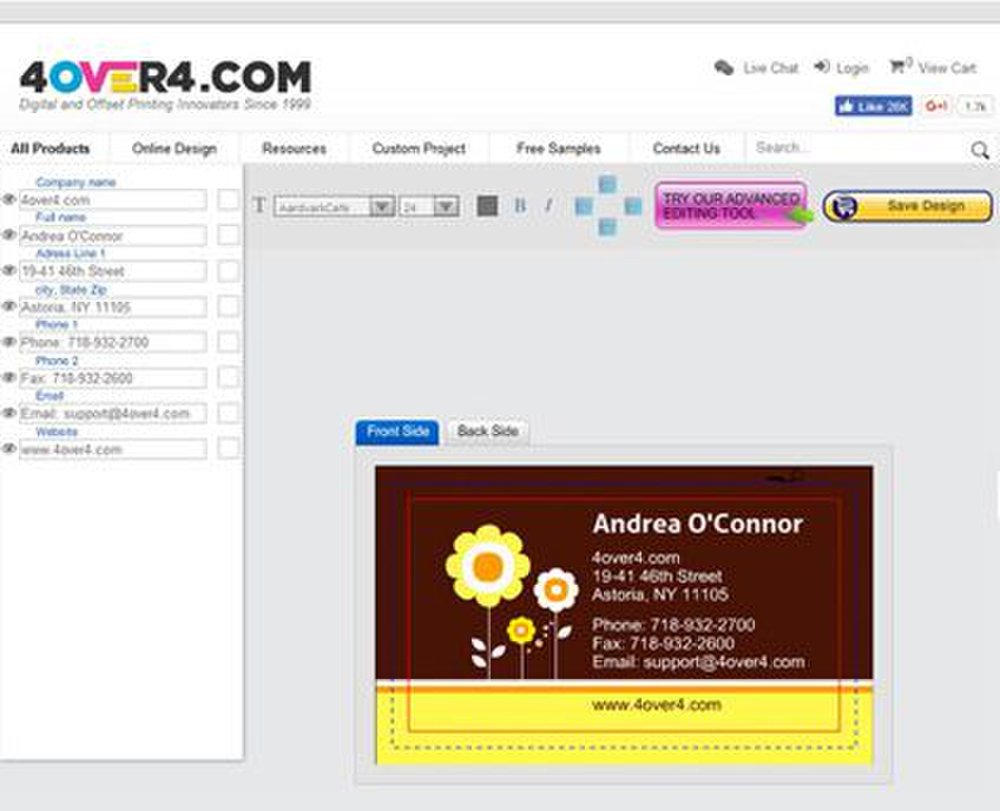 4Over4 image: The service has both a basic and advanced design tool for customers who are both beginners and experienced designers.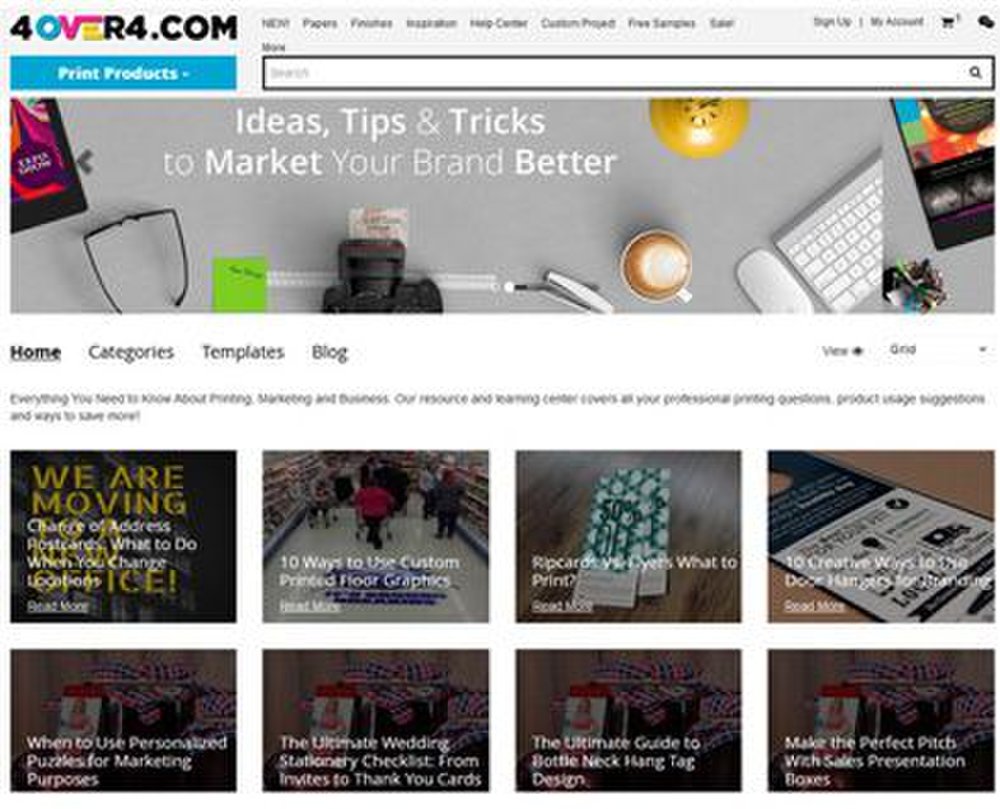 4Over4 image: This service has several resources you can use to help you design your business cards, including tips, a blog, and pre-designed templates.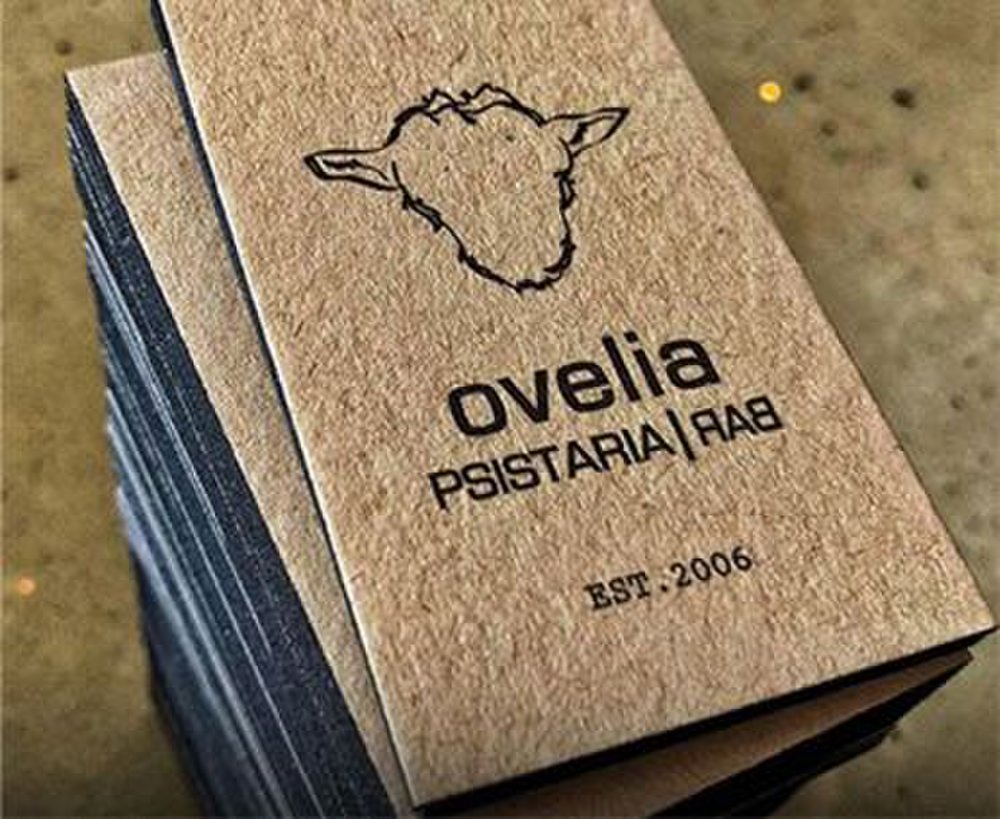 4Over4 image: Between the large selection of materials and finishes, you can create a unique business card.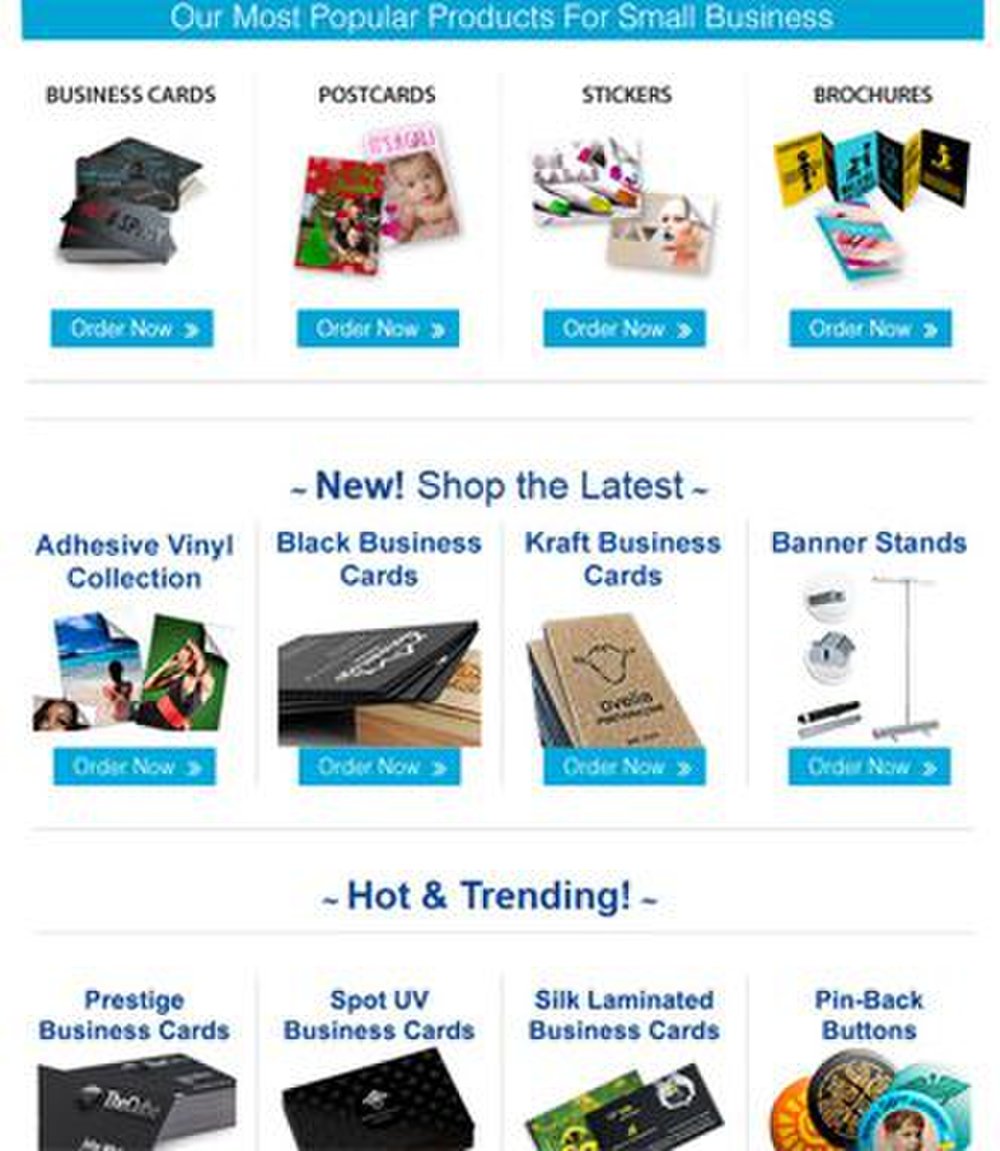 4Over4 image: In addition to printing business cards, this service also creates postcards, stickers, brochures and many other marketing materials.
4Over4 has an extensive list of printing products available to help meet most of your business needs. It has every feature we looked for, and it offers clients multiple ways – live chat, phone support and email – they can reach 4Over4's customer service, though it can take a while to reach a representative. Its impressive selection is enough to make 4Over4 one of the best online business card printing services.
You have several options when it comes to designing your professional business cards. 4Over4 has an online design tool with several pre-designed templates and stock photos. In order to view the service's business card templates, you must open the design tool. You can also upload your own logos and images to add to your business card.

If you already have an existing design saved, you can bypass the design process and simply upload your file. The online platform supports EPS, TIFF and PDF file types. Compared to other printers, 4Over4 limits the types of files you can use. Further, it doesn't offer custom design services.
This online business card printing service can print, ship and have your order in your hands within five days, which is standard for most printing services. If you need your business cards fast, 4Over4 offers next-day shipping. Your business cards look professional, whether you want black and white, full-color, single or double-sided cards. Bleeding edges are also an option.
Of the business card services we evaluated, 4Over4 offered the highest print quality consistently on all of its business cards regardless of the paper type. Between the sharp images, deep colors and variety of finishes, this online business card company surpasses other services on our lineup with its high-quality prints.
4Over4 business card printing lets you choose from standard business cards, mini cards and vertical cards. It also is one of the few services on our lineup that offers specialty shapes, such as leaves or circles. You have a choice of paper, both cardstock and linen, or you can choose something less traditional, such as plastic or magnetic business cards.
To finish off your card, you can choose either matte or gloss finishes. 4Over4 has specialty finishes, too, like UV spot and foil stamping. It can also print with foil to add more variety to an otherwise standard-looking business card.
You can order sample packets from 4Over4 that give a good representation of the printing services this company offers. After you design your business card, you can preview a digital proof to ensure that everything looks like it should. While the service does not offer custom design services, the business card templates and design tool help you create an array of appealing cards easily.
4Over4 has a few customer support options: email, live chat and telephone. However, it takes a while to connect with someone, and email messages sometimes don't get answered. In addition, it did not send us confirmation emails or shipping information after we placed our order.
4Over4 is one of the best online business card printing service because it has one of the most comprehensive card selections, including a variety of finishes and paper types. The online design tool is simple to use, as is simply uploading your existing design. While the service limits the file types you can upload and does not offer in-house design services, this is a great service that helps your business cards stand out from the rest.

Business.com Editorial Staff
The purpose of our community is to connect small business owners with experienced industry experts who can address their questions, offer direction, and share best practices. We are always looking for fresh perspectives to join our contributor program. If you're an expert working in your field – whether as an employee, entrepreneur, or consultant – we'd love to help you share your voice with our readers and the Business.com community. We work hard to only publish high-quality and relevant content to our small business audience. To help us ensure you are the right fit, we ask that you take the time to complete a short application: https://www.business.com/contributor/apply/ We can't wait to hear what you have to say!