A2 Hosting Review
By Matt D'Angelo
Last Modified: January 4, 2019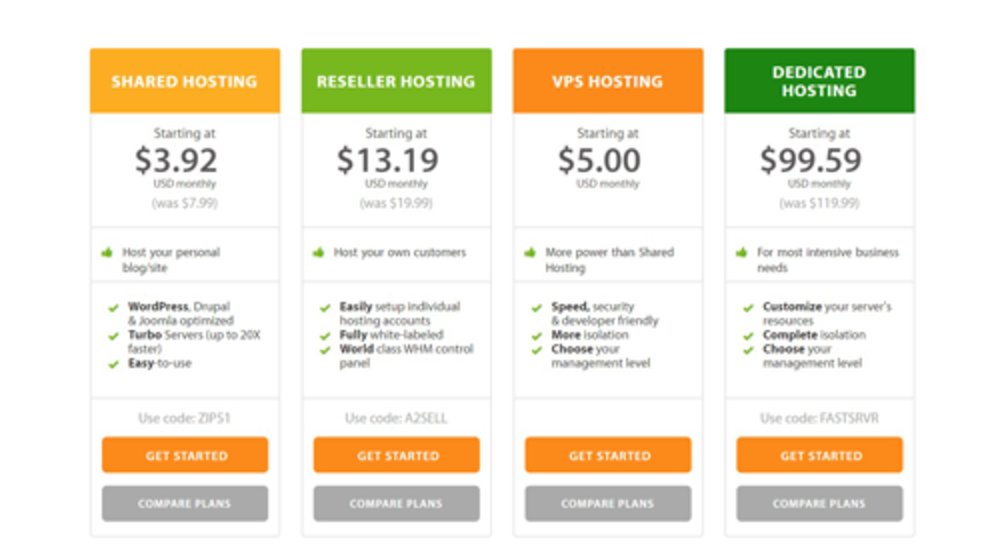 A2 Hosting has a range of packages for shared hosting, reseller hosting, virtual private server web hosting and dedicated hosting. The packages best suited for small businesses are shared hosting and VPS hosting.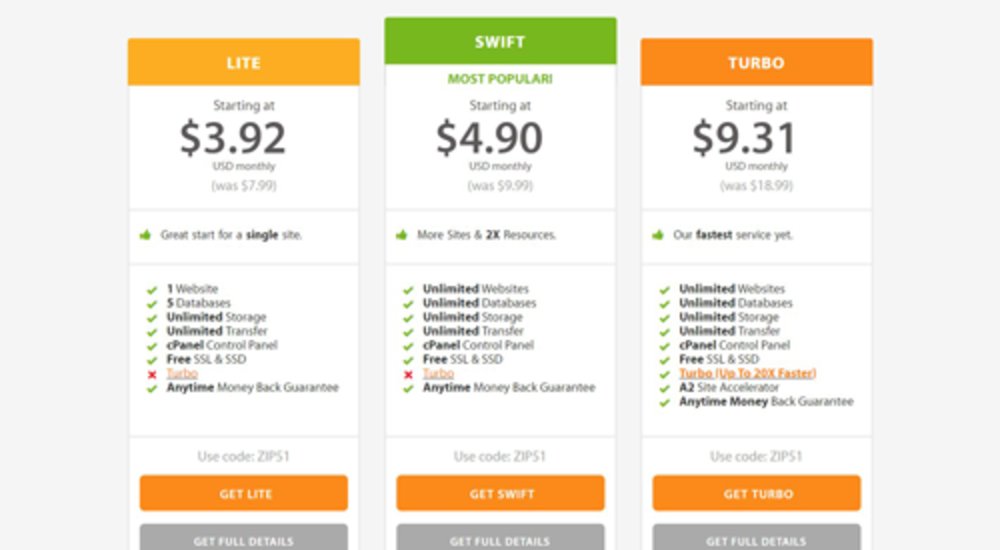 Shared packages start at $3.92 with the introductory prices.The Turbo package is great for small businesses wanting a fast website. All packages offer unlimited storage, unlimited transfers, a cPanel control panel and SSL certificates.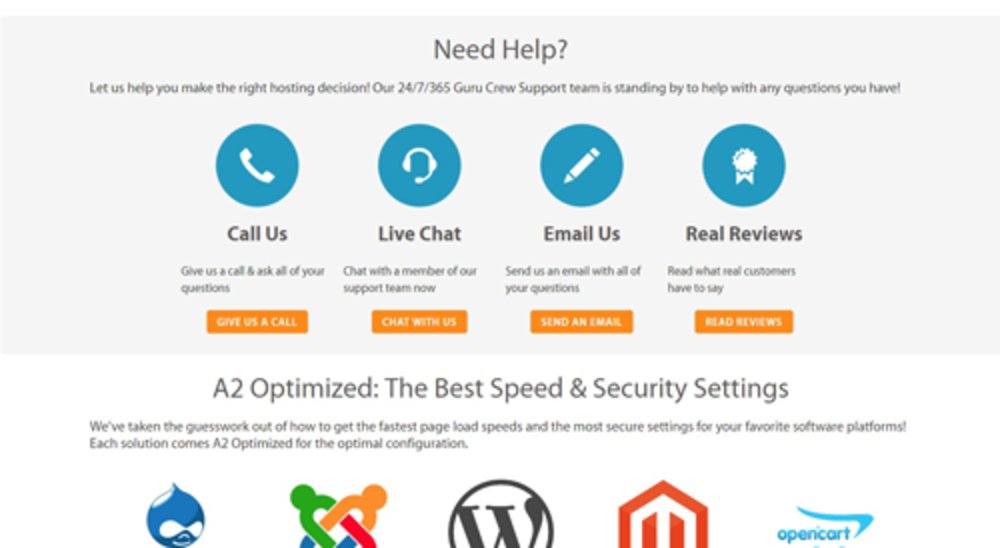 You can contact A2 Hosting's support team 24/7 through phone, live chat and email. Its website features customer reviews and a blog.
A2 Hosting provides a wide range of hosting services for small businesses. It has been providing web hosting services since 2001, and offers shared, virtual private server, reseller and dedicated hosting. It doesn't, however, offer cloud hosting. You can register domain names with A2 Hosting separately from its hosting services. Each type of hosting includes multiple plans to choose from, so you can find the right plan to meet your business's needs. Its services are both robust and on-par with industry standards, but isn't as specific about what is included in it security offering.
View all of our recommendations for web hosting services on our best picks page.

If you're interested in testing out A2's services, but don't want to commit to a full year, the company provides a 30-day moneyback guarantee to get a full refund. You can cancel at any time and get a partial refund on some fees, depending on your agreement. This trial period is shorter than some competitors, but still a draw for companies looking to learn more about what it's like to work with A2. The company also has a good online reputation. It earned an A with the Better Business Bureau, and has a slew of positive reviews.
Overall, A2 is transparent in its service offering. You can learn more about its cancellation policies, servers and support in its terms of service, for example.
Pricing & Terms
A2 Hosting breaks down its shared hosting plans into three types: Lite, Swift and Turbo. At time of writing, A2 currently lists promotional pricing on its site. The Lite plan starts at $3.92 per month, the Swift plan starts at $4.90 per month and the Turbo plan starts at $9.31 per month. These costs may vary based on what services are included and how long your terms are. A2 offers terms up to three years. The longer the plan you sign up for, the cheaper the monthly rate. Keep in mind that the pricing listed on A2's website is promotional and subject to change.
The web hosting industry is competitive, and companies will often offer "discounts" to first time customers. This pricing is usually good for a year, and then is bumped up when you renew service or enter the second year of your contract. Depending on what agreement is reached, make sure you have a clear idea of what the per-month pricing is throughout your entire contract. Ask if rates change if you decide to renew, and if there are any renewal fees. In A2's case, the slashed pricing on its site is about half of the actual pricing. The Lite plan starts at $7.99, the Swift plan starts at $9.99 and the Turbo plan starts at $18.99. Again, these are estimates provided on A2's website and may not be the actual second-year rates. It's important to review this with the company before you sign up.
A2 is one of the few companies we looked at that extends most of its services across all three plans. Some companies will only prioritize the best services for the highest paying customers. However, A2 provides business owners with solid services regardless of what plan they sign up for. The main difference is with speed – the Turbo plan includes some boosts that will make your site faster compared to the other plans.
A2 doesn't charge any additional fees for cancelling your service. In some instances, depending on your agreement and when you cancel, you may even get a refund on some of the fees. If you cancel your service early, you may be required to pay out the duration of your service depending on your agreement.
These prices and terms focus on shared web hosting, but A2 also provides VPS, dedicated and reseller hosting. Plans for each of these types of services vary in terms of cost. Dedicated and VPS hosting, for example, will likely be more expensive than shared hosting. This type of service is ideal for small businesses that want their own dedicated service on their own servers. While A2 offers these other types of hosting, it doesn't offer cloud hosting, which many competitors do.
Features
A2 Hosting's shared hosting plans include a wide-range of services and features that make it ideal for small businesses. You can view a full breakdown of the services here, but the overall offering matches up with other web hosting companies. The only category it fell short in was security, where it remains vague about exactly what is offered.
Storage and bandwidth: A2, like many of the companies we reviewed, offers "unlimited" storage to its users. This extends over all three plans. However, "unlimited" in this case means a level of usage "defined by our experience with similarly situated customers," according to the terms of service. If you go over your allotted usage, you'll likely receive a warning or could even have your service suspended until it goes back down. A2's offering is consistent with many other services we looked at and should support most business needs.
Security: This is one area where A2 was behind compared to some of the other services we looked at. The company does provide SSL certifications and backups, but beyond that it details its security offering in a vague way online. It provides "perpetual security" with a "free hackscan," but no info on DDoS protection or other security solutions. We also couldn't find additional details in the terms of service. While the company doesn't provide a lot of info, providing SSL certificates with all its plans and backups is a solid offering.

Cancellation: There are no additional fees for cancelling your service, but you may be required to pay out the rest of your agreement. This depends largely on your agreement with A2. If you cancel within the first 30 days, you'll receive a full refund. If you cancel after the allotted 30 days, you could receive a partial refund on some fees. The amount of money you're refunded will depend largely on your own situation. You can read the full cancellation policy in the company's terms of service under item 8c.
Pre-installed apps: A2 provides a wide-range of pre-installed apps, including WordPress. Users can monitor and control their site with the latest version of cPanel. You'll also have access to Joomla, Drupal, CubeCart, b3Ecolution, phpBB and SMF.
Hosting types
In addition to shared hosting, A2 provides VPS, reseller and dedicated hosting. These plans are more expensive compared to shared hosting, but come with more features. VPS and dedicated hosting are a great way to have your own distinct service instead of sharing servers with other A2 customers. Reseller hosting is ideal for providing your own customers with web hosting capabilities, if you're running a web hosting reseller business. All three of these plans have costs ranging from around $10 a month to almost $150 per month. These services are ideal for small businesses with larger websites or a need for a more secure, private server.
Domain transfer
A2 Hosting can migrate an existing domain to its services for free "in most cases," according to A2's website. Many companies will migrate domains for free and then charge a yearly fee. It's not clear whether A2 provides priority to small businesses registering a domain and signing up for shared hosting services. It does say on its website that registering a basic domain is around $15 per year.
Reported uptime
A2 Hosting, like most hosting companies we reviewed, says its customers enjoy 99.9 percent uptime. While A2's services may meet your business's needs, shared hosting plans rarely sport the 99.9 percent uptime advertised by hosting companies. A2 does say it offers a 99.9 percent uptime commitment, but doesn't provide a lot of detail on credits or deals if they fall short of this goal. Some companies, like HostGator, provide account credits when its service's uptime doesn't mean the claimed standard.
A2 says in its terms of service that the company will schedule periodic downtime for reasons like maintenance. In these instances, the company will warn you about the impending maintenance.
Reputation and Customer service
A2 Hosting has a solid online reputation, scoring an A with the Better Business Bureau and earning a 4.61 out of 5 stars on the website. The company has an overwhelming number of positive reviews compared to negative reviews, and there were only 15 customer complaints. A2 had one of the best BBB pages of any company we reviewed.
Drawbacks
A2's money-back guarantee is a little more complex than other companies. While you can technically get some kind of a refund at any time in your service, the allotted first 30 days is the period where you'll most likely get a full refund. While this may provide flexibility down the road, other companies provide longer moneyback guarantees, sometimes up to 45 or even 90 days.
A2 also doesn't provide cloud hosting, so if your business is looking for cloud hosting solutions you'll have to look elsewhere.

Ready to choose your The Best Web and Cloud Hosting Services of 2019? Here's a breakdown of our complete coverage:

Matt D'Angelo
Matt D'Angelo is a staff writer covering small business for Business.com and Business News Daily. After graduating from James Madison University with a degree in journalism, Matt gained experience as a copy editor and writer for newspapers and various online publications. In addition to his writing and reporting, Matt edits articles. He reviews small business services, including PEOs, small business loans and GPS fleet tracking services. He's been with Business.com and Business News Daily since 2017.