Activity Monitor Review
By Business.com Editorial Staff
Last Modified: August 22, 2018


Activity Monitor image: You can view your employees' computer screens from the administrative console.

Activity Monitor image: You can record all of your employees' incoming and outgoing conversations over email and chat.

Activity Monitor image: This software runs in the background, so your employees do not realize it is there.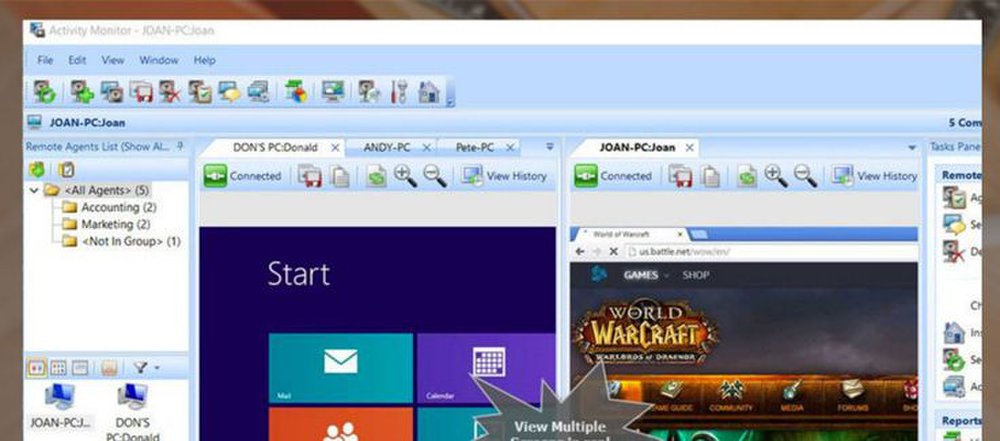 Activity Monitor image: Screenshots are taken in real time, so you can see what everyone is up to.
Activity Monitor is a means of safeguarding company information and keeping your employees at their best. This internet management software is an effective client-server monitoring tool. It helps you increase your workforce's productivity, protect your company's intellectual property, and maintain records of communications and employee activities.
This software has features to track and record just about everything your employees do. It has flexible menus to monitor internet use and reduce exposure to web predators. You can install this internet management software on a server or remotely through your local area network. A short setup demo is available on the company's website to make installation quick and easy.
You or your network administrator can monitor all employees' internet activities on your office LAN. Managers can remotely access workstations with the secure system. It uses strong encryption and runs in stealth mode on user computers, so the employee can't see the software and only an administrator can delete it.
You can monitor emails and attachments to prevent malicious attachments. It logs the websites your employees visit as well as their chat messages. There's a central log to store typed keystrokes, program usage info, time stamps, application paths and window names.
The software monitors keystrokes in real time. Passwords, emails and chat conversations are stored as text and dually as screenshots. An additional module supports administrator screenshot recordings in compressed JPEGs on remote PCs. You can set it to capture screenshots at timed intervals or based on employee actions.
Activity Monitor offers real-time monitoring of all active accounts on your list of monitored users. However, it does not send you an alert if employees try to access something they should not.
Analyzed data resides in a dedicated log file with no time limit on storage. The application's log file generates reports according to preset criteria. It can export them in HTML, Excel or CSV formats. You can display detailed log reports that include employees' keystrokes.
Activity Monitor can build reports for individual users, based on websites they visit and other internet activity, such as downloading and viewing of texts, photos, movies, music and work applications. Reports can display their top programs, program usage, top visited websites, internet usage, emails, chats, logins and more. It's a great way to keep track of what your employees are doing right – and finding where they can improve.
Several support tools are available with Activity Monitor, including comprehensive FAQs that cover all features and customization elements of the software. There also are two demo videos to show you how to quickly install the internet management software and how to record and set up a feature to take screenshots of activities on monitored computers. There's also live chat and email support. This employee monitoring system lacks phone support.
Activity Monitor is useful internet management software for controlling and reducing internet access by your employees. It gives you the ability to monitor several workstations and laptops in real time and have full control of the recorded data and screenshots on your office server. The software can produce detailed reports that you can export to Excel, HTML or CSV files.
Ready to choose your Employee Monitoring Software? Here's a breakdown of our complete coverage:
Business.com Editorial Staff
The purpose of our community is to connect small business owners with experienced industry experts who can address their questions, offer direction, and share best practices. We are always looking for fresh perspectives to join our contributor program. If you're an expert working in your field – whether as an employee, entrepreneur, or consultant – we'd love to help you share your voice with our readers and the Business.com community. We work hard to only publish high-quality and relevant content to our small business audience. To help us ensure you are the right fit, we ask that you take the time to complete a short application: https://www.business.com/contributor/apply/ We can't wait to hear what you have to say!