Acumen Data Systems Review
By Chad Brooks
Last Modified: January 8, 2019


From the employee dashboard, your workers can clock in and out and view their accrued time off.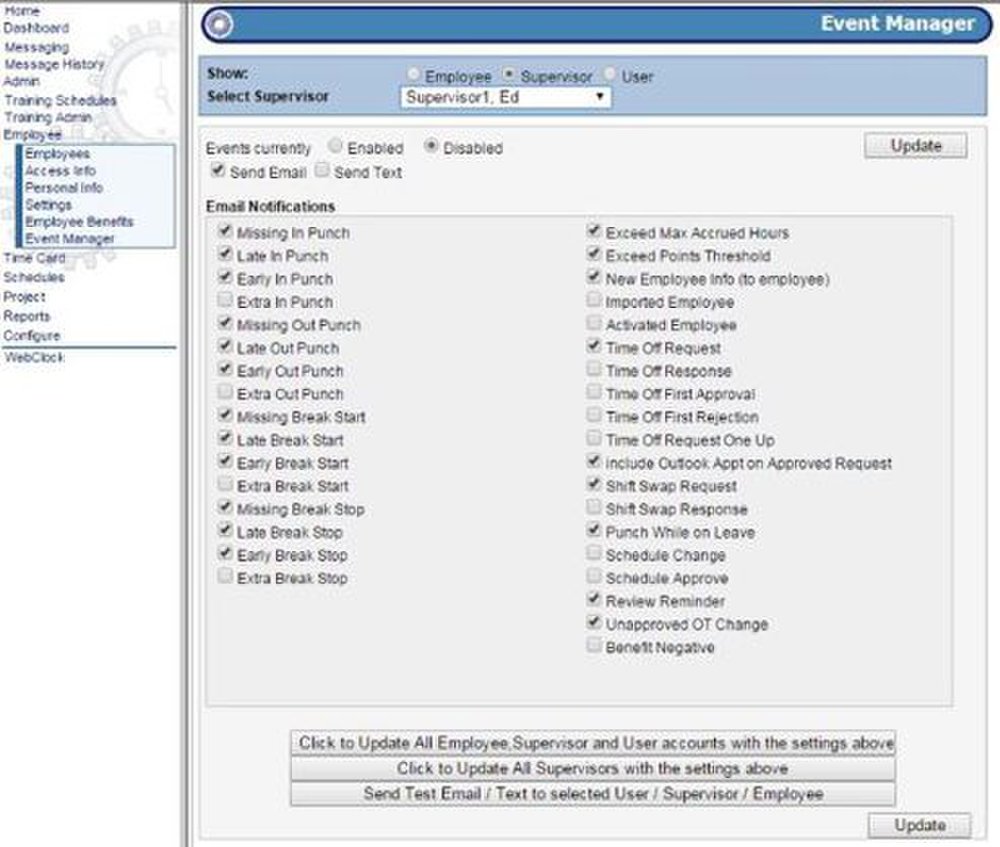 In the administrative portal, you can set permissions and access controls as well as customize what alerts you receive.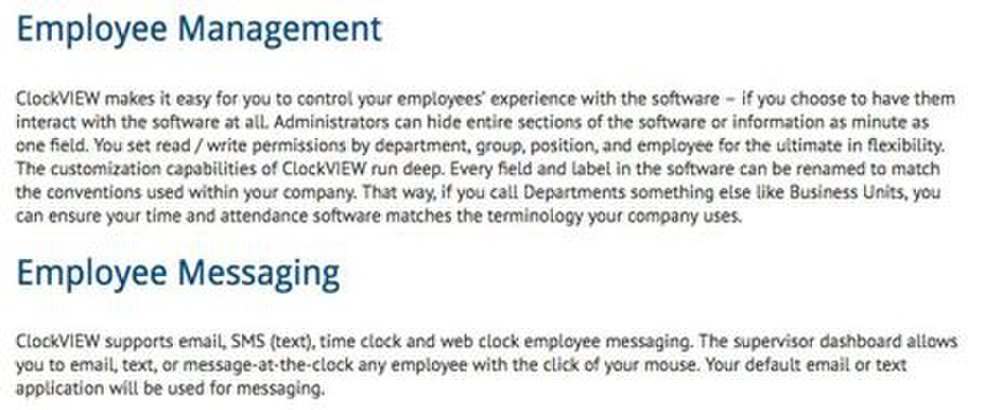 This time-tracking platform lets you message employees directly.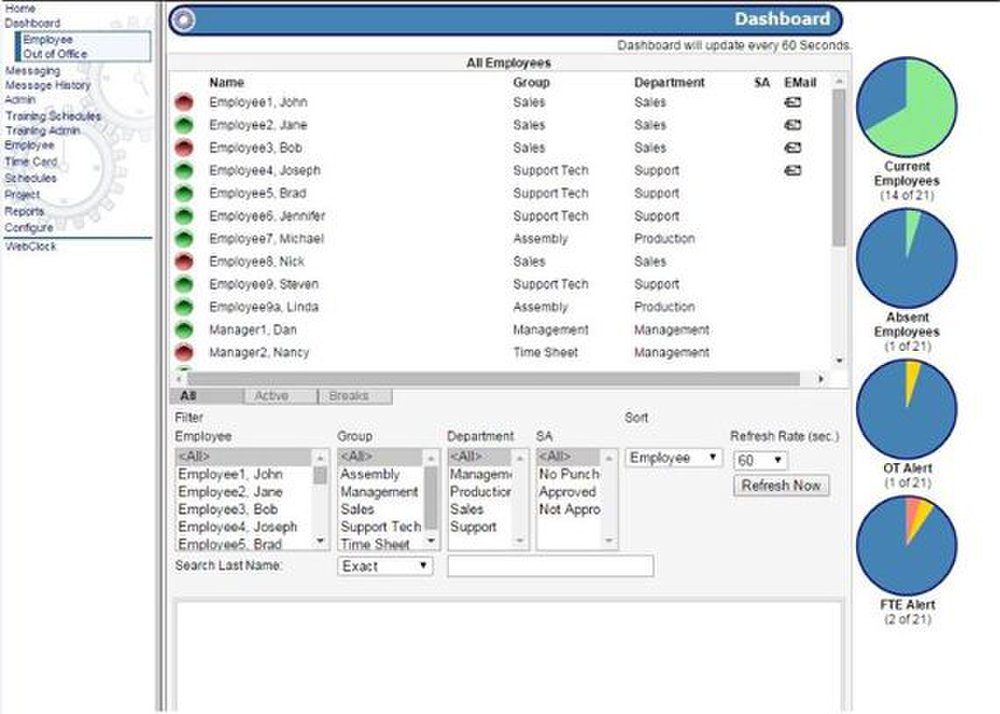 In real time, you can see which employees are on the clock.
Acumen Data Systems' ClockView is a cloud-based time and attendance system that includes employee self-service portals, a notification system, and productivity tracking tools. It has an in-and-out board as well as scheduling and forecasting tools. The system tracks both hourly and salaried employees as well as performance and productivity, which identifies areas where staff need to improve and where they've made progress.
View all our recommendation for time and attendance systems on our best picks page.

Pricing
ClockView charges a monthly, per employee, for its cloud-based system. Prices start at about $2 per employee, per month. However, there are add-on costs for things like benefit accruals and scheduling. We were told those additional services could cost another $1 per employee, per month. There is a $50 minimum cost per month. There are also one-time setup and training fees. The representative we spoke to said for about 25 employees, the total cost would be around $2,000.
ClockView requires at least a 12-month contract. To cancel, a 30-day written notice is needed.
Features
With ClockView's system, businesses can easily keep track of when employees come and go, their paid time off and work schedules. The system comes with these features:
Multiple time-tracking methods. With ClockView, employees can clock in and out using web browsers, mobile apps, time clocks, and telephones.


Touchscreen timeclocks. The system offers multiple badge and biometric timeclocks. The biometric clocks utilize fingerprint scanning to prevent buddy punching.


Mobile app. Using the mobile app, available for iOS and Android devices, employees can clock in and out, log their breaks, request time off, view time-off balances and check their schedules. The mobile app also offers both geotracking and geofencing. The geotracking allows employers to track remote employees' locations, while the geofencing allows employers to limit where employees can use the mobile app.


PTO management. ClockView manages paid time off. It tracks vacation balances and allows employees to request time off. Managers can then log into the system to approve or deny those requests.


Scheduling tools. Acumen Data System offers a separate module for scheduling, ShiftView. The module includes simple rosters, certifications, preferences, rotations and demand-based scheduling.
Additional Considerations
There are a number of factors that make ClockView a worthwhile time and attendance system. Here's what we liked:
The system allows employers to restrict punches for all employees by time of day, employee schedule and location.


ClockView comes with a customizable notification system. You can set up notification rules for each employee or supervisor. Notifications can be set for things like missed punches, time-off requests and overtime. You can choose to have notifications sent via email, text message or both.


ClockView comes with an audit trail, which is an uneditable record of all the modifications made to timesheets. This is required by the Department of Labor for businesses that win government contracts.


There are 55 standard reports that cover a range of topics, including time, expenses, labor, history and audits.


The software includes a messaging system that allows managers and supervisors to send employees notes via email, text messages and the timeclock. Messages can be sent to groups, departments or individuals.


ClockView interfaces bidirectionally with payroll and HR software.
Drawbacks
There are a few drawbacks to ClockView. First, scheduling tools aren't included. You need to buy the additional ShiftView module to access those tools. Second, ClockView is available as an on-premises solution, but you must have at least 50 employees for this option. Finally, there is no live-chat support.
We were also disappointed that Acumen Data Systems wasn't listed with the Better Business Bureau. We would have liked to known how many, if any, complaints have been filed against them.
Editor's Note: Looking for a time and attendance system? Click the Compare Quotes button below to have our sister site Buyer Zone connect you with vendors that can help.

Ready to choose your The Best Time and Attendance Services and Software 2019? Here's a breakdown of our complete coverage:

Chad Brooks
Chad Brooks is a Chicago-based writer and editor with nearly 20 years in media. A 1998 journalism graduate of Indiana University, Chad began his career with Business News Daily in 2011 as a freelance writer. In 2014, he joined the staff full time as a senior writer. Before Business News Daily, Chad spent nearly a decade as a staff reporter for the Daily Herald in suburban Chicago, covering a wide array of topics including local and state government, crime, the legal system and education. Chad has also worked on the other side of the media industry, promoting small businesses throughout the United States for two years in a public relations role. His first book, How to Start a Home-Based App Development Business, was published in 2014. He lives with his wife and daughter in the Chicago suburbs.