Acusis Review
Acusis offers medical transcription services for hospitals and medium to large clinics with a minimum of five physicians. The company charges by line or by visual black character, depending on what you prefer. This service requires a contract, which makes this transcription option better suited for facilities looking for a long-term transcription service integrated into their workflow. This medical transcription service has thorough security and software options.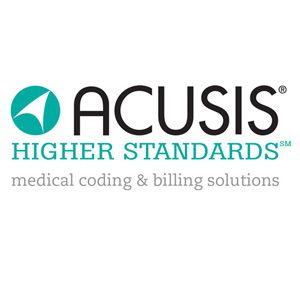 Acusis
The Verdict
With great security and turnaround times, Acusis is a medical transcription service worth considering for medium to large medical facilities looking for a long-term option.
This medical transcription company uses a web-based system, AcuSuite, for dictation and transcription transfer and storage. Through this online portal, you can upload dictations and access finished transcriptions at any time for download and printing. AcuSuite also gives clients the ability to use electronic signatures to sign off final transcriptions before delivery. Each user account can be customized so your staff can access only what transcriptions and software features they need, such as the electronic signature feature. Acusis's system can also integrate with numerous electronic medical record (EMR) systems, such as Allscripts and EPIC.
Acusis gives you the choice of several convenient dictation-capture methods. You can record your medical dictations through a digital voice recorder and upload the files through Acusis's web-based software through a USB port. The service also offers a standard toll-free phone system, which lets you use any phone to call into the system to record your dictation. The company also has a mobile app for iOS-based systems called AcuMobile. The app only works on iOS devices and can be used both online or offline to record dictations. Another option is the company's speech-recognition system, AcuSpeech.
Acusis's system protects data transfer with a 256-bit security encryption, the highest similar services offer. The company hosts its data in its own secured facilities, so it can manage its own hardware instead of relying on third-party vendors. Because the service's software and data is web based and cloud based, you don't have to worry about setting up and maintaining any extra hardware at your office, and you access your data from anywhere you need.
This transcription service uses three maximum levels of quality control to make sure transcriptionists keep a high accuracy rate. All new accounts can rely on a three-level quality control check while the dedicated transcriptionists learn the client's dictation and voice style. Once the transcriptionists have had enough time to learn the client's style, the number of transcriptionists who pass over the transcription drops to two and eventually down to one with a post-delivery quality assurance team checking accuracy every week. Acusis's goal with this method is to return transcriptions as quickly as possible with the highest level of accuracy. Like its three-percent turnaround time guarantee, the company also offers a 3-percent accuracy guarantee; if there is a more than 3 percent error rate in every thousand lines, then the company will credit you the cost of the transcriptions with errors.
This medical transcription service's maximum turnaround time is 24 hours from the time it receives your dictation to when it delivers your transcription. The company offers a turnaround time guarantee that if more than three percent of your transcriptions are delivered late, then you'll be reimbursed the cost for all late transcriptions. The company also offers a STAT turnaround time for emergencies when you need a dictation transcribed and returned fast. You can count on 24/7 support with this company in case you have any problems with the software or dictation process.
Acusis is a medical transcription company offering thorough, accurate transcriptions at a fast, 24-hour turnaround rate. The company's software uses 256-bit security encryption, and the data is stored in the company's own secure facilities. Overall, Acusis is an excellent medical transcription service option, especially for medium to large facilities.
Image Credit: Getty Images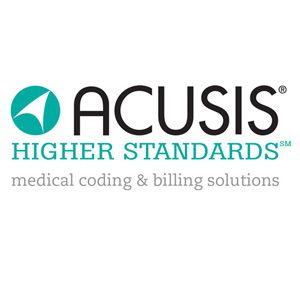 Acusis
The Verdict
With great security and turnaround times, Acusis is a medical transcription service worth considering for medium to large medical facilities looking for a long-term option.

business.com editorial staff
business.com Member
The purpose of our community is to connect small business owners with experienced industry experts who can address their questions, offer direction, and share best practices.