Adobe Connect Review
Adobe Connect webinar service has a large price tag and many features. While its lack of included teleconferencing contributes to keeping it from a higher ranking in our lineup, its variety of audio and visual tools enable you to create highly professional and memorable presentations.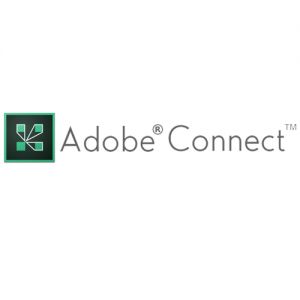 Adobe Connect
The Verdict
Adobe Connect provides a high-quality, professional webinar service, but its huge feature set and base price make it a better alternative for businesses with serious webinar needs.
Attendees are required to register for your webinars with Adobe Connect. Once the attendees register, they are sent occasional reminders about the meeting. After the presentation ends, you can send thank you emails to participants. This follow-up can increase attendance for the event, but if you have the additional event-coordinator module, you can let registrants opt out of future emails.
This webinar platform makes it easier than any other webinar software to transfer multiple kinds of files and share website links. Other features rank on par with the best webinar services; they include public and private chat, audience emoticons to show approval or request the speaker speak up or slow down, and the ability to mark slides or use a white board. With screen and application sharing, you can preview the application before sharing it.
The Q&A feature automatically screens questions. The presenter will choose how to answer, and if he or she answers publicly, both question and answer will show. While convenient for keeping control of the webinar, it can lead to "dead air" time while the presenter is busy privately answering questions.
You can record, edit and download your webinars for future use or distribution, or you can host them on your website. These recordings can include video elements from your presentations and synchronized audio from the VoIP or telephone call-in. Adobe keeps your recordings, within space limits, for the life of your account.
Your attendees can use their smartphones or tablets to join your webinar. Adobe doesn't provide you with a way to bill your guests unless you purchase an extra module, but it does integrate with SalesForce to allow you to connect attendee information to this popular customer relationship management software.
Having an audio presence makes any online presentation more comfortable for the attendees. Adobe Connect does not provide a teleconferencing platform, so you need to purchase a separate teleconferencing service if you want attendees to phone in. With the added teleconferencing option, you have the ability to mute or remove attendees from the webinar. All of the other services we reviewed include teleconferencing integrated into the platform. With Adobe Connect, you also have the option to offer toll-free conferencing for an additional fee.
This webinar software has more features than nearly any other program we reviewed, which can make for a complex platform. In order to make using it easier, Adobe's interface emphasizes the most common features with the ability to drill down to more-specialized tools. Also, it has feature tutorials you can access when you enter the webinar. These tutorials are specialized for your role: host, presenter or attendee. The support section includes moderated forums, PDF manuals, how-to guides, a knowledgebase, and training and certification programs. You can get phone and chat support 24/7, and Adobe expedites email requests for help.
Adobe Connect is a top-tier webinar service. It has a variety of options for users and hosts, and its smooth interface makes it a professional option for your business or school. Some of its features require a different or additional program, and you need a separate teleconferencing platform if you want to allow phone-ins. Nonetheless, it's a service worth considering if you need a highly professional and feature-rich webinar service.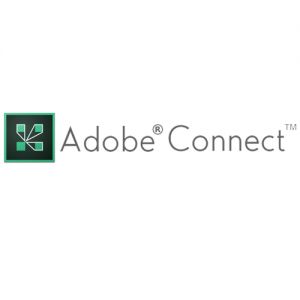 Adobe Connect
The Verdict
Adobe Connect provides a high-quality, professional webinar service, but its huge feature set and base price make it a better alternative for businesses with serious webinar needs.

business.com editorial staff
business.com Member
The purpose of our community is to connect small business owners with experienced industry experts who can address their questions, offer direction, and share best practices.