Adobe Connect Review
Adobe Connect web conferencing is a feature-rich virtual meeting tool that utilizes the company's programs and experience. The Flash-based software runs audio, video and chat smoothly, no matter which browser you use. Its work with government and commercial agencies means it has a strong concentration on security that's important if you are working with confidential information.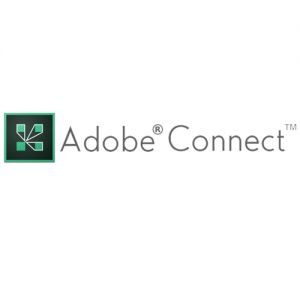 Adobe Connect
The Verdict
Adobe Connect offers a full-featured web-conferencing platform that is especially suited for businesses needing to keep communications confidential.
When creating a meeting, you can customize how users can access the meetings. For example, you can require that all attendees register and create passwords or leave the meeting room open, where the audience does not need codes to enter the conference room. This feature allows you to balance security and usability for each meeting to what you deem necessary.

One drawback to this webinar software is that it doesn't have all the audio features found in other online meeting software. Adobe is one of the few online conferencing services in our lineup that doesn't offer phone-in features on its platform. If you need these features and like Adobe's web-conferencing software, Adobe Connect has partner companies that handle the teleconferencing capability, but it costs extra.
The public and private chat pods keep participants involved in the discussion, and you can enable participants to write on the whiteboard and annotate charts on the screen. Attendees may also click on buttons to agree or disagree with the current topic without interrupting the meeting. If you need to have certain participants work on a specific issue during a session, you can create a breakout room and assign them to it.
Another advantage to this online meeting software is that you can save meeting spaces and recordings in the cloud, and the information stays secure. This is a great advantage for long-term collaborations.
Adobe's clients include the Department of Defense, so it has extra security features. You can configure meetings to work within or outside your company's firewalls. The on-premise and managed-service options have additional security controls. You can set your web meeting to require user authentication and passwords. Administrators can manage password requirements to company policy. Everything is encrypted to 128 bits, which is industry standard. Adobe Connect keeps full logs of meetings, including the dates, times and source information, and even audits them for potentially malicious use or data corruption.
This web-conferencing tool has a slightly complex but flexible interface. You can run through your presentation in the meeting room before the web conference starts to learn how to navigate the platform and identify any problems that might arise during the live conference. Each window, called a pod, focuses on a feature. You can customize the pods to open only the features that are critical to your meetings, letting you customize your meeting space. Unfortunately, this program does not offer a screen-capture tool.
As a host, you can determine which features presenters or participants have access to. You can also pass controls to anyone in the meeting by changing that person's status. By making attendees a host, you give them the capability to control more aspects of the meeting as well as the ability to remotely connect to your desktop and vice versa.
After each meeting, you can access reports and statistics from the platform's dashboard. These reports detail information about your attendees to help you improve future meetings. For example, the reports include how many attendees were present and at what times they logged off from the conference. The service also has a polling feature to help you learn more about your audience.
Adobe Connect comes with optional systematic instructions that cover every step of establishing and executing a web conference. On its website, there are several additional help and support options available, including moderated forums, how-to guides, training and dedicated customer support. The telephone and chat support are available 24/7, and the service provides remote IT support if you're having problems with the system.
Adobe Connect provides a web-conferencing suite that is flexible and secure. Although you must pay extra for some of the audio features, it nonetheless excels in security, making it a worthy choice for businesses that work with confidential or proprietary information.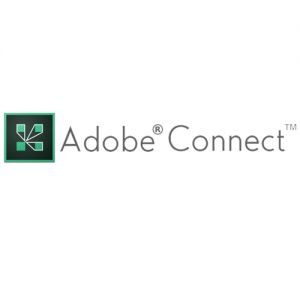 Adobe Connect
The Verdict
Adobe Connect offers a full-featured web-conferencing platform that is especially suited for businesses needing to keep communications confidential.

business.com editorial staff
business.com Member
The purpose of our community is to connect small business owners with experienced industry experts who can address their questions, offer direction, and share best practices.