AnyMeeting Review
While the most basic webinar service we reviewed, AnyMeeting nonetheless provides a clean interface, intuitive controls and clear sound. There aren't as many features as with other webinar platforms, but it does have the advantage of linking to PayPal, making it a good option for webinars you want to charge for.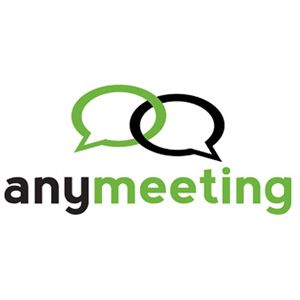 AnyMeeting
The Verdict
AnyMeeting provides simple webinar software, which makes it easy for presenters and participants to use and good for basic presentations.
Like many of the webinar platforms we reviewed, AnyMeeting requires a download, but only for presenters who want to share their desktop screens with the group. Otherwise, presenters and attendees alike can simply join from their computer. Attendees can also join from a smartphone or tablet by downloading the app.
You can invite participants via the software or using Outlook, which integrates with the software. You can also promote the event via social media. The registration feature has a place for terms of service and charging for the webinar through PayPal. As such, it's a good choice for businesses wanting to create webinars for income generation. You can program a password for attendees in order to limit the attendance to just invitees or registrants.
We found the VoIP high quality and the webinar features very easy to navigate. This platform has the fewest presenter and moderator tools of any webinar platform we reviewed. You can share your screen or upload slides, and there is a note-taking tool, which very few webinar platforms have. This is useful if a presenter or attendee wants to take notes, and the notes can be kept private to the note-taker or shared with the group. However, there is no whiteboard or tools to mark slides with highlighting or drawing. This software does let you stream a YouTube video, which presenters can play or pause at will. There also is audio and chat Q&A controls.
While AnyMeeting has a customizable registration form that you can program with questions to help you determine attendees' interests, it does not integrate with customer relationship management software nor have additional lead-generation tools. Thus, you have to do some extra work if you want to use this software to build your potential customer base.
You can contact support by chat and phone during business hours. You can access the chat support directly while in the webinar itself, which is convenient if you run into problems during a presentation. In addition, AnyMeeting provides live training, daily orientation webinars and video tutorials.
AnyMeeting provides a basic webinar service with the most important features of chat, slides and moderation, but it lacks many of the extras found in our higher-ranked webinar services. Nonetheless, its PayPal integration makes it convenient to charge for webinars. It's a great choice if you have simple needs as far as interface but want to make money with your webinars.
Image Credit: Getty Images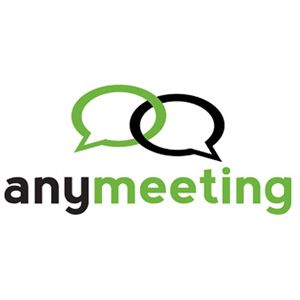 AnyMeeting
The Verdict
AnyMeeting provides simple webinar software, which makes it easy for presenters and participants to use and good for basic presentations.

business.com editorial staff
business.com Member
The purpose of our community is to connect small business owners with experienced industry experts who can address their questions, offer direction, and share best practices.