AppFolio Review
By Business.com Editorial Staff
Last Modified: May 4, 2018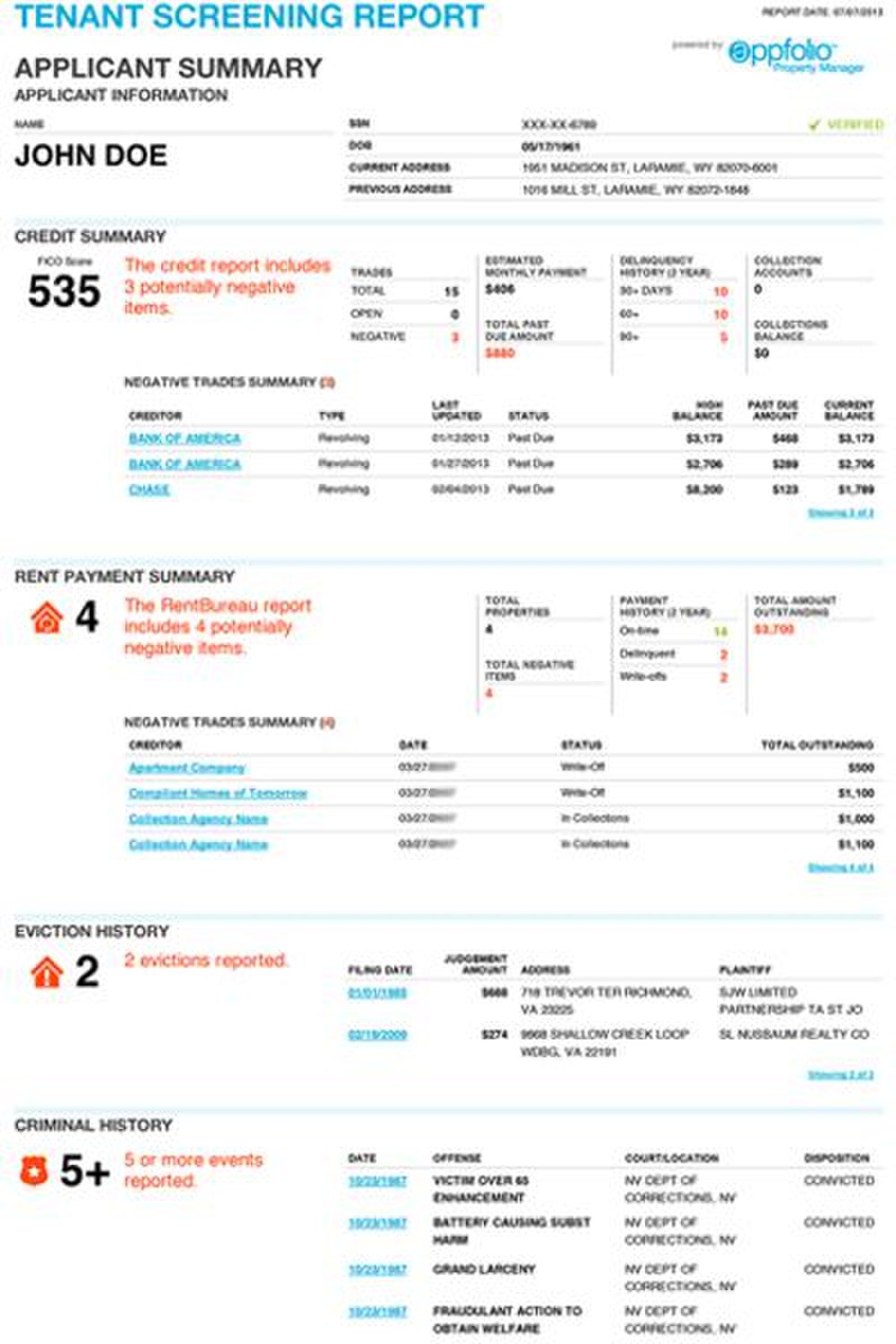 Tenant screening reports are built into this property management software, so you don't have to run applications in other programs.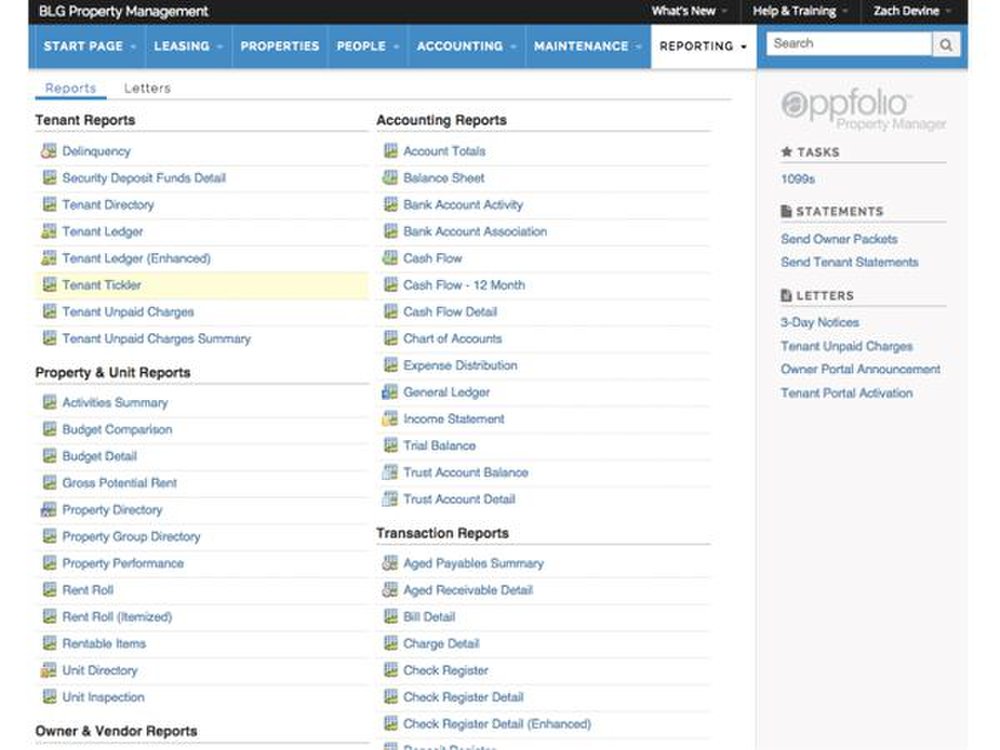 Various reports are available for you to keep track of your tenant, property, accounting and transaction information.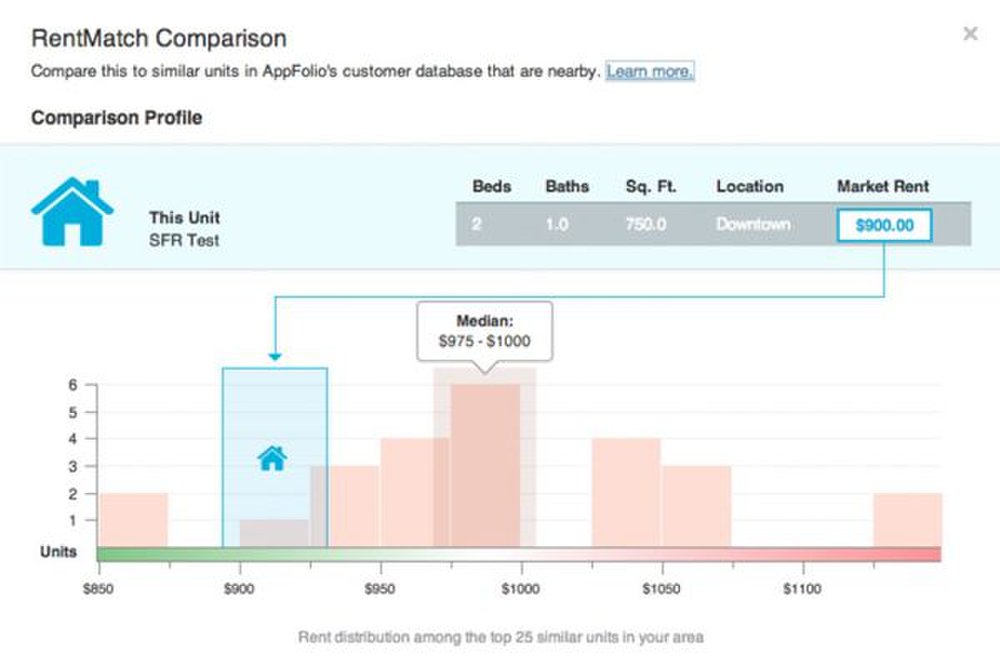 The software can show you a comparison of your property's rent with that of other AppFolio customers in your area.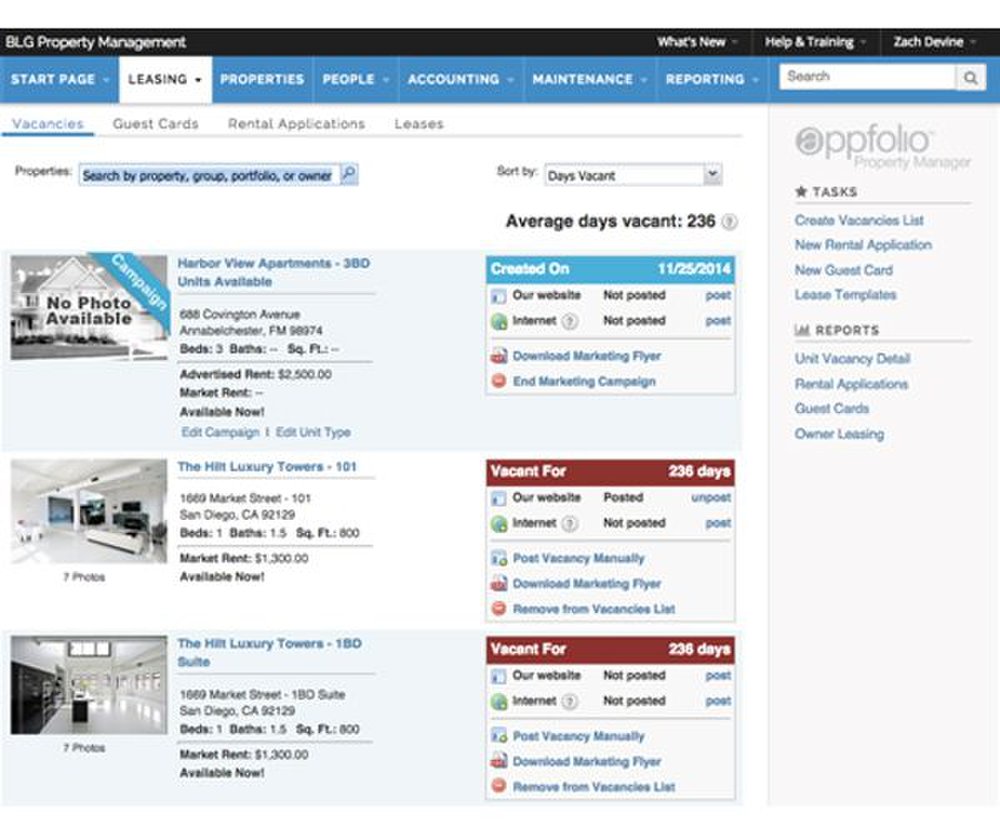 The Vacancies tab shows the marketing status of your vacant units.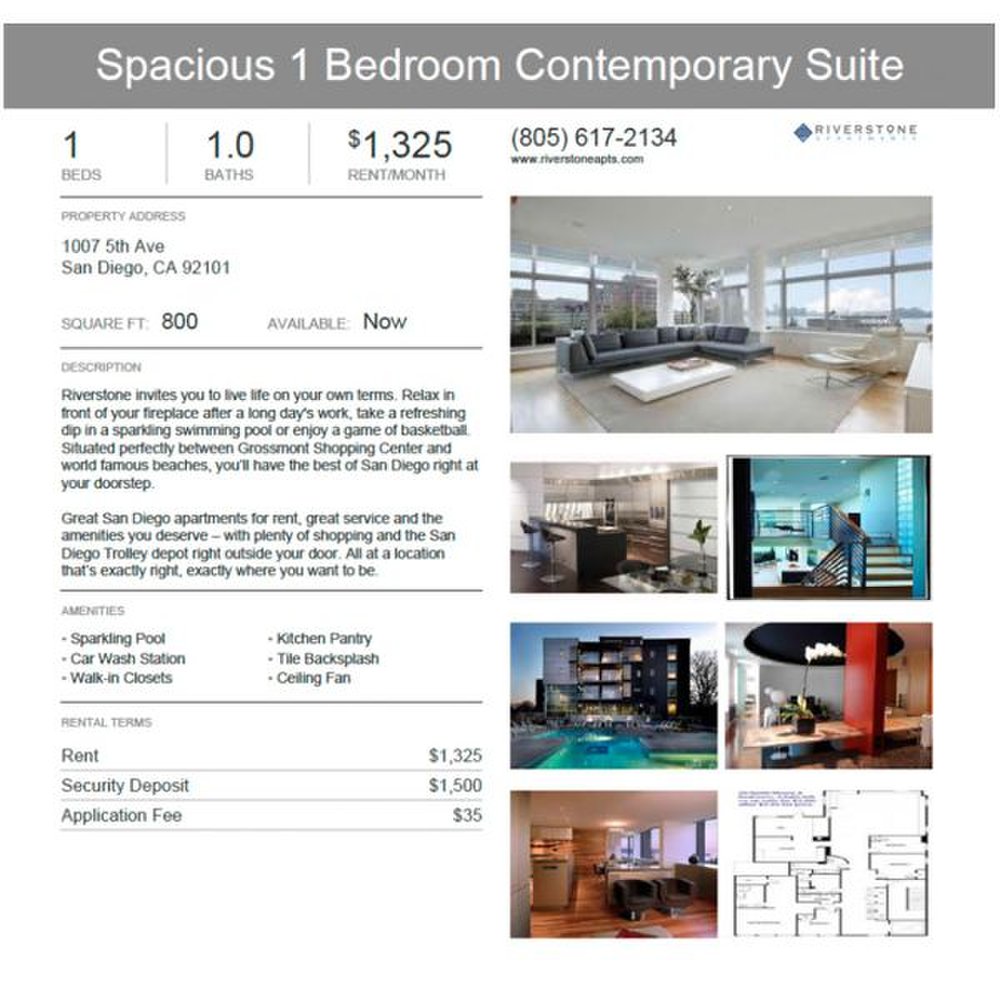 You can list comprehensive information about your properties, including square feet, availability and security deposit amounts.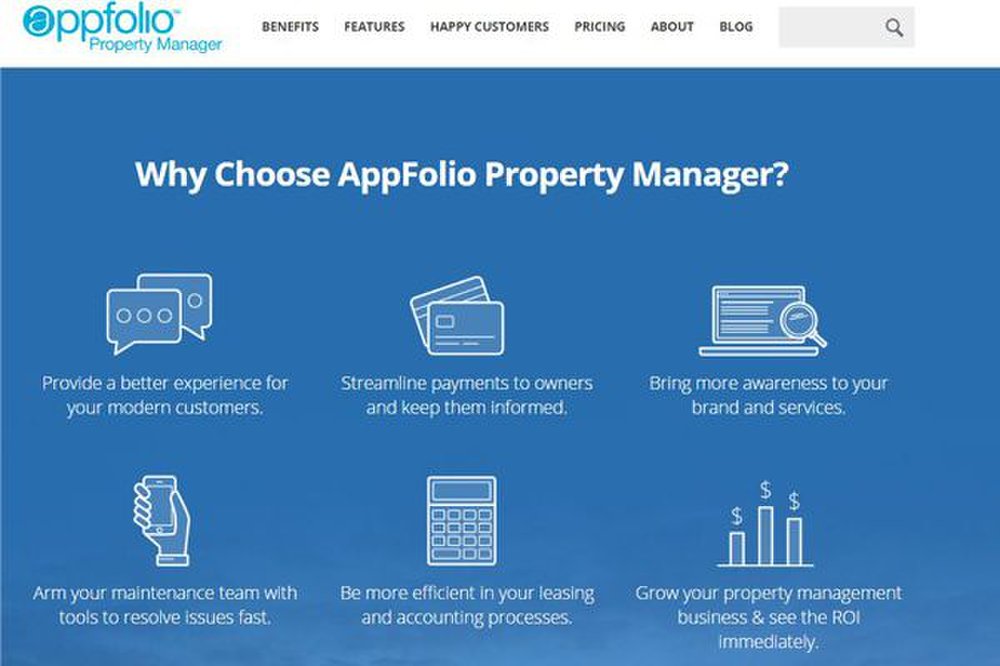 The software allows you to streamline payments and increase efficiency with accounting and leasing processes.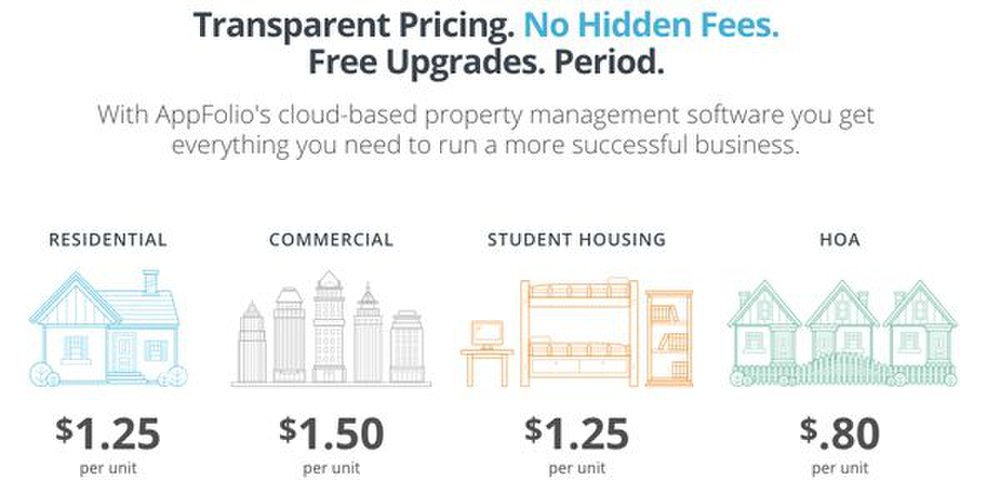 The cost per unit varies depending on the type of property available. This software supports residential, commercial, student housing and HOA units.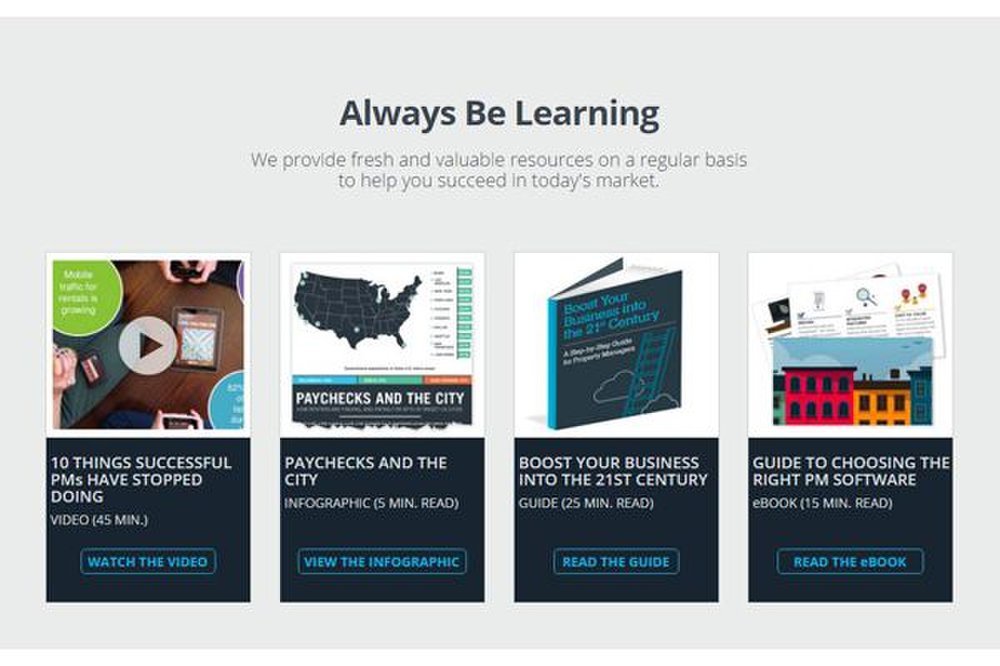 This company frequently updates its resources, such as videos and eBooks, to give you valuable information.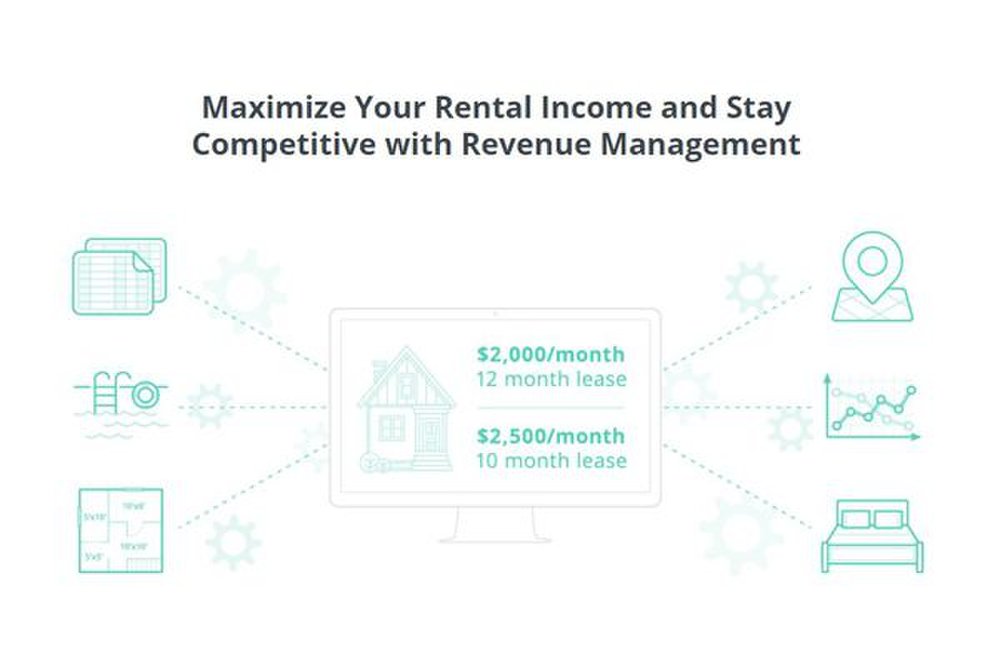 Using this property manager helps you stay competitive in the market.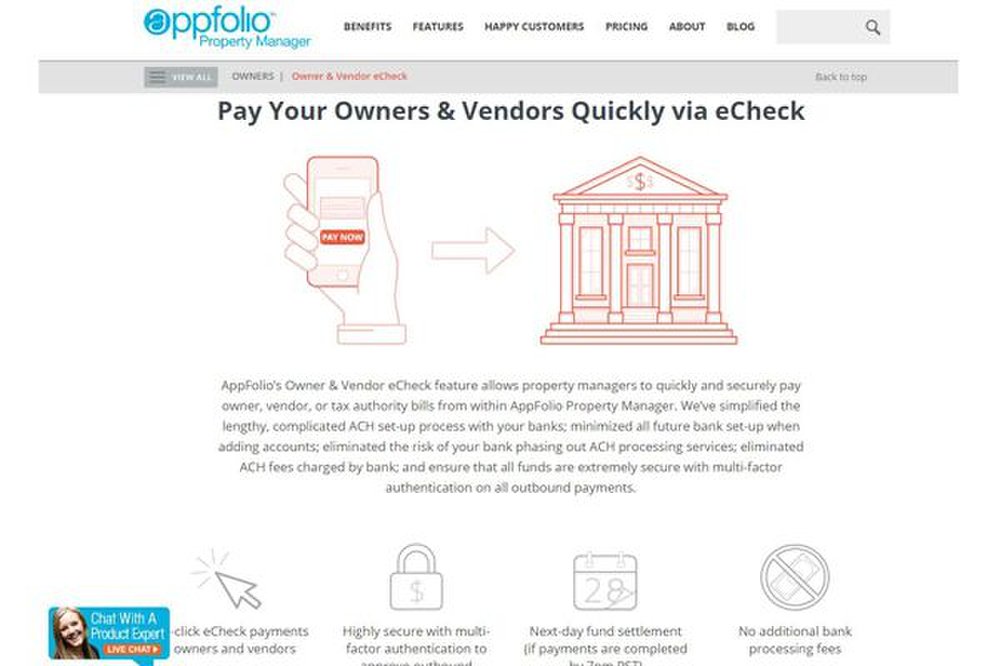 AppFolio image: This program allows you to pay vendors and owners online via eCheck.
AppFolio Property Manager is an online property management solution that optimizes the ease of use inherent in web-based interfaces without sacrificing powerful features, which is why it wins. The product architecture and feature set reflect AppFolio management's philosophy and mission to deliver online property management as a service, and it contains built-in feedback mechanisms to invite and poll for new feature requests from users. The most requested features and feature refinements from the user base are added on a two-week schedule. Software as a service (SaaS) doesn't require you to pay for a license or upgrades, so you are free to take advantage of new upgrades and improvements.
This property manager software takes advantage of the graphical and hyperlink opportunities presented by a web-based interface that works well on both computers and mobile phones. The dashboard interfaces have clear tabs and layouts. If you do not want to move from tab to tab, it is possible to invoke multiple instances of AppFolio, with each instance open to the necessary view.

AppFolio Property Manager
Best Property Management
The Verdict
AppFolio not only includes most of the features you need to make your job as a property manager easier - the company listens to its customers and adjusts features and options accordingly.
Visit Site ▶
AppFolio Property Manager keeps track of the spending-approval thresholds established by owners for managers and flags work orders that require owner approval. One of the benefits of the online property management software is that it is easy to set up new users without the technical challenge of configuring computer networks. The product supports a number of different default levels of user access that can be customized to meet specific employee-access requirements.
AppFolio Property Manager hosts websites for a flat fee with no recurring charges. You can use information and pictures stored within the product to create HTML brochures and automatically post vacancies to proprietary marketing websites as well as many rental websites.
Intelligent exploitation of the web links to an online property management service enables vacancies in the portfolio to link automatically to Google Maps. You can conveniently provide directions to prospective tenants for showing appointments or to vendors on service calls. If you use this online property management service, you can search by property, group or owner to view whether a property is occupied or vacant.
You can easily determine whether a potential renter is appropriate for your vacancy with AppFolio's built-in access to background checks. There's no need to run an application through a third-party service independently of the software.
AppFolio is property management software that provides a tenant portal for paying rent via Automated Clearing House (ACH). It can be linked through the customer AppFolio website or a separate customer-hosted site. Tenants can log in to their accounts to view open charges, send payments and submit work order requests. A library of standard forms and letters as well as letter writing, mail merge and envelope printing are integrated with the product.
You can set up AppFolio to automatically generate work orders triggered by move-ins and move-outs. Creation of recurring work orders is a matter of clicking on radio buttons to establish flexible schedules. This rental property management software also tracks maintenance requests. Vendor contacts include a searchable tag field so you can use the universal search feature to locate a vendor with a specific expertise. You can create work orders then export to PDF and email, fax or mail them to vendors directly from the system. AppFolio also lets you pay vendors electronically.
AppFolio's accounting section features an easy-to-use graphical user interface that allows for tabbing between fields and incorporates the traditional keyboard shortcuts associated with platform-specific legacy accounting systems. Procedures for data entry, searches, funds transfers and bank reconciliation are well thought out and intuitive. General ledger, income statement, balance sheet and cash flow are geared for property management accounting. More than 50 default reports, including 1099s, are available for customization. The format for reports is flexible.
AppFolio is a cash-based accounting system but also supports accounting on an accrual basis. This online property management service can migrate a wide variety of formats to AppFolio for new users. The migration service is included in the product setup fee. The software does not support QuickBooks synchronization, however, so if you prefer to do your bookkeeping through QuickBooks, it has to remain separate.
You can use AppFolio to create owner packets and reports using point-and-click procedures to include what the owner requires. Reports are saved in PDF, HTML or CSV formats. Beyond the ability to email, fax or mail reports to owners from within the product, AppFolio integrates with ACH to create bank files to pay owners electronically. There are also a number of formats that support check printing. The software lets you calculate and track fees and commissions as well.
Product support and remote training are included in this online property management service. You are assigned a dedicated support representative, which helps establish continuity of service and build rapport between the two companies. Demos and trials as well as an extensive library of high-quality product training videos, help guides and bulletins are available by request if you qualify. Due to the monthly spend minimum, this online property management system is probably best for companies with at least a few hundred properties under management. You can access AppFolio's online user forum to communicate with other clients, ask questions and share advice. Both customers and prospects can follow AppFolio on Facebook and Twitter.

AppFolio Property Manager
Best Property Management
The Verdict
AppFolio not only includes most of the features you need to make your job as a property manager easier - the company listens to its customers and adjusts features and options accordingly.
Visit Site ▶
AppFolio Property Manager is one of the best property management software programs available. It arms professional property managers with powerful tools that make it easy to tackle the strategic and tactical management of accounting, employees, facilities, marketing, owners and tenants. AppFolio Property Manager is appropriate for managing hundreds or thousands of rental units. The inclusion of data migration services, the attention to customer service, the pricing model and the process for identifying new features for development all work together in ways designed to promote long-term customer relationships.

AppFolio Property Manager
Best Property Management
The Verdict
AppFolio not only includes most of the features you need to make your job as a property manager easier - the company listens to its customers and adjusts features and options accordingly.
Visit Site ▶
Ready to choose your Best Property Management? Here's a breakdown of our complete coverage:
Business.com Editorial Staff
The purpose of our community is to connect small business owners with experienced industry experts who can address their questions, offer direction, and share best practices. We are always looking for fresh perspectives to join our contributor program. If you're an expert working in your field – whether as an employee, entrepreneur, or consultant – we'd love to help you share your voice with our readers and the Business.com community. We work hard to only publish high-quality and relevant content to our small business audience. To help us ensure you are the right fit, we ask that you take the time to complete a short application: https://www.business.com/contributor/apply/ We can't wait to hear what you have to say!