Apple MacBook Pro 15 Review
The Apple MacBook Pro 15-inch with Retina is an office laptop for the iPhone set, a popular business notebook found in offices across the country, and prized for its blend of performance and advanced features. If you want a Mac for the office or are just overdue to upgrade the one you already have, the Apple MacBook Pro 15-inch with Retina is hard to beat.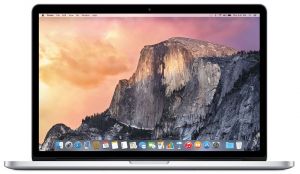 Apple MacBook Pro 15
The Verdict
The Apple MacBook Pro 15-inch with Retina is one of the best business laptops you can buy, with a rich selection of features and a premium design.
Apple's laptops tend to lag behind other manufacturers' when it comes the latest components. Traditionally, Apple adopts new processor technologies slowly but makes up for it with a level of performance optimization that keeps its computers competitive with current systems despite the older hardware. As such, the Apple MacBook Pro 15 is equipped with an Intel Core i7-4770HQ, a fourth-generation processor from 2014. Apple pairs this with 16GB of RAM, which is the only available memory option for this model.
Despite the age of the hardware, it has category-leading performance, scoring a stunning 14,423 points in Geekbench 3 and finishing the Laptop Mag Spreadsheet Test in four minutes and 14 seconds, one of the fastest times of the bunch. For an additional boost in performance, you can upgrade to other Intel Core i7 processors with faster clock speeds up to 2.8GHz as compared to the standard 2.2GHz.
The MacBook also has better-than-average graphics processing for a work laptop, with Intel Iris Pro Graphics, a variant on standard integrated graphics that offers superior graphics capabilities. Still, it doesn't quite match the performance of a dedicated GPU. While overall graphics performance is quite good, our graphics tests – both run using FutureMark's 3DMark Pro – are not Mac compatible. If you want to step up to more powerful graphics, you can also opt for an AMD Radeon R9 M370X discrete graphics card.
The MacBook Pro 15-inch comes with Apple's OS X El Capitan, the latest version of the company's operating system. Included with the OS is a free software suite that includes Pages, Keynotes and Numbers (Apple's competitors to Microsoft Word, PowerPoint and Excel), along with some fairly robust video and audio editing tools.
On par with other professional laptops, the MacBook Pro 15 comes standard with 256GB of solid-state storage. Apple uses a different formatting structure and data connection for slightly better performance than other SSDs. While 256GB should be sufficient for most basic uses, you can also configure the laptop with larger 512GB or 1TB solid-state drives.
The current iteration of the MacBook Pro 15 features Apple's iconic unibody aluminum construction, with sleek, minimalist stylings ornamented only with a glowing white Apple logo on the lid. The design measures 14.13 x 9.73 x 0.71 inches, making it thinner than most other business notebooks, though it weighs in as the heaviest in our review at 4.49 pounds. With over nine hours of battery life, it's also ready to take on the go, though the weight can be a bit of a drag. The laptop has a chiclet-style backlit keyboard and features Apple's Force Touch trackpad, which has pressure sensitivity in addition to multitouch and gesture support.
The MacBook Pro's 15.4-inch display boasts 2880 x 1800 resolution, a better-than-Full-HD resolution which Apple calls Retina Display. It's not quite as impressive as the 4K displays available on some competing systems, but it still looks good. It also delivers decent brightness – 303 nits in our testing – and fairly good color accuracy, with an average DeltaE of 2.1.
It's also worth pointing out that there is no touchscreen option for the MacBook Pro. This is a key difference between many Mac and Windows systems, and if you want a touchscreen on your laptop, you need Windows.
The laptop is outfitted with two USB 3.0 ports, an HDMI output, a built-in SD card slot and two Thunderbolt 2 ports. For wireless connectivity, the laptop has both 802.11ac Wi-Fi and Bluetooth 4.0.
Apple covers the MacBook Pro 15-inch with Retina display with a one-year warranty, and extended three-year coverage is available through an AppleCare protection plan. In independent testing by our sister site LaptopMag.com, Apple was found to have the best tech support services of any laptop manufacturer, ranking first out of 10 major brands. Apple offers free phone support for the first 90 days after purchase, and you can also reach support personnel through live chat on Apple's website as well as get help in its detailed online support pages.
The Apple MacBook Pro 15-inch with Retina is one of the best laptops on the market, both at home and in the office. Features like Thunderbolt 2 connectivity and the Force Touch trackpad may grab a lot of attention, but the real draw here is the category-leading performance and potent graphics options, along with premium design and a high-resolution display.
Image Credit: Getty Images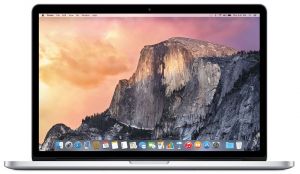 Apple MacBook Pro 15
The Verdict
The Apple MacBook Pro 15-inch with Retina is one of the best business laptops you can buy, with a rich selection of features and a premium design.

business.com editorial staff
business.com Member
The purpose of our community is to connect small business owners with experienced industry experts who can address their questions, offer direction, and share best practices.