ASUSPRO Review
The ASUSPRO D620MT series of business computers was developed to provide reliable, efficient, safe and secure computers. For the most part, it delivers on this promise. Few business computers can match the plethora of security features it comes with to keep your sensitive business files safe. The Intel Core i5-6500 3.6GHz processor has the ability to multitask effectively, though it doesn't compare to the best processors in our review. In addition, ASUS lacks some important support features that you'd get with the best business computers.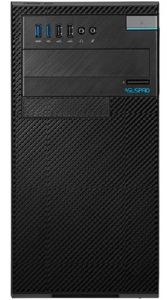 ASUSPRO
The Verdict
The ASUSPRO D620MT features an average quad-core processor, but it only has 4GB of RAM and a 500-GB hard drive.
For our comparative review of business desktop computers, we started by evaluating the processor with the PassMark score, which is an industry benchmarking standard for processor performance. Then we evaluated the RAM and storage. The best business computers should have a powerful processor with sufficient memory to run all your business apps and enough storage to store all your files. We also evaluated the connectivity, the expansion potential and tech support.
One of the best and most unique features of the D620MT is the security features. It comes with AI Security software management to protect confidential data by restricting access. The chassis comes with a Kensington lock, preventing people from stealing the internal hard drive. It even has an intrusion alert system that notifies you when someone has opened the chassis without your approval. In addition, it uses the ASUSPRO Business Manager, which features a secure delete protocol and an onboard Trusted Platform Module microchip, which protects keys, passwords and digital certificates from online attacks. With most business computers, you'd have to purchase and install this type of software separately.
The brains of the D620MT is the Intel i5-6500 processor. It's a quad-core processor with a base speed of 3.6GHz. This processor received a 7,035 PassMark score, which is slightly below average. It's still above the 6,000 mark required for simple multitasking. This score means it can handle running simple apps like Microsoft Word while browsing the internet, but it can't handle multiple data-intensive apps at once. For comparison, the highest PassMark score for a processor in our review is 11,000, which is more than twice as powerful.
The D620MT comes with 4GB of memory, which is the lowest in our review. A business computer should have at least 8GB to provide ample room for data-intensive apps. You can upgrade to as much as 64GB, which may be necessary if you're running extremely data-intensive software like 3D rendering.
The installed hard drive has a 500-GB storage capacity, which is also the lowest amount of storage in our review. The best business desktop computers have at least 1TB of storage. You can upgrade to a 2-TB hard drive, but this is the most storage available. Some businesses PCs can be upgraded to 13TBs of storage. However, with four expansion slots on the motherboard, you can add more drives after your purchase.
The major downside to the ASUSPRO D620MT business desktop is the lack of key help and support features offered by ASUS. The first issue is the one-year warranty. Most business computers come with a three-year warranty. Also, ASUS doesn't provide accidental damage protection, asset recovery, on-site service and remote diagnostic services. If your computer goes down, ASUS simply doesn't have the support to make sure you're up and running within hours or a day instead of weeks. And when your computer's down, your business is down.
Another downside is the purchasing process. To buy an ASUSPRO D620MT, you have to fill out a deal registration form and wait for an SMB (small-medium business) sales representative to contact you. Once in contact with the sales representative, you can customize the computer to meet your small-business needs. You can also negotiate a deal for multiple computers. However, it adds an unnecessary step to the purchasing process, especially if you want only one or two computers. Since customization is a big part of the process, the price of the computer can vary a lot.
The ASUSPRO D620MT is a reliable and fast computer with an Intel i5-6500 3.6GHz quad-core processor that has a PassMark score of 7,035. It comes with 4GB of RAM and a 500-GB hard drive. It's stocked with impressive security features to make ensure your files remain confidential. Unfortunately, ASUS' support lacks many of the necessary services you'll need to make sure your business isn't down for too long if the computer fails on you.
Image Credit: Getty Images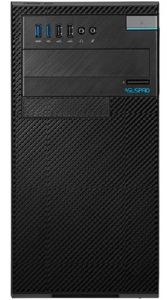 ASUSPRO
The Verdict
The ASUSPRO D620MT features an average quad-core processor, but it only has 4GB of RAM and a 500-GB hard drive.

business.com editorial staff
business.com Member
The purpose of our community is to connect small business owners with experienced industry experts who can address their questions, offer direction, and share best practices.