BackupAssist Review
By Business.com Editorial Staff
Last Modified: December 21, 2018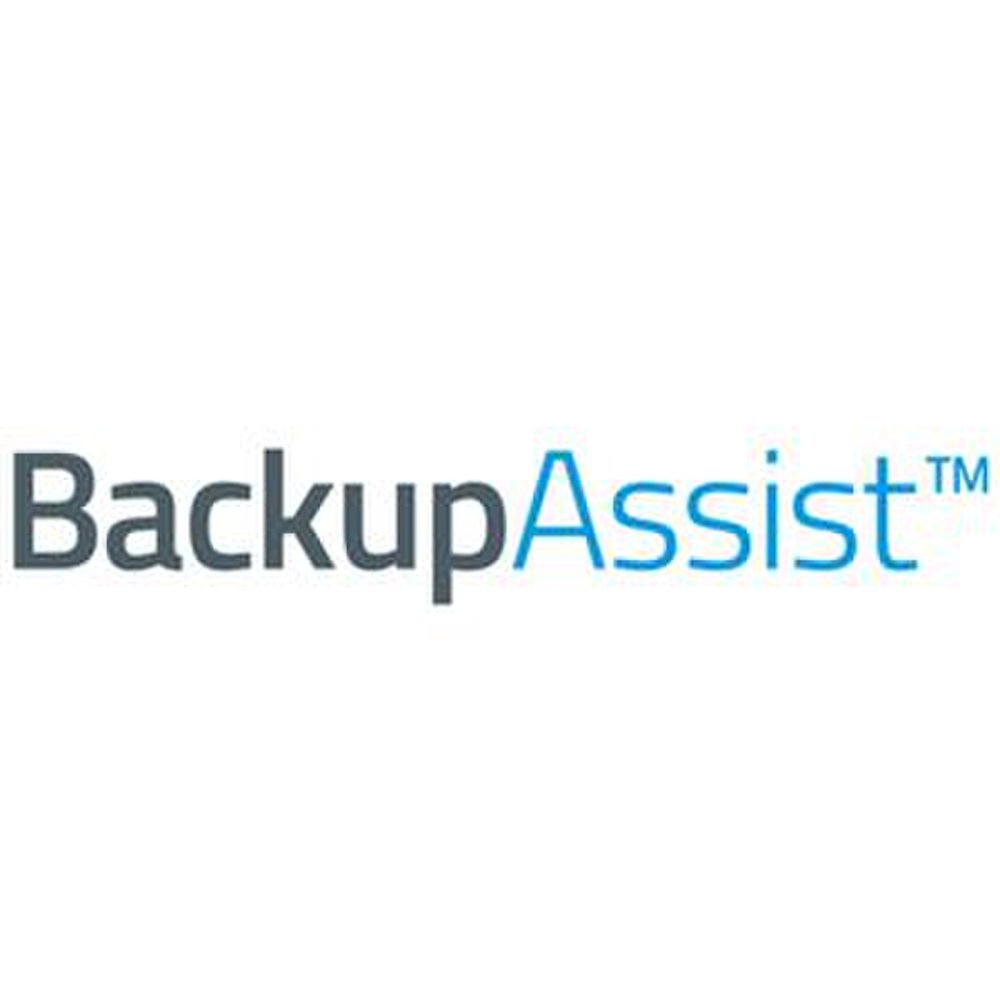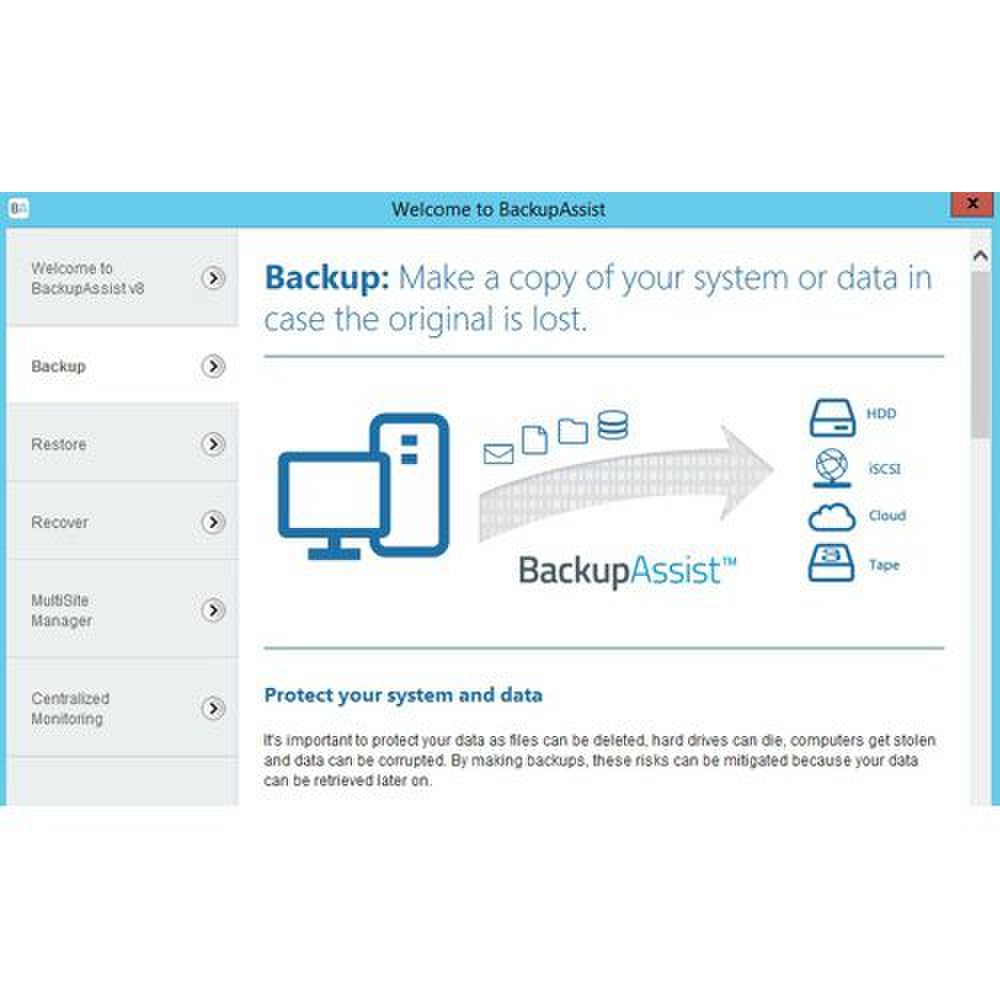 BackupAssist image: The backup tab is clearly labeled and easy to find, making it easy to configure backup sets.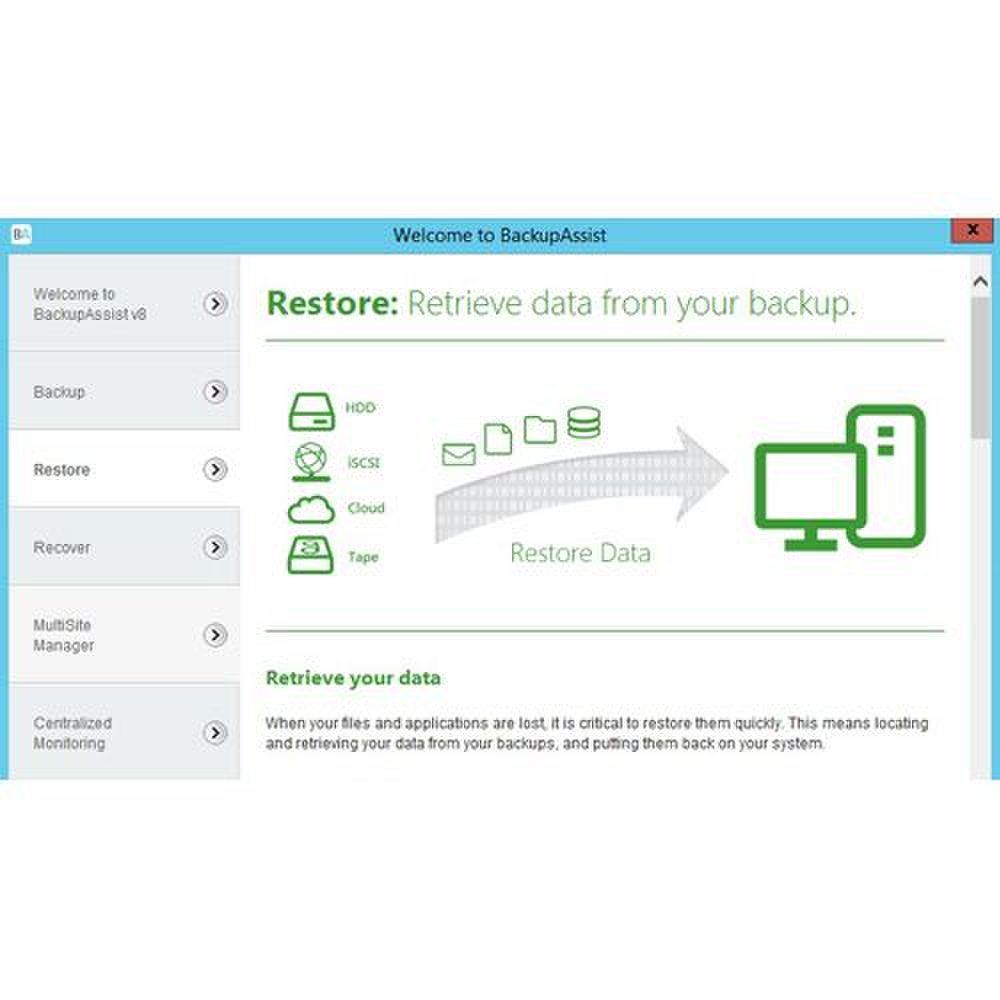 BackupAssist image: The restore tab gives you options for the media that you want to restore the data on.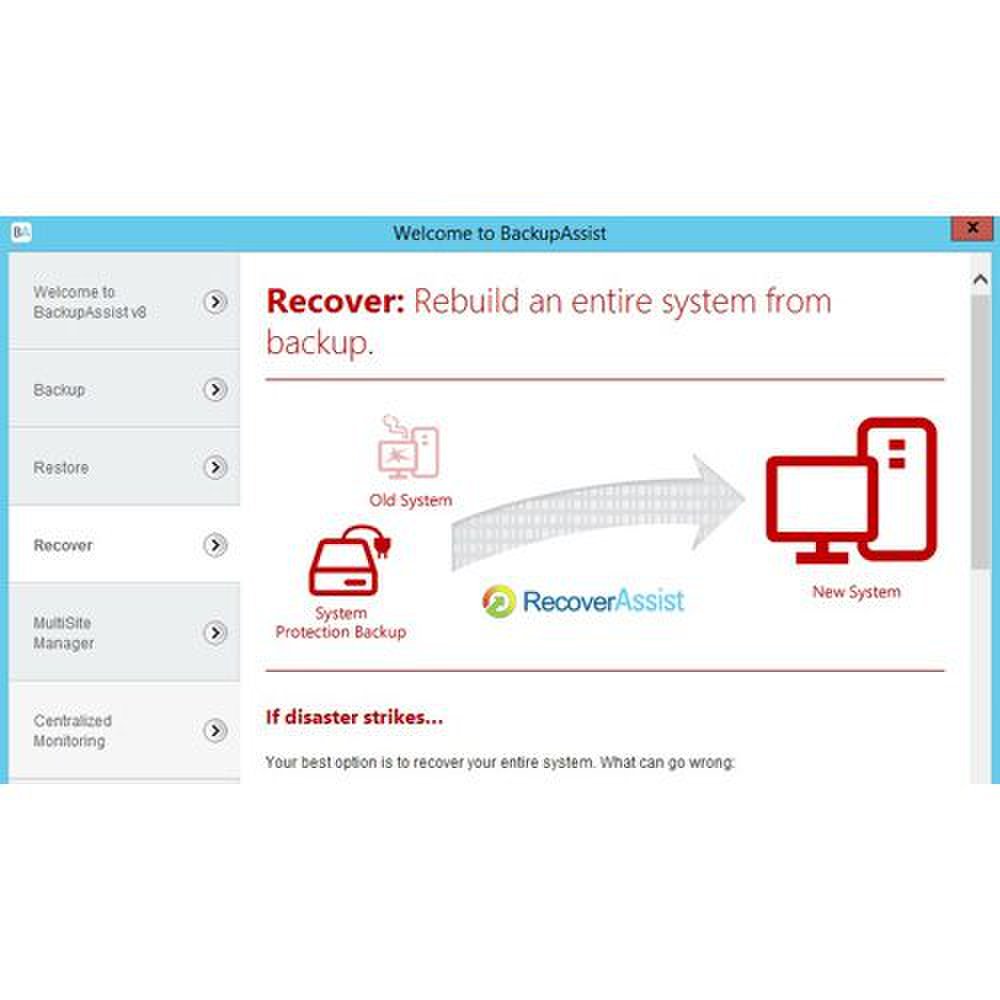 BackupAssist image: With the recover tab, you can rebuild an entire system from a backup.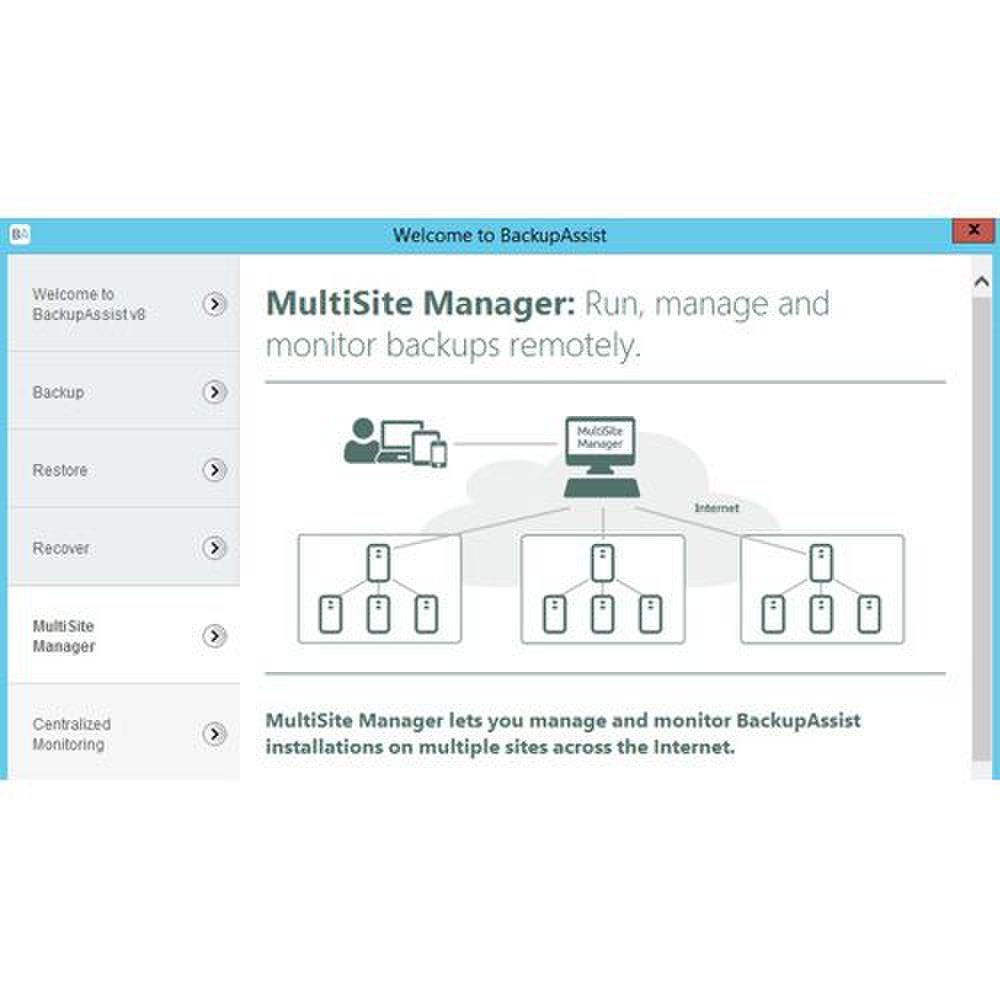 BackupAssist image: The multisite manager tab is where you keep tabs on all the servers you're backing up.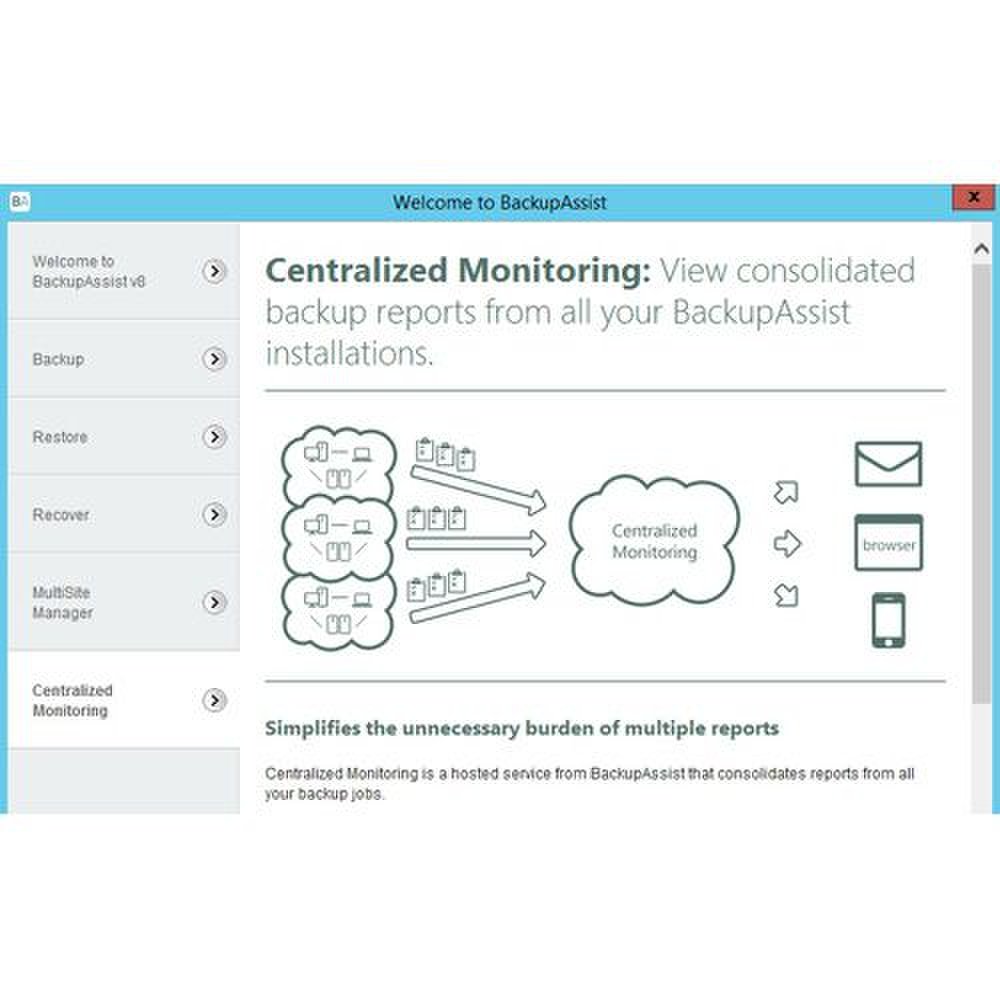 BackupAssist image: The centralized monitoring tab is where all the backup and restore reports are consolidated.
Managing a server ecosystem is complicated enough for most people; your server backup software doesn't have to be complicated too. BackupAssist is easy to use at every stage of the software, from installation to the recovery. It's compatible with all the Windows server operating systems, and it can back up to any storage media, including tape. The resource footprint is light enough to allow you to run network backup sets during the middle of the day. However, the compression rate was below average in our tests. So while it's one of the most affordable network backup software programs, it won't save you as much storage space on the back end as the best ones do.
We set the compression to the highest setting and initiated a backup set. It compressed the original files by 15 percent. While this certainly wasn't the worst compression rate in our tests, it was 3 percent below average. For comparison, the best compression rate was 35 percent. If you're backing up a 1TB hard drive, BackupAssist saves you 150GB of storage, but the other programs save you 350GB of storage. However, we should note that compression rates vary by file type and existing compression. As such, your compression rate could be better or worse, depending on what you're backing up.

The major downside is the lack of an instant recovery, also known as recovery-in-place, feature. This allows you to take a snapshot of a virtual machine so that you can launch the snapshot to a virtual machine from a different server. In this way, if the original server that hosts the virtual machine goes down, you can instantly send a snapshot of the virtual machine to be hosted on a different server.
BackupAssist includes a control console and the technology to back up Windows Servers, but that's all that comes with the license, which is ideal for most small businesses. If you want to back up Exchange mailboxes or Microsoft SQL servers, you have to purchase additional software. Other additional purchase options include backup to online services, zip to tape, VM granular restoration and open-file backup for Windows Server 2000. Many of these features are included with the license of other server backup software.
This server backup and restore software can back up to most storage media types. It can back up to tape drives, externally connected drives (USB, FireWire, eSATA and more), RDX drives, iSCSI-connected drives, network-connected drives, discs and online storage sites. It can back up full systems or just files. It can perform disk imaging and restore to a bare metal state. It can also restore to different technologies, which is useful if you need to migrate data to a new machine. BackupAssist reports that it can restore an entire server in less than 30 minutes.
The centralized management console received an A in our test for ease of use, because all the backup management tools can be accessed on one machine, via the Internet or with a mobile phone via an app. You can use the management dashboard to manage all BackupAssist licenses, backup tasks and reports. The reports are easy to interpret, and you can add or remove machines with just a few clicks. You don't need to be an IT expert to navigate this software and run backup sets. In addition, the resource footprint is very light on both the server side and the client side.
BackupAssist server backup and recovery software is clearly one of the easiest-to-use options available. It is compatible with Windows-based machines and can back up to any storage solution. While it's one of the most affordable options, you may have to purchase add-ons to meet your needs.

Ready to choose your The Best Cloud Storage and Online Backup Services of 2019? Here's a breakdown of our complete coverage:

Business.com Editorial Staff
The purpose of our community is to connect small business owners with experienced industry experts who can address their questions, offer direction, and share best practices. We are always looking for fresh perspectives to join our contributor program. If you're an expert working in your field – whether as an employee, entrepreneur, or consultant – we'd love to help you share your voice with our readers and the Business.com community. We work hard to only publish high-quality and relevant content to our small business audience. To help us ensure you are the right fit, we ask that you take the time to complete a short application: https://www.business.com/contributor/apply/ We can't wait to hear what you have to say!