Bank of America Review
Bank of America offers business credit cards with a relatively low annual percentage rate (APR) and useful account features. You can get extra cards and issue them to employees, and you can establish the credit limits for each employee card.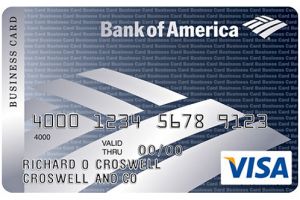 With Bank of America business credit cards, you can download your credit transactions into QuickBooks. If you would like overdraft protection, you can link your credit card to a business checking account.
Bank of America offers an introductory APR during the first seven months, after which the interest rate varies. There is no annual fee.
If you have employees that make charges on behalf of your company, one of the features with Bank of America's business cards is that you can issue cards to employees at no cost to you. You can also set the credit limit for each employee's card. If any employee misuses the card, you have liability protection with some cards, such as with the Platinum Plus for Business MasterCard.
The WorldPoints Rewards for Business Visa Card is geared toward emerging and growing businesses that either lack a well-established credit history or the necessary credit score required by some higher-tier business credit cards. Points with this card can be redeemed for cash, gift cards and travel.
Bank of America provides travel and emergency services with several of its cards. For example, travel accident insurance and auto rental insurance cover rental cars if they are stolen or damaged. Bank of America also provides emergency ticket replacement, lost-baggage assistance and emergency translation services to its clients.
Bank of America provides toll-free customer support to business credit card account holders 8 a.m. to 9 p.m. Eastern time. There is also a toll-free number for lost or stolen credit cards within the U.S. and a collect-call number for calls outside the U.S. You can access your account online at any time to pay your bill,
The Bank of America business credit cards carries no annual fee and offers a low APR. They come with travel and emergency services benefits. If you think you will carry a balance, Bank of America offers some different options for business credit cards.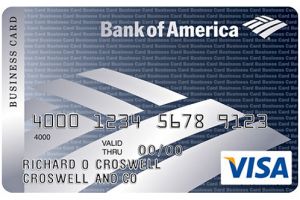 The purpose of our community is to connect small business owners with experienced industry experts who can address their questions, offer direction, and share best practices.