Bobcat Review
The Bobcat E32i T4 Compact Excavator is a conventional tail swing mini excavator. It is available in three configurations: standard, with a long arm and with an extendable arm.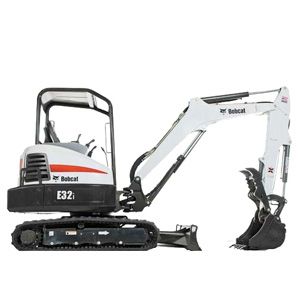 This Bobcat mini excavator weighs 7,183 pounds without the long and extendable arm options. The standard model is 183.5 inches long, 59.8 inches wide and 95.6 inches tall. Its diesel engine generates 24.8 horsepower and produces a maximum rev of 2,200 rpm. Unlike the standard configuration, the models with long and extendable arms have turbocharged engines to cope with additional weights.
The Bobcat E32i has a maximum speed of 3.2 mph and a boom that swings 75 degrees to the left and 55 degrees to the right. Maximum dig depth varies from 10.2 feet to 12.9 feet between the three models. All three models come with rubber tracks, but steel tracks are also offered as options. Unlike steel tracks, rubber tracks are gentler on pavements and landscaped areas. They also cause less surface damage. However, they are not as durable as steel tracks and may struggle to gain traction on loose surfaces.
While the E32i has a cab with a roof, a full enclosure is an option. Other optional cab features include air conditioning, a deluxe seat, a heater and a radio. The standard instrumentation panel has readouts for engine rpm, coolant temperature, fuel level, trip meter, machine hours and code retrieval. The optional deluxe instrumentation panel adds throttle position, keyless start and a 5-inch full-color display.
Bobcat's finely tuned hydraulic system allows the E32i to deliver smooth control and transition between different functions according to the attachment coupled at the end of its arm. In addition to its advanced hydraulic system, this compact excavator also has selectable hydraulic control. This optimizes the response of the excavator's joystick to different hydraulic attachments. The list of approved attachments for this Bobcat mini excavator include auger, buckets, packer, breaker, trencher and plate compactor. With the excavator's simple couplers and Bobcat's X-Change System, you can quickly swap between these attachments. However, you can only use attachments manufactured by Bobcat.
The long arm model of the mini excavator makes it possible to use the E32i to dig from a considerable distance, while the extendable arm introduces even more flexibility. However, the conventional tail swing design limits the maneuverability of the excavator in tight spaces. Unlike compact excavators with minimal and zero tail swings, the regular-sized tail of the E32i means that its cab overhangs the tracks by a few inches.
Overall, the Bobcat E32i T4 Compact Excavator is a high-performance mini excavator that comes with optional long and extendable arms. However, just like those arms, most of the advanced features and sophisticated options of the excavator do not come standard. Also, only Bobcat-made attachments are compatible with the excavator.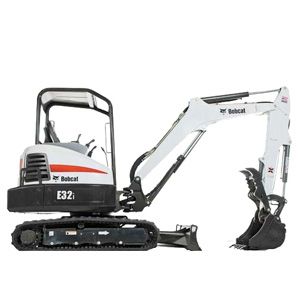 business.com editorial staff
business.com Member
The purpose of our community is to connect small business owners with experienced industry experts who can address their questions, offer direction, and share best practices.