Brother MFC-J6945DW INKvestment Tank Review
Brother International Corporation creates world-class products such as printers, scanners and labelers to help businesses improve and satisfy their clients. Brother's newest color inkjet copiers contain the INKvestment Tank technology, which allows you to easily insert cartridges that deposit the ink into an internal storage tank. It also tracks how much ink is remaining through Brother's Page Gauge component. This reduces the number of times the cartridges need to be replaced so businesses don't have to increase their supply costs.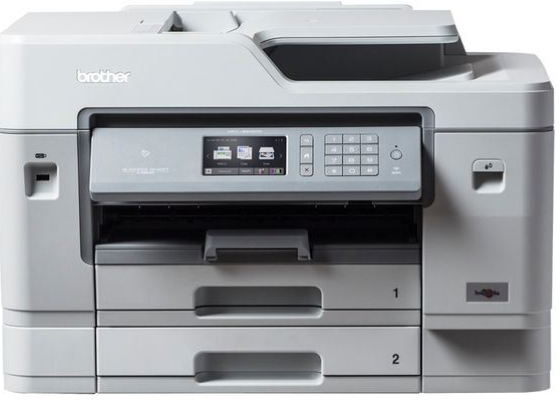 Brother MFC-J6945DW INKvestment Tank
The Verdict
The Brother MFC-J6945DW INKvestment Tank Color Inkjet all-in-one printer and copier is best for small businesses that need to lower printing costs and want an MFC that is easy to operate and maintain.
The Brother MFC-J6945DW INKvestment Tank is an all-in-one color inkjet copier that can print pages up to 11 x 17 inches, with the option for you to change the paper size when printing, copying, scanning or faxing. It also offers flexibility within the office through the connection to cloud services like Google Drive, Dropbox, OneDrive, Box, Evernote and Brother Cloud apps.
To view all of our recommendations for copiers, visit our best picks page.
Pricing
The INKvestment Tank all-in-one color copier costs around $349.99, which results in a cost per page of less than 1 cent for black ink and 5 cents for color ink. Small businesses that want to save money and print at low costs should think about purchasing or leasing this model. [Need more details on the differences between buying and leasing a copier? Check out this article on our sister site Business News Daily.]
The INKvestment Tank comes with up to a year's worth of ink (at an estimated 300 pages per month – 60% black-and-white pages and 40% color pages) in the Ultra High-Yield cartridges, helping businesses avoid printing interruptions and save money in the long run. There is an option to get the cheaper Super High-Yield cartridge, which yields about 3,000 pages, whereas the Ultra High-Yield cartridge yields about 6,000 pages.
This model also offers an ink-saving mode that reduces the color darkness and emphasizes the outlines of any images. You can access the Ink Save Mode through the control panel or by using the printer driver to change the printing preferences. This model has many features that can help small businesses reduce the money spent on ink and the time spent replacing cartridges.
Brother INKvestment Tank Features
The INKvestment Tank ranks among the smaller models of its class, being only 22.6 x 18.8 x 14.9 (WDH) inches, so it's good for small businesses that have compact office spaces. As a multifunction printer, it allows you to print, copy, scan and fax pages up to 11 x 17 inches, and it's set up with 512MB of memory. You can increase its productivity with the single-pass duplex copying and scanning through the 50-sheet automatic document feeder. The printing speed is 20 pages per minute (ppm) for color pages and 22 ppm for black-and-white pages. The copy speed is 11 ppm for color pages and 15 ppm for black-and-white pages.
The INKvestment Tank has a printing and copying resolution of 4800 x 1200 dots per inch (dpi) and a 2400 x 1200 dpi scanning resolution. It can print up to 30,000 pages per month and can hold around 600 sheets at a time if you include the 100-sheet multipurpose tray.
The Brother Page Gauge is another feature that makes the INKvestment Tank stand out. The Page Gauge displays how much ink has been used and how much is left. It shows the number of pages you can print with the remaining ink as well.
Connectivity and Memory
The 3.7-inch color touchscreen allows you to operate the copier as you would a smartphone or tablet. You can print from and scan to popular cloud apps such as Apple AirPrint, Google Drive, Brother iPrint&Scan, OneNote, Box, Evernote, OneDrive and Dropbox through the touchscreen. There are also features to scan to a mobile device, email or Microsoft Office. It has built-in Wi-Fi connectivity and a USB interface. There's also the option of connecting via Ethernet or NFC (near-field communication). This allows businesses that may not have an internet connection to access the copier within the office.
The printer operates with Windows 7 SP1, 8, 8.1, and 10; Server 2008, 2008 R2, 2012, 2012 R2, and 2016; and macOS v.10.11.6, 10.12.x, and 10.13x. It also comes with a standard memory of 512MB.
Brother Customer Support
Brother's customer service consists of free phone, email or live chat support. Support representatives are available Monday through Friday from 9 a.m. until 9 p.m. (EST). The company provides free technical support for the life of your product.
On the Brother website, you can view a FAQs section and how-to videos for your printer. If you are unsure of where to buy this model, there is an option on the model page to locate where you can purchase it online and locally. You can view and download manuals from the model page and access downloads and drivers for the device. The warranty statement is available there as well.
For this model, Brother offers a two-year limited warranty. The warranty begins at purchase from an authorized reseller and covers the printer, consumables and accessory items, such as toner cartridges, drums, printheads, ink cartridges, and tape rolls or cassettes.
Limitations
Compared to some of the other copiers we've reviewed, the INKvestment Tank has a fairly small touchscreen. The copier itself is small in relation to the other copiers, but if you have just a home office, it may still take up more space than you'd like.
The standard memory storage is low compared to other models we've reviewed. With only 512MB of memory, the printer will not be able to process a lot of jobs at one time. It may slow down production for businesses that have a large print volume. For instance, if your business prints a lot of images or documents that require color, you will want to look for a multifunction copier with at least 1GB of memory for faster production.
If you have a midsize or large business, this may not be the printer for you. To save money on printing, your business would have to stay in the range of only about 300 pages per month. If you find your business needing to print more than that each month, you will find yourself buying ink more frequently, and those costs will begin to add up.
Another drawback is that this model does not have advanced security features. It does have NFC and cloud connectivity capabilities, but that does not guarantee a fully protected system. A lot of the other models we've reviewed come with protective software, applications and tools that assure you your information is safe and secure.
Editor's note: Looking for the right copier for your business? Fill out the below questionnaire to have our vendor partners contact you about your needs.
Image Credit: Getty Images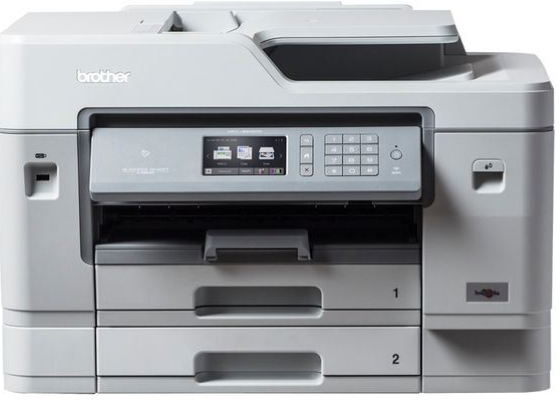 Brother MFC-J6945DW INKvestment Tank
The Verdict
The Brother MFC-J6945DW INKvestment Tank Color Inkjet all-in-one printer and copier is best for small businesses that need to lower printing costs and want an MFC that is easy to operate and maintain.

Kayla Harrison
business.com Contributing Writer
Kayla Harrison is a current Writing Arts graduate student at Rowan University and editor at The Urban Howl. She began freelancing during her junior year of college and fell in love with it. You can learn more on her blog, insearchofthewritedirection.weebly.com.