Call Center Sales Pro can be your customers' first point of contact over the phone, freeing up your time and staff to run your business.

You can provide Call Center Sales Pro agents with a script for your business, detailing how to answer common customer questions or how to sell your products.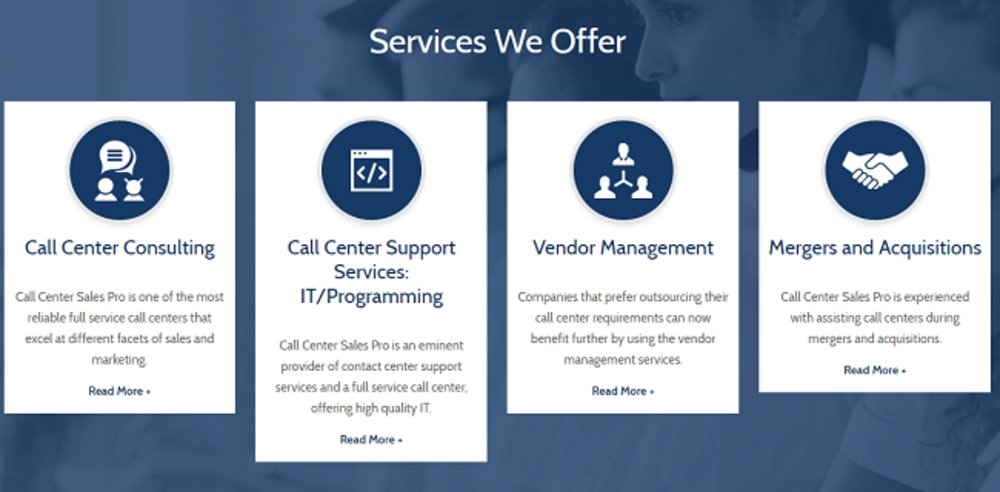 Call Center Sales Pro offers an array of answering services for businesses, including certain marketing tasks and technical support for your products.
Call Center Sales Pro offers both answering services and call center services tailored on a client-by-client basis. In addition to answering services and both inbound and outbound call center services, the company offers consulting services. Call Center Sales Pro maintains four domestic call centers in Tennessee, California and Ohio.
For all of our answering service recommendations, visit our best picks page.

Answering Service Features
Call Center Sales Pro develops custom plans for each client based on their specific needs, goals, call volume and scope of services required. The company began as a consultation service and grew into a call center, but consultation remains a key component of its outsourced call center services. Call Center Sales Pro kicks things off with your company by analyzing your call data and business trends to devise a unique answering services plan. These are some of Call Center Sales Pro's answering services:
Live answering: Agents answer calls for your business 24/7/365 and read from a predeveloped script to promote your brand's particular message.
Message taking: Agents can simply take messages from callers and pass those messages on to you or your staff by phone, SMS text, email or all three.
Lead capture: Call Center Sales Pro agents can capture callers' contact information for later reference and use in your marketing campaigns.
Order taking: If you have an e-commerce store, the call center agents can walk your customers through it and help process orders to reduce cart abandonment and even upsell.
FAQs: You can provide call center agents with a list of the most common questions your business gets, enabling them to field most calls and respond to callers without transferring them or taking down a message.
Call Center Service Features
Call Center Sales Pro's call center services provide a more advanced way to engage with customers through inbound calls or to engage with suppliers and partners through outbound calls. You can also employ the call center services to moderate comments on your Amazon stores, manage your email accounts, manage live chat on your website's homepage and monitor your social media pages. Call Center Sales Pro offers one of the more diverse selections of call center services in our review, including the following:
Customer service: Call Center Sales Pro can handle your customer service, fielding callers without giving away that they are with an outsourced company. Customer service includes handling sales and product support, technical support, and complaints.
B2B outbound: The outbound call center services primarily focus on the B2B end of business rather than consumer-facing tasks. These include services like placing orders over the phone, working with suppliers to find new products, and conducting market research through polls and surveys.
Comment moderation: If you manage an e-commerce store on a third-party platform like Amazon, that means people can leave comments and reviews. Call Center Sales Pro will help you moderate these forums so obscene or unhelpful content is managed appropriately.
Email management: Call Center Sales Pro can manage your email channels to further reduce your company's communication workload.
Live chat: Call Center Sales Pro can implement live web chat on your website's homepage. Agents will manage the live chat around the clock, giving customers another way to contact your business.
Social media monitoring: You can also outsource your company's social media monitoring to Call Center Sales Pro. This includes comment moderation and engagement with other social media users.
For all of our call center service recommendations, visit our best picks page.
Pricing
Call Center Sales Pro tailors its plans on a client-by-client basis, so pricing varies widely by call volume and scope of services. The company offers both shared and dedicated agent models, which are priced differently. Dedicated agents can range in cost from $28 to $36 per hour depending on your account's complexity. Shared agents range from 80 cents to $1.20 per minute depending on your call volume and account complexity. The company also offers a blended model that makes use of both agent types based on your typical call volumes throughout the day.
Call Center Sales Pro also charges a setup fee, which depends on the scope of your service and the amount of technological setup and programming required. The company also has contract minimums, which most of the call centers in our review do not require. For small and midsize businesses, Call Center Sales Pro generally requires a three-month contract, and larger businesses need to sign a yearlong contract.
Limitations
Because Call Center Sales Pro creates custom service plans for each client, it is difficult to gauge what the price will be without speaking with a sales representative. Shared agents vary from competitively priced to expensive, making it hard to place Call Center Sales Pro against the competition. To find out the cost for your business, you'll have to have at least a preliminary discussion with the sales department. In our initial call, we were not able to obtain a proposal or even ballpark estimate without hard data regarding our call volume.
Customer Service
Despite the lack of a proposal, Call Center Sales Pro provided excellent customer service to us. The representative we spoke with was immensely knowledgeable and patient. He took a great deal of time explaining the company's model, which differs slightly from other call center services in that it offers consultative services and adjusts service based on trends and new data insights. While the representative was enthusiastic about Call Center Sales Pro's services, he never tried to force a sale, and he was was forthcoming about aspects of the service like additional fees and the call center's focus on B2B outbound calling.
Editor's note: Is your business looking for a call center service? Click the Compare Quotes button below to have our vendor partners contact you with free information.

Ready to choose your The Best Call Center Services of 2019? Here's a breakdown of our complete coverage:

Adam C. Uzialko
Adam C. Uzialko, a New Jersey native, graduated from Rutgers University in 2014 with a degree in political science and journalism and media studies. He reviews healthcare information technology, call centers, document management software and employee monitoring software. In addition to his full-time position at Business News Daily and Business.com, Adam freelances for several outlets. An indispensable ally of the feline race, Adam is owned by four lovely cats.