Canon imagePROGRAF PRO-4000 Review
Tailored to professional photographers and fine artists, the Canon imagePROGRAF PRO-4000 is one of the top options on the market for photographers. Canon designed the printer in hopes of finding a fantastic balance between printing speed and quality, and the company delivered with a reliable printer that produces quality prints at respectable speeds.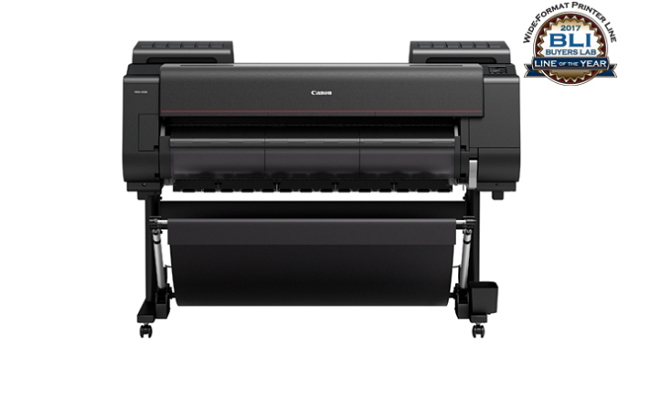 Canon imagePROGRAF PRO-4000
The Verdict
This printer is a good option for photographers due to its reliability and thousands of nozzles.
To view all our recommendations for wide-format printers, visit our best picks page.
Pricing
Coming in at $5,995, the PRO-4000 won't cost you as much as some of the biggest wide-format printers, but it's not the cheapest market on the option either. Given the size of the printer and the quality of its prints, the price point is fair. It won't kill a small photography or art business to purchase this printer, and leasing the PRO-4000 is affordable even for smaller businesses.
Refills of the different ink tanks cost $97 to $294. This, along with the price of several accessories, can really add up over time. Canon's website shares the prices of six different accessories businesses may want to purchase:
Cutter blade CT-07: $86
Maintenance cartridge MC-30: $90
Roll holder set RH2-45: $160
PosterArtist: $395
Printhead PF-10: $675
Multifunction roll unit RU-41: $1,000
Even with the different accessories and inks, the price for the PRO-4000 isn't outrageous, although it might make sense for smaller businesses to rent rather than buy it.
Product Specs
At 46 x 62.7 x 38.7 inches and 270 pounds, the PRO-4000 sits in the middle of the printers we reviewed. It's not an overbearing machine, but it will take more than one person to comfortably install it. It doesn't demand its own room, but it will take up a good chunk of an office space.
Its print resolution goes up to 2400 x 1200 dpi, which is a fantastic mark. It uses 18,432 total nozzles to create accurate, detailed prints. Its maximum print size is 44 inches, which isn't the biggest we've seen, but it's a good threshold for the printer's overall size and price.
The printhead, known as the PF-10, is 1.28 inches wide. It also features anti-clogging technology on its 18,432 nozzles, reducing potential errors or hiccups during the print process. There are 27 sensors that check for clogging, and if one of the nozzles clogs, another nozzle steps in and does the job.
Canon believes that the PF-10 is a great asset for small and midsize businesses because it's wide enough for the printer to only need one printhead. This helps increase print speeds without sacrificing quality. This printhead costs $675.
All imagePROGRAF printers use the L-COA PRO high-speed engine. This version has three new processing chips designed to make the printer operate effectively and efficiently with minimal mistakes.
The printer includes several different software programs, according to Canon's site:
imagePROGRAF Printer Driver
Print Studio Pro
Quick Utility Toolbox
Print Plugin for Office
Accounting Manager
Device Management Console
Media Configuration Tool
PosterArtist Lite
Printer Driver Extra Kit
Print Plugin for Microsoft Word, Excel and PowerPoint
The printer is compatible with both Windows and Mac operating systems, so it's a good choice for photographers regardless of their computer preferences. The printer's hard drive holds 320GB.
The color set is what really sets this printer apart from its competitors. The PRO-4000 uses Canon's Lucia Pro ink set. Eleven different colors make up the set, making it an incredible option for photographers and artists. The different color schemes are stylish and print wonderfully. These are the 11 colors the printer can use:
Photo black
Matte black
Cyan
Magenta
Yellow
Photo cyan
Photo magenta
Gray
Photo gray
Red
Blue
The color versatility makes this printer one of the better options for photographers. Most large-format printers don't offer quite as many color options as the PRO-4000. The two different shades of black use different nozzles as well, which means the printer can continue to operate without a manual switch between the colors.
Features
The PRO-4000 offers some of the top features on the market. Its color calibration is a key selling point, as the unit has a built-in color densitometer to calibrate the colors and make sure everything matches. For photographers and artists, color is everything, and the PRO-4000 helps professional photographers deliver high-quality visuals with eye-catching color.
While this isn't the most important feature, the PRO-4000 allows photographers to print with the use of a USB drive. The process only requires you to pop the USB drive into the printer, preview on the operation panel and print. This easy process helps photographers save time and print without much hassle or the use of a computer.
The 320GB hard drive includes private mailboxes in case you want to store a print or other information. This makes reprints simple and is designed with teams in mind. Multiple people can download multiple prints to the printer and store them on the hard drive without losing the data on the printer. If you're working in a team or expecting to reprint the same images, the hard drive will come in handy.
The printer has a sub-tank system designed to limit ink waste. The tanks can be replaced while a print job is in progress, wasting less time. Most modern printer companies focus on efficiency, and Canon's imagePROGRAF PRO-4000 does a great job of reducing ink waste and efficiently producing high-quality prints.
Customer Service
Canon offers a one-year limited warranty on this printer, which is standard for the industry and Canon. During the warranty period, Canon will repair or replace any damaged portions of the printer. The printer is reliable and doesn't often break down, but if it does or a part gets damaged, the one-year warranty gives a small business some security.
The one-year warranty doesn't cover the printhead, which has a separate warranty. If you purchase this printer, that's an important note to discuss with your Canon sales rep.
When your printer first experiences an issue, Canon troubleshoots the issue remotely. If this process isn't successful, the company sends a rep to visit the printer onsite to fix the issue. If an onsite visit isn't necessary, Canon sends you a replacement part you can install yourself.
Image Credit: wir0man / Getty Images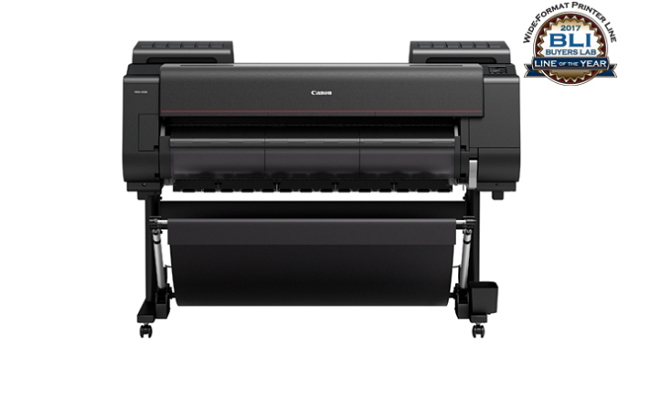 Canon imagePROGRAF PRO-4000
The Verdict
This printer is a good option for photographers due to its reliability and thousands of nozzles.

Bennett Conlin
business.com Member
Bennett is a B2B editorial assistant based in New York City. He graduated from James Madison University in 2018 with a degree in business management. During his time in Harrisonburg he worked extensively with The Breeze, JMU's student-run newspaper. Bennett also worked at the Shenandoah Valley SBDC, where he helped small businesses with a variety of needs ranging from social media marketing to business plan writing.