Caterpillar Review
The Cat 301.5 Mini Hydraulic Excavator is the entry-level model. This Cat mini excavator weighs 3,687 pounds with its cab. It's small enough to work on landscaped surface and even-up surfaces inclined up to 30 degrees. The Cat 301.5 has two operational speeds: 1.4 mph and 2.7 mph. It is driven by a naturally aspirated, water-cooled, four-stroke, three-cylinder diesel-powered Caterpillar 3003 engine. This engine delivers 17.4 horsepower and revs up to 2300 rpm.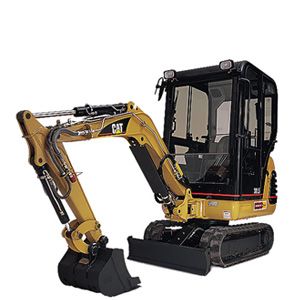 Just as this compact excavator has two travel speeds, it also has high and low traction options. This selectable traction allows you to determine how much grip you want, depending on the surface of the construction site. Furthermore, an independent, two-speed motor drives each of its tracks to allow more flexibility.
While it has a swing boom that allows you to see where you are digging, the Cat 301.5 is a conventional tail swing excavator with the tail of its house overhanging the track. While the excavator's track is only 4 feet and 7 inches long, its overhanging tail makes it difficult to maneuver in tight spaces.
There are two housing options for this compact excavator's operator station: cab and canopy. For both cab and canopy, you get a coat hook and storage space also to the gauges and indicators in the operator station. The interior also comes with an optional vinyl or fabric-wrapped suspension seat. When equipped with the cab, this mini excavator has more convenience features such as heater, defroster, interior lights and windshield wiper. However, you do not get air conditioning, radio, keyless start and color display as you in the cabs of some compact excavators.
The Cat 301.5 is compatible with some Caterpillar work tools including digging buckets, auger and hydraulic hammers. It uses the Caterpillar Quick Coupler and, therefore, you can quickly change work tools attached to the arm. However, the proprietary coupling mechanism also means that only Caterpillar-made work tools can attach to this Cat mini excavator.
Although the Cat 301.5 is not the lightest or the most powerful mini excavator you can find, it is powerful enough to replace full-sized excavators and light enough to use on delicate work surfaces. However, its overhanging tail and fixed undercarriage can affect its stability and maneuverability when working in tight spaces.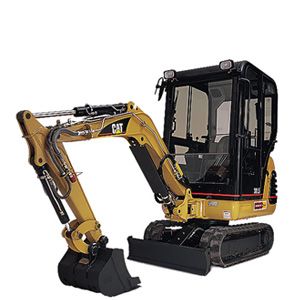 business.com editorial staff
business.com Member
The purpose of our community is to connect small business owners with experienced industry experts who can address their questions, offer direction, and share best practices.