Cisco WebEx Meetings Premium 100 Review
Cisco WebEx Meetings 100 is the best webinar service we reviewed. In addition to having every feature we looked for to provide a high-quality webinar, it has several tools that help you make money from your webinars, either through registration or lead generation. We award Cisco Webex our best pick award for its extensive feature set and easy-to-use webinar platform.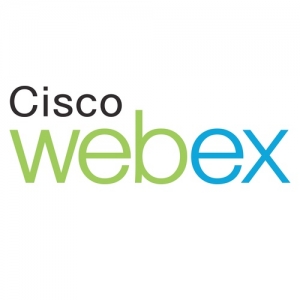 Cisco WebEx Meetings Premium 100
The Verdict
Cisco WebEx Meetings provides the best webinar services, with the ability to integrate with other platforms for lead generation help and international features that facilitate a high-quality webinar anywhere in the world.
This webinar platform works with VoIP, as all webinar services do. However, Cisco also allows phone-ins at no extra charge, unless you want to select a toll-free option and pay for the attendee's calls. You can run a system check ahead of time to test your connection and audio.
This software can translate chat into several languages, including Portuguese, Chinese, French, German, Italian, Japanese, Korean and South American Spanish. The Microsoft Windows version also translates into Dutch, Russian and European Spanish. Its dedicated data processing centers are stationed across the globe so that your attendees get clear audio and video no matter where they call from.
If you wish to have a panel discussion, you can stream up to seven videos at a time. To allow webcam transmissions, however, you need to invite the person as a panelist rather than as an attendee. You can promote people to presenter status, but they will not have webcam ability. Presenters can share applications from their computer, which limits what the audience sees of the presenter's computer to just that application. You can upload your slides to the fileshare, and during the presentation, you can see them before your audience. This is nice because you can change your presentation on the fly to meet your audience's interests without them seeing you skipping over slides. Many of the other services don't offer this.
Cisco WebEx moderator features help you keep control of your webinar so that everyone gets heard. Presenters can see questions ahead of time so that they can determine whether to answer publicly, privately or not at all. In cases of not answering, you can program a standard message for the questioner to see, a courtesy we didn't find in every webinar platform that offered question screening. You can also mute or remove rowdy attendees, whether they called in by VoIP or phone.
For large webinars or ones where you'd like some outside assistance moderating, Cisco has professionals who can help you set up and run your webinar. It charges an extra fee for this.
Cisco WebEx has several features to help you use your webinars to promote your business. The reports tool not only tracks attendance but also give you an indication of who was actively participating and when. This can be a help in lead generation. For example, by tying the interest level to what features were being discussed, your sales team can develop an approach for following up with that attendee.
In addition to the reports, this webinar software can integrate with CRM software as well as lead generation tools. One handy feature unique to WebEx is the ability to rate answers to registration questions – like job title – which enables you to determine which registrants are the more promising leads. Within the webinar itself, you have the option to change the template and logos to brand your webinar site as well as to add a redirect link so that as people leave the seminar, they are sent to a URL of your choice, such as a survey, product page or even a purchase page.
One drawback of this webinar software is that is does not handle payments within the platform. You need to redirect registrants to your PayPal account or other purchasing option, then approve their registration after you receive notice of payment. If you are interested in charging for webinars or recordings, WebEx does offer a different plan with a collect-payment option.
Cisco WebEx offers email, live chat and 24/7 telephone support. If you have a particularly messy issue, a WebEx technician can enter your webinar to fix the problem. Cisco provides live training for your company's presenters, and online videos show you how to use the features. There are even videos for attendees to show how to get into and work their end of the webinar software.
You can invite attendees via email using the WebEx interface or Microsoft Outlook. After the attendees have registered to attend your online presentation, they receive periodic reminders about the upcoming event.
Like all the webinar services we reviewed, Cisco WebEx allows you to record the session and rebroadcast it later. It also has downloadable editing tools so you can cut out sections you don't want, like the side conversations before and after the information is presented or if the discussion got off topic. In addition, this service allows you to send a transcript of the chat conversation to the attendees, something we didn't find in other webinar software services.
This webinar platform is mobile friendly, so attendees can participate from a phone or tablet. You also can host meetings from a mobile device. With the growth of tablets and smartphones being used in place of computers, this is an important feature, yet not all webinar software programs offer it. You can also have multiple rooms, a nice feature if you want to break a large seminar into smaller groups or have seminars webcast simultaneously.
This service works with everything from small businesses to large corporations and military services, and its security reflects that. Of importance to small businesses is that it comes with 256-bit AES (Advanced Encryption Standard) encryption. You can password protect your webinar as well.
As part of the "family" of WebEx communications services, Cisco WebEx Meetings benefits from a large dedicated network and flexibility of features, making it the best webinar software. It's especially useful if you want to do more than create educational or demonstration videos, such as using webinars for lead generation and expanding your customer base.
Image Credit: Getty Images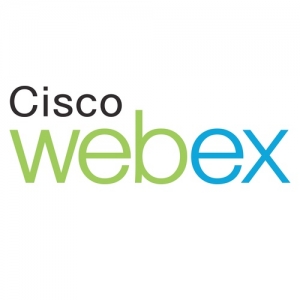 Cisco WebEx Meetings Premium 100
The Verdict
Cisco WebEx Meetings provides the best webinar services, with the ability to integrate with other platforms for lead generation help and international features that facilitate a high-quality webinar anywhere in the world.

business.com editorial staff
business.com Member
The purpose of our community is to connect small business owners with experienced industry experts who can address their questions, offer direction, and share best practices.