ClickMeeting Review
By Chad Brooks
Last Modified: February 15, 2019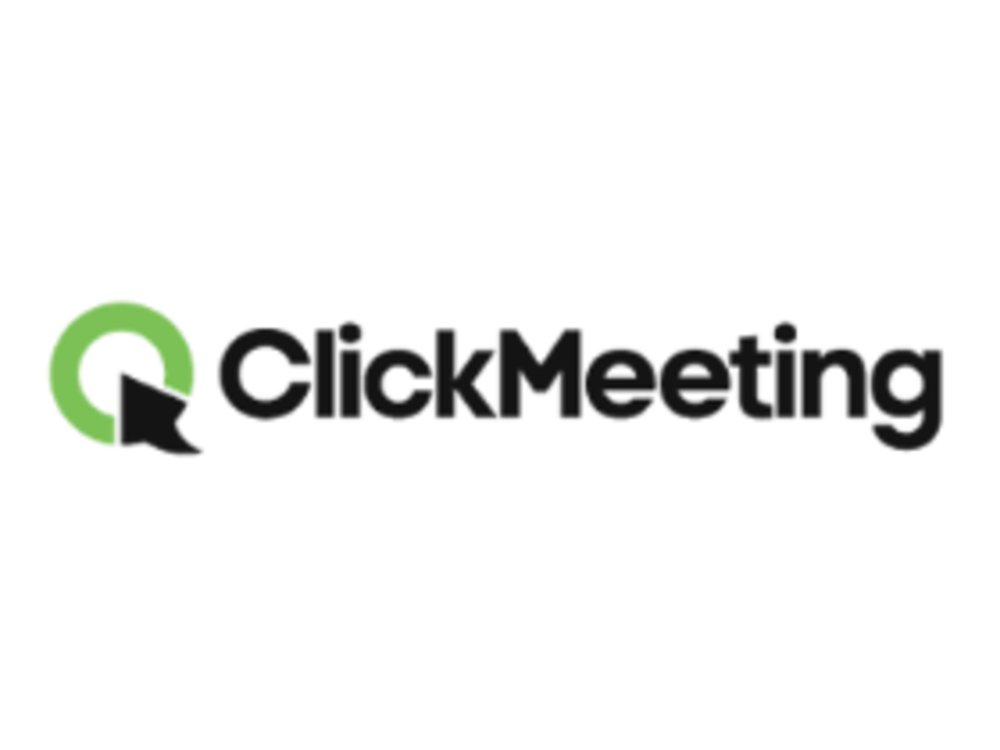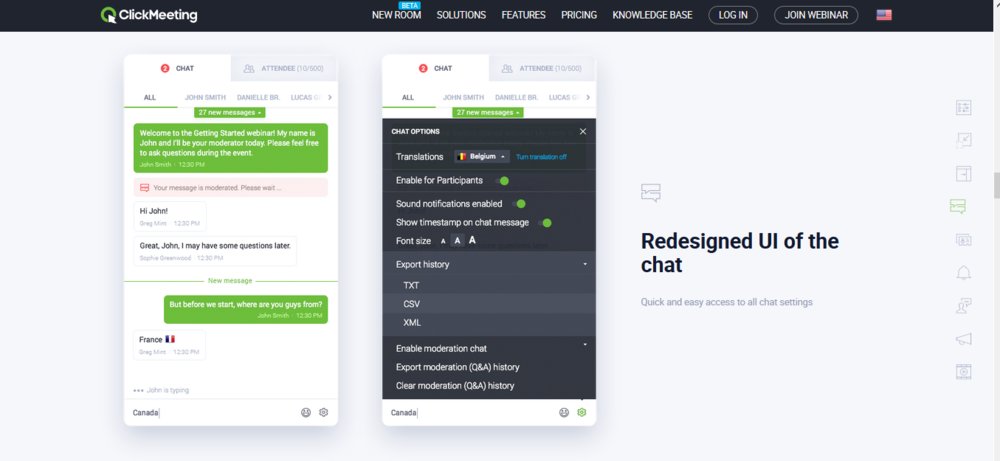 ClickMeeting maintains an in-conference chatroom with both group chat and one-to-one private messages. This is useful when questions come up or when you want to communicate with a colleague during a presentation.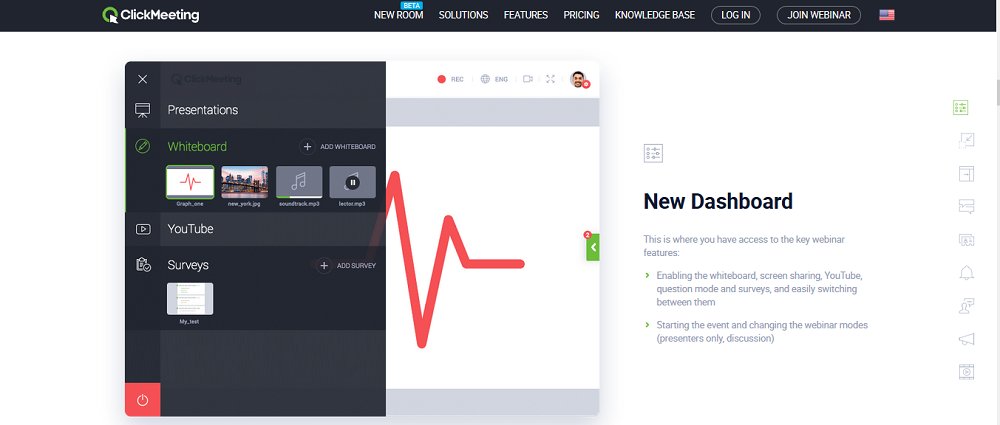 ClickMeeting's dashboard is sleek and intuitive, granting easy access to all the essential features.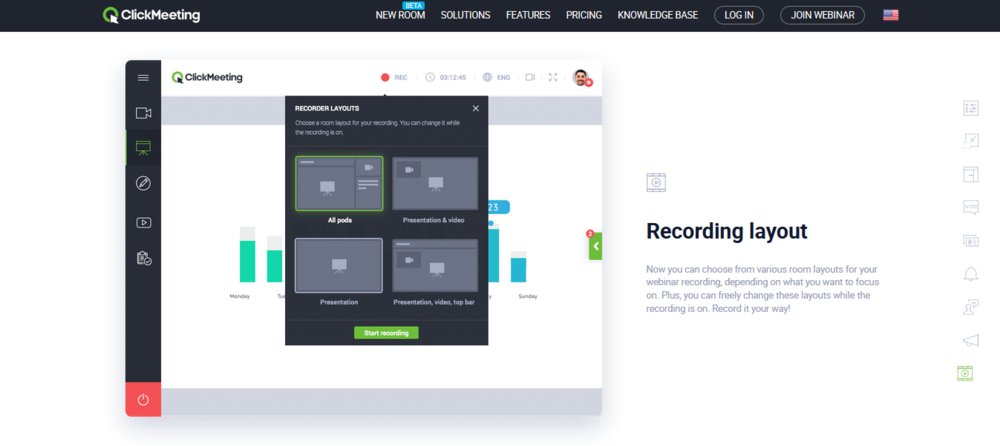 ClickMeeting's recording and storage function enables users to store recorded webinars and video conferences for reference or training purposes.
ClickMeeting is an excellent video conferencing service, especially for organizations that host webinars. From conducting polls and surveys to rebranding webinars to fit your company's image, ClickMeeting gives you vast control over how to engage with other participants. Other key features are screen sharing, private chat, chat-to-text translations, multiuser subaccounts, audio and video recording, and webinar statistics.
To view all our recommendations for video conferencing services, visit our best picks page.

Pricing
ClickMeeting offers three service plans. Unlike video conferencing services that charge per host, ClickMeeting's cost structure is based on how many attendees you want in each webinar.
Starting at $30 per month, ClickMeeting's MyWebinars service plan includes two presenters and 25 attendees. Paying $39 per month increases attendees to 50, and $69 per month supports 100 attendees. You can have four video streams and save four hours of recordings. Other features include a rebranding tool, and the ability to host paid webinars and on-demand webinars.
The next pricing tier, MyWebinars Pro, supports four presenters and 50 attendees for $45 per month. You can increase the number of attendees to 100 for $79 per month, or to 500 for $179 per month. This plan includes everything in the MyWebinars plan, as well as six hours of recordings, 24 hours of recording storage, HD video, and three user subaccounts.
ClickMeeting also offers a custom Enterprise package starting at $209 per month, which supports audiences from 500 to 5,000 people. Pricing depends on your specific needs and expected webinar volume.
The costs of all plans drop by 20 percent if you pay annually instead of monthly.
On top of its base service packages, ClickMeeting has optional add-ons that can augment your service for a higher rate. For example, if you need extra recording space but don't want to pay for the next tier subscription, you can simply buy more space to add to your original plan.
Other add-ons include extra attendees and presenters, additional file storage, extra video streams, and the ability to conduct parallel sessions on the same account.
The company offers a 30-day free trial that doesn't require a credit card or cancellation on your part, so you can safely take the software for a test spin without fear of being stuck in a subscription when the trial expires.
Features
ClickMeeting offers high-quality video and audio streaming. In addition to its crystal-clear video and audio, this video conferencing software boasts a strong slate of features and tools.
Some of our favorites are in-meeting polls and surveys for the audience, built-in chat for groups or one-to-one private messaging, screen sharing for better delivery of presentations, a waiting room with an agenda so participants can get on the same page while they wait for the meeting to begin, and a whiteboard function for brainstorming and drawing.

ClickMeeting also supports webinar recording and storage, as well as branded webinar rooms and custom invitations.
This video conferencing service maintains dozens of integrations with Adobe, Dropbox, Salesforce, Microsoft Office and other popular third-party applications. ClickMeeting also offers an open API that gives developers the access they need to build additional integrations to other applications or software developed in-house.
Pros and Cons
ClickMeeting is extremely easy to navigate. Its straightforward dashboard makes it simple to launch or schedule meetings, create conference rooms, and share webinar links with meeting participants.
With such a long list of features, ClickMeeting has a lot to explore, but the no-obligation free trial allows you to explore the system and become well acquainted with everything it has to offer. ClickMeeting runs smoothly and reliably, and somehow it keeps its cornucopia of features simple to access for the end user.
Another positive is that there is no need for an additional conference calling service. In addition to connecting through their computers, ClickMeeting gives participants the option to call in to every meeting by phone. This allows you to turn any online meeting into a conference call. It also opens up your meeting to those who won't be in front of their computer or tablet when the conference starts. When they receive an invite to a meeting, participants get a link to connect online, as well as a phone number to connect via telephone. Once in the meeting, those on the phone can participate just as someone who is connected with their computer can.
One downside of ClickMeeting is that it doesn't maintain a customer support hotline, but support is available by email. The company also maintains a live chat channel that is available Monday through Friday, from 3 a.m. to 5 p.m. ET. In addition, there are video tutorials on the website that are very helpful in guiding users to troubleshoot their own problems.
Editor's note: Looking for a video conferencing service? We can help you choose the one that's right for you. Use the Compare Quotes button below to have our sister site, BuyerZone, provide you with information from a variety of vendors for free:

Ready to choose your The Best Video Conferencing Service Reviews of 2019? Here's a breakdown of our complete coverage:

Chad Brooks
Chad Brooks is a Chicago-based writer with more than 20 years of media experience. A graduate of Indiana University, Chad began his career with Business News Daily in 2011 as a freelance writer. In 2014, he joined the staff as a senior writer. Currently, Chad covers a wide range of B2B products and services, including business phone systems, time and attendance systems, payroll services, and conference call services. Before joining Business News Daily, Chad spent nearly a decade as a staff reporter for the Daily Herald in suburban Chicago. Chad's first book, "How to Start a Home-Based App Development Business," was published in 2014. He lives with his wife and daughter in the Chicago suburbs.