Vast Conference Review
Vast Conference specializes in conference calls, and this focus shows in the quality of the calls and the number of features its Conference Calling service offers. Vast Conference offers both reservationless and operator-assisted conferences. The reservationless system can handle hundreds of callers at one time, while the operator-moderated service supports more than 5,000 participants. The many features available with Conference Calling by Vast Conference include call recording, web controls, screen sharing and custom greetings. It's because of these aspects and more that Conference Calling by Vast Conference is our choice for the best overall conference call service.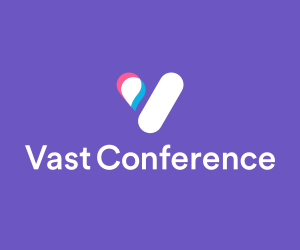 Vast Conference
The Verdict
Conference Calling by Vast Conference is our choice as the best overall conference calling service because of its multiple service offerings, cost structure, supported number of callers, and mobile app and features.
View all our recommendations for conference call services on our best picks pages.
Vast Conference Pricing
Conference Calling by Vast Conference offers two types of pricing plans for its reservationless service: monthly and pay-as-you-go. With the monthly plans, you pay a flat fee every month and can host as many meetings as you like. There are four unlimited monthly plans:
Essentials
Price: $11.99 per user per month
Participants: 10
Cloud recording: 1GB
Standard
Price: $15.99 per user per month
Participants: 100
Cloud recording: Unlimited
Professional
Price: $31.99 per user per month
Participants: 250
Cloud recording: Unlimited
Enterprise
Price: Customized for each business
Participants: 500
Cloud recording: Unlimited
Businesses that opt to pay annually instead of monthly save 20%. The service offers a 14-day free trial.
Vast Conference also offers a pay-as-you-go plan. This option, which supports up to 500 callers, is 3.5 cents per caller per minute. For example, if you have a 30-minute meeting with 10 participants, the call would cost $10.50.
You can purchase several add-ons with the reservationless plan, including transcription services, custom greetings, CDs of recordings and additional host accounts.
The operator-moderated service is only available on the pay-as-you-go plan. This service costs 16 cents a minute per caller for a standard event and 19 cents a minute per caller for a premium event.
Several features cost extra with the operator-assisted service, including custom scripts, subconference rooms, pre-recording and recording services, digital replay services, call transcripts, participant lists, conference polling reports, and web conferencing. To get custom pricing for these services, you'll have to contact Vast Conference directly.
There are no contracts with Vast Conference, and you can cancel or change plans at any time.
Vast Conference Calling Services
A benefit of Conference Calling by Vast Conference is that it offers both types of conference calling services: instant calls, also known as reservationless, and operator-assisted conference calls.
Reservationless/h3>
Reservationless calls leave the scheduling up to you. You can schedule calls for any time or hold them instantly when an impromptu meeting is necessary. You send participants the conference line and access code along with the time of the meeting.
When the meeting begins, participants dial in and enter the provided codes. Depending on the plan you choose, the reservationless option lets you host meetings with up to 500 participants.
You can also turn a conference call into an online meeting. The conferencing service allows for web conferencing and screen sharing.
Operator-Assisted
Operator-assisted (or operator-moderated) calls are typically used by organizations that host large, formal conference calls, such as public companies that hold annual or quarterly investor calls. With this service, Conference Calling operators assist you before, during and after your conference call.
Before your call, Conference Calling assigns you an operator, which it refers to as an event specialist. This person works with you to develop the greeting and introductions and set up the call's flow and itinerary. On the day of the call, the event specialist meets with the call's host and any other speakers to review the final details.
During the call, the event specialist can greet participants and collect their contact information. Once the call starts, the specialist remains on the line to introduce each speaker and manage any Q&A sessions. Once the call is complete, the event specialist provides you a participant list, a recording of the call and a transcript if needed.
Operator-moderated calls support up to 6,000 attendees.
Vast Conference Video Conferencing Services
In addition to a top conference calling platform, Vast Conference is a video conferencing solution. The HD video conferencing software allows participants to virtually meet face to face.
Conference Calling offers HD screen-sharing services so that you can share visuals with your audience during your meetings. You can host web conferences that allow you to share your screen, instant-message participants and send files to the group.
The video conferencing option also allows hosts to change presenters and record the meeting for playback at a later time. There are no apps to download, and you can join a meeting from any web browser. The service integrates with Outlook, Google and Microsoft 365 calendars, which makes scheduling meetings an easy task.
All of this extra functionality is included in your service plan for no added cost.
Vast Conference Pros and Cons
In addition to the flexibility of multiple cost structures and types of conference calls, the wide range of call features is a big bonus with this service. Customizable greetings and call recordings are some of the standout features.
You can create your own greeting for callers, giving them a personalized welcome. You can record your own greeting or give Vast Conference a script and have one of their voice actors record the greeting for you.
All calls can be recorded at no additional charge. With the push of a button on your phone, you can start recording your meeting, and participants will hear a message stating that the call is being recorded. You can start and stop recording from the online portal, and there is no limit to the number of recordings you can make. Each recording can be downloaded as an MP3 file, and you can email a link to anyone who needs to access the recording. You can listen to it online or by phone.
Conference hosts have total control over the call from the online portal. The web tools allow the host to see everyone who is on the call, mute callers when necessary, and conduct Q&A sessions. There's also a feature that allows the host to dial out to any U.S. telephone number, even mid-meeting, to add someone else to the call.
The host can also control the call straight from their phone's dial pad. For example, 1* mutes all callers, 6* can request that each participant state their name so you know who is on the call, and 9* toggles the entry notice (which alerts you when a new participant has joined the call) on and off. Participants can use their dial pad to control their portion of the call, such as to mute themselves and ask permission to speak. The call continuation feature allows the meeting to continue without the host on the call.
Several other factors make Conference Calling by Vast Conference an impressive service. For businesses that hold meetings with international participants, Conference Calling offers local numbers in more than 80 countries worldwide. There are also international toll-free options.
Conference Calling integrates with Microsoft Outlook by adding buttons to your Outlook Home toolbar, from which you can instantly create conference call invitations with an email template or calendar appointment. The pertinent information automatically populates in your invitation.
Vast Conference offers a mobile app that allows users to schedule and host conference calls, run meetings, screen share, chat and host full-scale video conferences from any iOS device.
The downside, however, is that the app currently isn't available for Android devices.
Customer Support
The customer support from Vast Conference is impressive. To test the level of service, we contacted the company several times by phone, posing as a small business owner interested in conference calling services.
Each time we contacted the company, we had helpful and pleasant exchanges. Our calls were always taken immediately, and our questions were always thoroughly answered. By the end of the calls, we had a clear understanding of how the service works, what it offers and how much it would cost.
Vast Conference offers telephone, email and live chat support options. The website is also filled with helpful training materials.
The company has an A+ rating with the Better Business Bureau. As of April 2020, no complaints have been filed against Vast Conference in the past three years.
Image Credit: Antonio_Diaz / Getty Images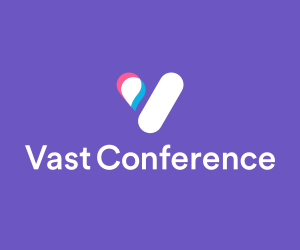 Vast Conference
The Verdict
Conference Calling by Vast Conference is our choice as the best overall conference calling service because of its multiple service offerings, cost structure, supported number of callers, and mobile app and features.

Kiely Kuligowski
business.com Staff
Kiely Kuligowski is a business.com and Business News Daily writer and has written more than 200 B2B-related articles on topics designed to help small businesses market and grow their companies. Kiely spent hundreds of hours researching, analyzing and writing about the best marketing services for small businesses, including email marketing and text message marketing software. Additionally, Kiely writes on topics that help small business owners and entrepreneurs boost their social media engagement on platforms like Facebook, Twitter and Instagram.