CurrentWare Review
By Business.com Editorial Staff
Last Modified: August 22, 2018


CurrentWare image: This internet monitoring software tracks your employees' browser history and internet usage.

CurrentWare image: You can set the software to send you alerts when employees try to access certain sites.

CurrentWare image: Reports include information about URLs employees accessed and how much time they spent at each URL.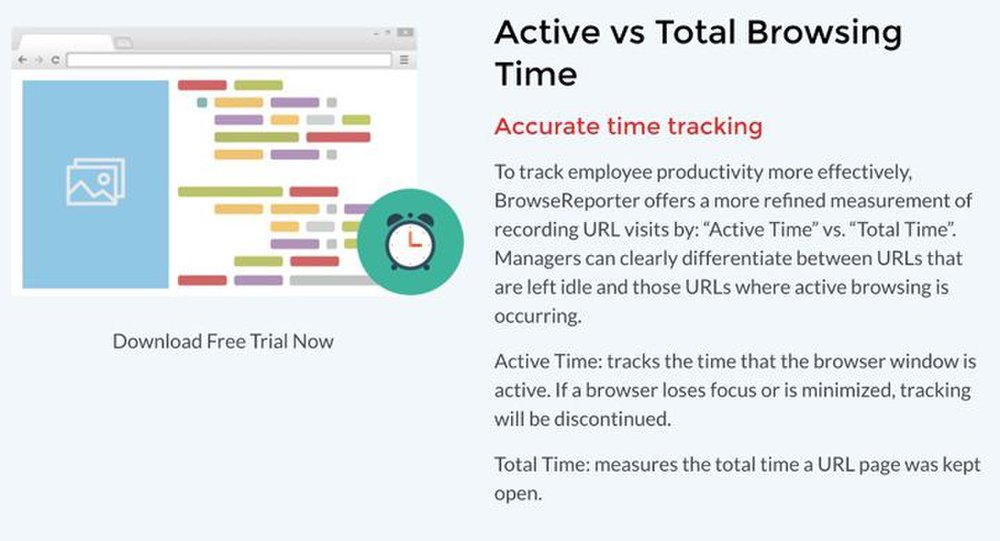 CurrentWare image: This software tracks employees' active time and idle time.
CurrentWare is internet management software that allows you to oversee and manage your employees' internet use, data transfers and computer port controls. It lets you organize, monitor and report on system usage and save energy through a computer power-saving utility called enPowerManager.
CurentWare is simple to use and quick to learn. This website monitoring software is a suite of four applications to allow different levels of monitoring and restriction. The AccessPatrol, BrowseControl and BrowseReporter modules are the heart of the CurrentWare suite. They regulate, monitor and restrict employee access to the internet and information accessible through computers. The fourth application is enPowerManager. It regulates power use by designating when to turn computers on and off, saving your company money.
Once you install the software on a client computer or group of computers, it's easy to block specific websites for those computers and users. Each of the applications in this employee monitoring software have several features and options. For example, the internet scheduler in BrowseControl lets you turn on access to the internet at any time. You can also set a specified amount of time, such as an hour, in which employees can use the internet freely. This allows them some personal web browsing without much drop in productivity.
BrowseControl has a download filter that lets you specify the types of downloadable files to allow or block, including MP3s, AVIs, MPEGs, zip files and executable files, which, if malicious and deployed, can hurt the operations of your computers and systems. There's also App Blocker to ensure greater efficiency from employees. It blocks any non-work-related applications, including video games, music, chat and media players. There's no need to look over your employees' shoulders – App Blocker does it for you.
The AccessPatrol application helps prevent data loss and theft by employees. It limits or blocks access to drives, ports, external storage and other devices. For example, you can stop employees from using a flash drive to take information from a computer or from downloading information onto another computer.
CurrentWare gives you the ability to analyze log files of almost all types of data from computers in your office. It does not, however, let you analyze data logged through a centralized system proxy server. Nonetheless, CurrentWare has the ability to monitor individual users and computers. This is important to find problems, weak links or spies in any office systems chain.
The Run Report feature lets you choose different reports to compile. You can run reports on your employees' sites visited, domains visited, total browsing time and bandwidth use. It has a graphing feature that presents data in colorful graphic comparisons.
This internet management software has a URL exclusion list that lets you filter websites from reports you create. With the Email Reports feature, you can set it to send designated reports to you or other managers at any interval, perhaps weekly or monthly, depending on how often you choose to monitor computer and internet use by employees. Email Reports is popular because reports come automatically once you apply the settings. You can also remotely capture screenshots of users' computers.
CurrentWare has support options, should you need help understanding or operating any of the internet management software's components. You can call the company for step-by-step guidance. Also available are email support, tutorials, live chat and a comprehensive list of FAQs on each of the applications in the CurrentWare suite.
With its four main software applications and their many features, CurrentWare enables you to monitor, track, analyze, and report on the internet and computer use of your employees. Whether your company has a staff of three or a workforce of 300, this internet management software can keep harmful viruses and malware from infecting your systems and increase productivity by limiting personal web browsing.
Ready to choose your Employee Monitoring Software? Here's a breakdown of our complete coverage:
Business.com Editorial Staff
The purpose of our community is to connect small business owners with experienced industry experts who can address their questions, offer direction, and share best practices. We are always looking for fresh perspectives to join our contributor program. If you're an expert working in your field – whether as an employee, entrepreneur, or consultant – we'd love to help you share your voice with our readers and the Business.com community. We work hard to only publish high-quality and relevant content to our small business audience. To help us ensure you are the right fit, we ask that you take the time to complete a short application: https://www.business.com/contributor/apply/ We can't wait to hear what you have to say!