Data Dash Review
By Business.com Editorial Staff
Last Modified: December 11, 2018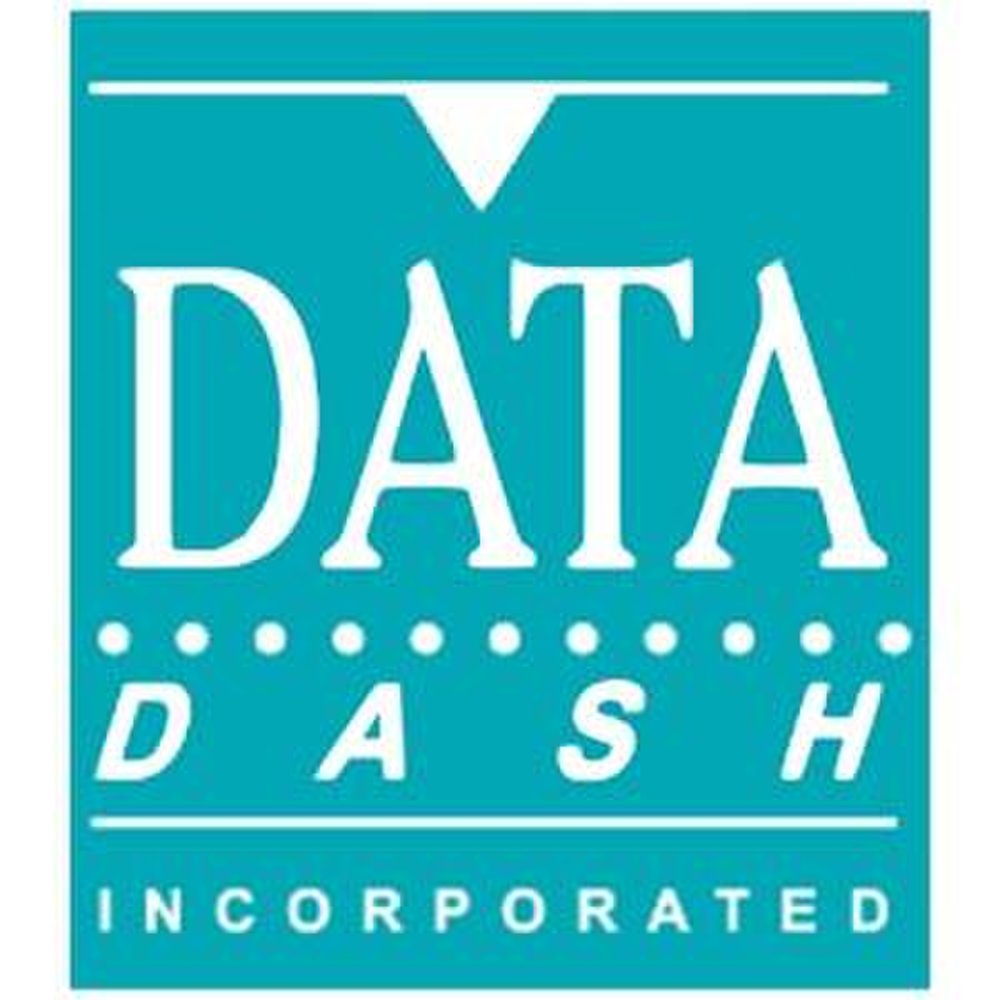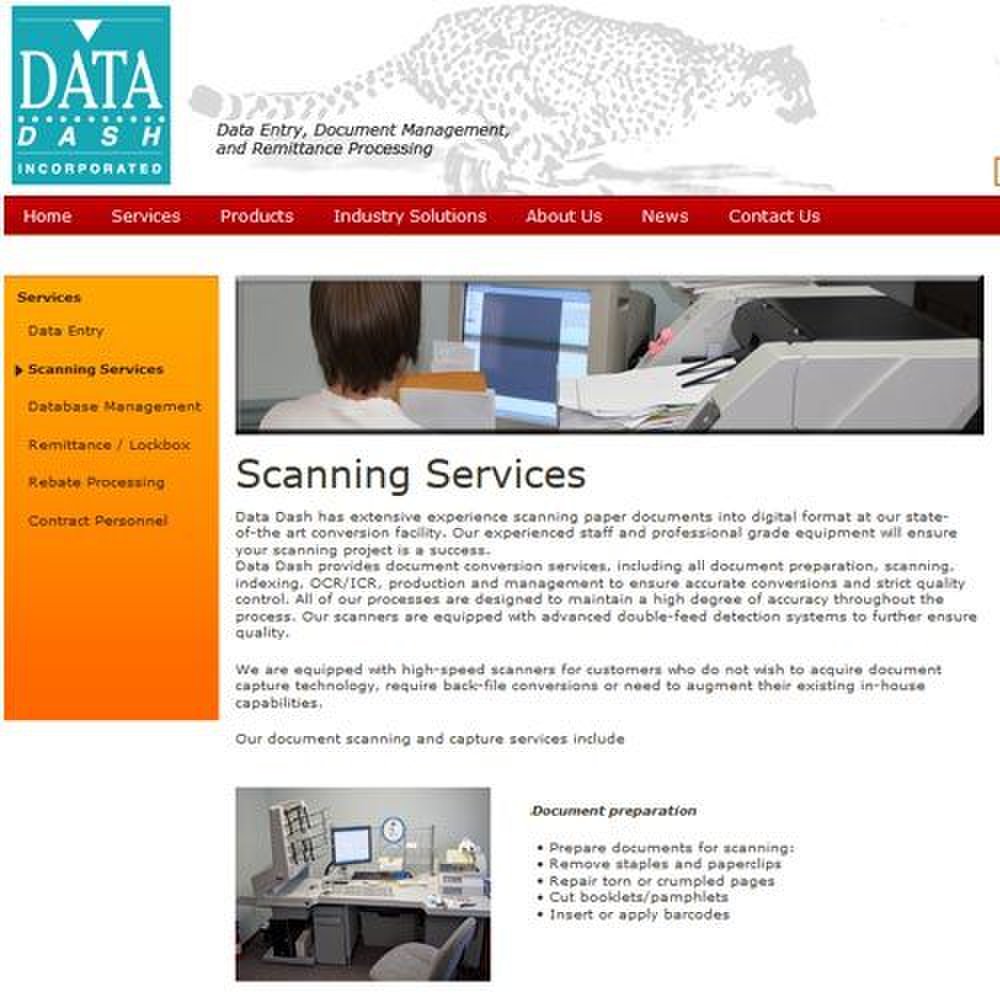 Data Dash image: Data Dash's basic services include rigorous document preparation.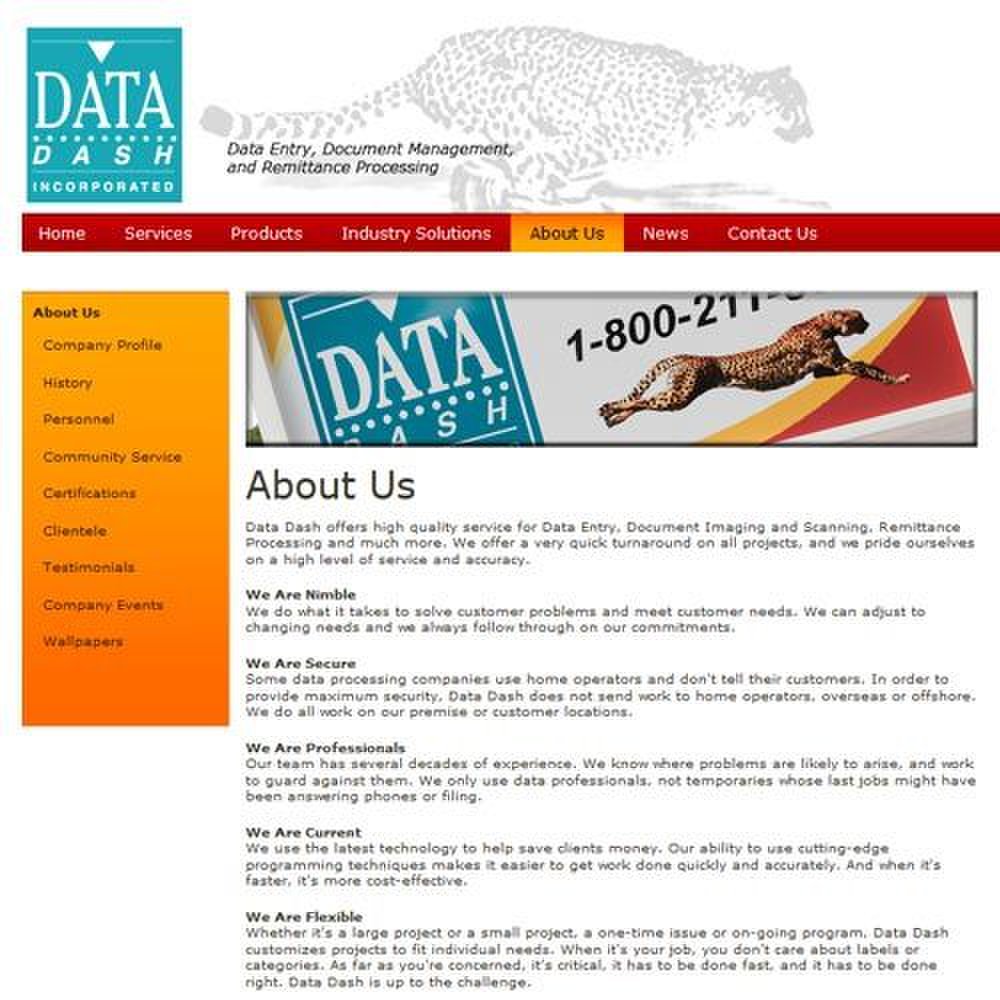 Data Dash image: Data Dash's process offers flexibility and has excellent customer support.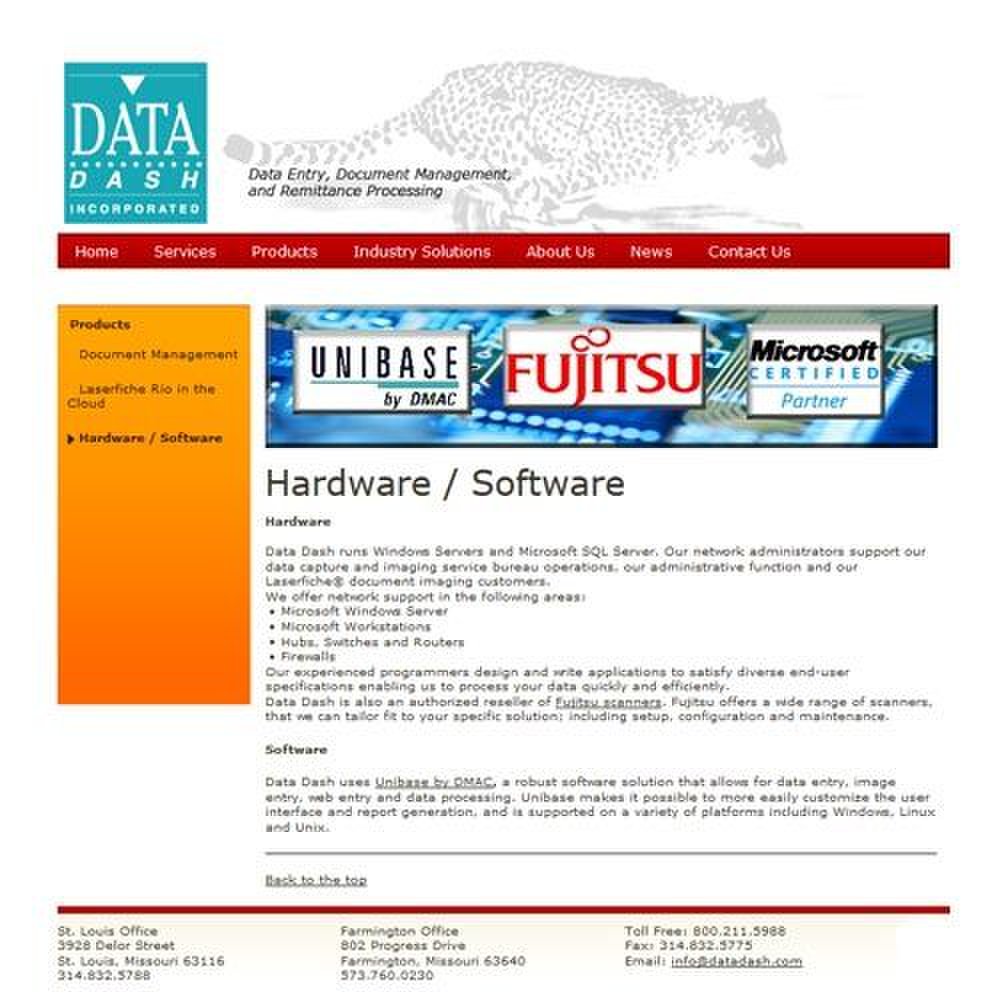 Data Dash image: Technical specifications are posted on the Data Dash website.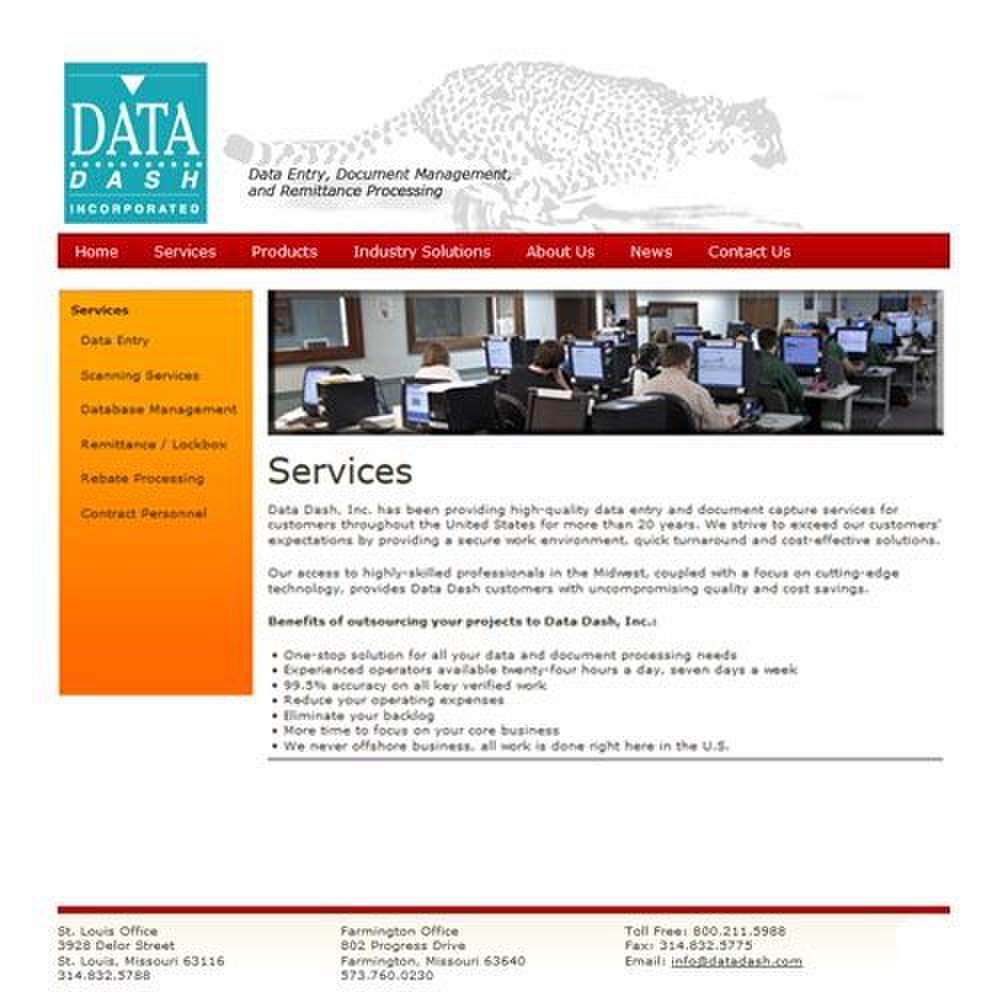 Data Dash image: For security concerns, Data Dash prides itself on not sending work offsite or abroad.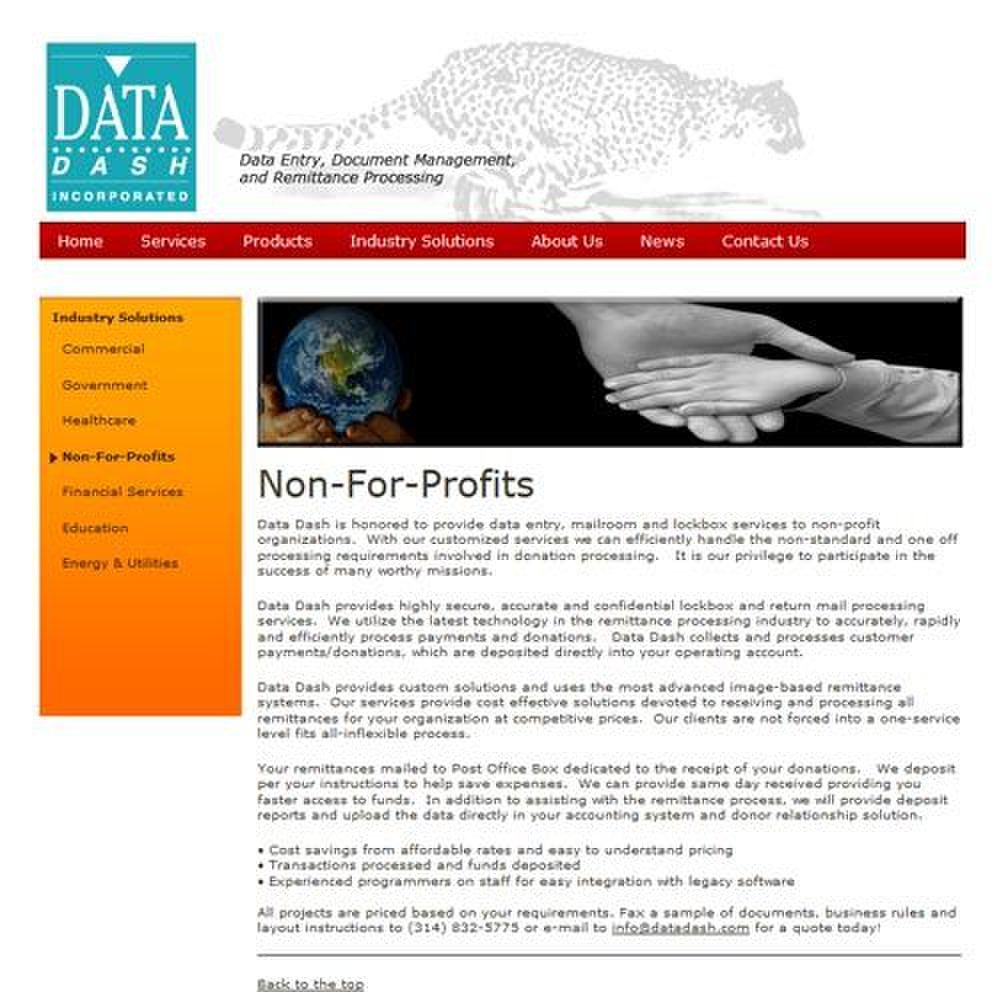 Data Dash image: Data Dash helps nonprofits deposit contributions in a timely manner.
While some document scanning companies charge separately for basic services, Data Dash includes them all, and then some, in its standard pricing. The company also offers several electronic storage and integration solutions so you can pick the one that works best for your business.
Data Dash sends trucks to your location to pick up your paperwork anywhere within 150 miles of its St. Louis, Missouri, headquarters. It does not offer scanning services at your company's location. But, if you live anywhere else in the nation, it will arrange secure, carefully tracked shipping. Experienced and skilled Data Dash staff then prepare your paper files by applying a barcode, removing staples and paper clips, repairing torn or crumpled documents and cutting apart booklets and pamphlets

Your documents may go through full or limited-area optical character recognition (OCR), depending on your needs. This process converts your image to searchable text -- a service you often pay separately for when you use other providers. Once your scanning has been verified, your boxed paper documents are securely shredded. Your scanned electronic files are then sent to you on CD-ROM. If you need the paper files returned to you, this option is also available.
Data Dash can also convert handwriting to text and compile the results of tests or surveys where a box is checked or a shape is filled in with pencil. This "test results scanning" is an option that isn't offered by many scanning services. And, if you need to add your documents to an existing enterprise content management system or electronic document management system, Data Dash can prepare your files to integrate seamlessly.
Data Dash offers you a host of other cloud storage and backup options. You can store indexed files in hosted cloud storage for password-protected internet retrieval. The company can also prepare your documents to go inside your own onsite storage and retrieval system.
Despite being a smaller business than some of the document imaging companies we reviewed, Data Dash is big on security. Buildings are monitored by video cameras 24 hours a day. Employees have their backgrounds checked and the company's processes are HIPAA compliant. HIPAA, the Health Insurance Portability and Accountability Act, provides federal protections for individually identifiable health information. The act specifies a series of administrative, physical and technical safeguards to assure the confidentiality, integrity and authorized assess of protected information. While you may not need health care or medical scanning, you will benefit from the additional security that HIPAA compliance brings to Data Dash.
Data Dash customer support representatives answer questions over the phone and email promptly and they have more than enough industry expertise to answer questions appropriately. While the company does not have a live chat function or many downloadable learning materials, there are informative web pages and you can sign up for its newsletter.
Data Dash serves industries in all 15 of the business areas we choose to focus on in our reviews. In addition to this broad industry expertise, Data Dash also has many customers in nonprofit organizations.
Data Dash serves customers in many industries with high-quality document scanning. While you won't find a particularly interactive Data Dash website, companies in the greater St. Louis, Missouri, area and across the nation will find that this service provider does offer secure, inexpensive and feature-rich services.

Ready to choose your The Best Document Scanning Services of 2019? Here's a breakdown of our complete coverage:

Business.com Editorial Staff
The purpose of our community is to connect small business owners with experienced industry experts who can address their questions, offer direction, and share best practices. We are always looking for fresh perspectives to join our contributor program. If you're an expert working in your field – whether as an employee, entrepreneur, or consultant – we'd love to help you share your voice with our readers and the Business.com community. We work hard to only publish high-quality and relevant content to our small business audience. To help us ensure you are the right fit, we ask that you take the time to complete a short application: https://www.business.com/contributor/apply/ We can't wait to hear what you have to say!