Dell Latitude 14 Review
The Dell Latitude 14 (E7450) is built for the office, with a no-nonsense design that features premium materials but only middling performance and display options. Unlike some business-class laptops, it's not made to impress with its speed or a flashy appearance but to be reliable and get the job done. It delivers on both counts, making it a safe choice for your small business laptop.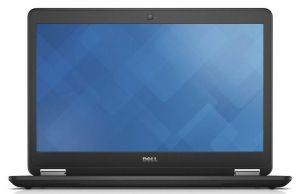 Dell Latitude 14
The Verdict
The Dell Latitude 14 (E7450) is a 14-inch business laptop that can get the job done but won't impress anybody with its performance or design.
The Latitude is outfitted with an Intel Core i5-5200U 2.2GHz processor, paired with 8GB of RAM, which doesn't offer amazing performance but should still be sufficient for most office workers. In Geekbench 3, it scored a middling 5,326 points and took more than five minutes to work its way through the Laptop Mag Spreadsheet Test. Graphics processing is similarly lackluster, with the integrated Intel HD Graphics 5500 scoring an adequate 45,944 points in 3DMark Ice Storm Unlimited and 599 points in the more demanding Fire Strike test.
If you want better performance, the laptop can be configured with a more potent Intel Core i7-5600U and 16GB of RAM. The model we looked at came with a 256GB solid-state drive, but you can configure the laptop with a larger 512GB SSD if you want a more spacious drive.
It's not as light as some of the more portable work laptops we reviewed, weighing just 3.6 pounds and measuring 0.8 x 13.3 x 9.1 inches, but it benefits from a carbon fiber chassis that's strengthened with magnesium alloy reinforcement. It's not as impressive as its cousin, the svelte Dell XPS 13, but it doesn't need to be – most work laptops never leave the desk, and it's more than portable enough to carry to and from a meeting. The battery life is also quite good, lasting more than eight hours between charges. The keyboard has adjustable backlighting and a pointing stick between the G and H keys that complements the standard touchpad.
The 14-inch display is available only with full HD (1920 x 1080) resolution and with or without touch capability. On non-touch systems, the display features a matte finish that reduces glare and reflection on the glass of the display. The display is a bit dim (256 nits), but offers very good color accuracy (DeltaE of 1.48).
The Latitude is equipped with three USB 3.0 ports, HDMI and miniDisplayPort for video output, an SD card slot, and Ethernet. For wireless connectivity, it comes with a standard 802.11ac Wi-Fi card with Bluetooth 4.0. But wireless connectivity doesn't stop there, with WiGig support for wireless desktop docks, along with Dell's wired E-Port docking station.
Dell offers several security features, including a built-in fingerprint reader, along with options for a SmartCard reader, Computrace location tracking software, and Dell's Data Protection and Encryption services.
Dell covers the Latitude with a generous three-year warranty, which includes remote diagnosis by tech support and onsite service. You can extend this coverage out to five years, and Dell also offers accidental damage protection. In Laptop Mag's testing, Dell support services ranked seventh out of 10.
The Dell Latitude 14 (E7450) is a business notebook through and through, with a utilitarian and competent yet unimpressive design. If you want a flashy laptop or high-end display you need to look elsewhere, but for a no-frills machine, the Latitude 14 (E7450) gets the job done.
Image Credit: Getty Images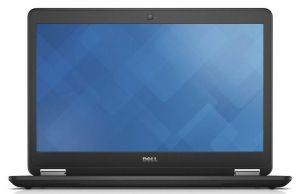 Dell Latitude 14
The Verdict
The Dell Latitude 14 (E7450) is a 14-inch business laptop that can get the job done but won't impress anybody with its performance or design.

business.com editorial staff
business.com Member
The purpose of our community is to connect small business owners with experienced industry experts who can address their questions, offer direction, and share best practices.