Dell OptiPlex Review
Editor's note: The manufacturer has informed us that the Dell OptiPlex 9020 has been discontinued. As such, clicking on the buy button will redirect you to the Dell OptiPlex 7000 series of business computers. We will fully evaluate the OptiPlex 7000 series when we next update the business computer reviews.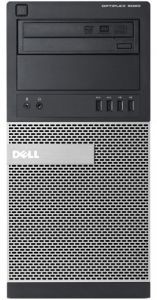 Dell OptiPlex
The Verdict
The Dell OptiPlex 9020 has an excellent processor and sufficient memory to run all your critical business software, but it lacks many upgrades and the option to add components.
The Dell OptiPlex 9020 comes in four form factors, which gives you plenty of sizes to choose from to fit your office's needs. We reviewed the largest, because it gives you the most power and opportunity to grow with your business. The quad-core 3.6GHz processor offers a lot of power to multitask and run all your necessary programs. However, the power supply unit is below average, which means you may need to upgrade it if you add components later.
To determine the best business computers, performance was the priority. To evaluate performance, we looked at the processor's PassMark score, an industry benchmarking score submitted by actual users. Then we analyzed the RAM and storage, followed by connectivity and expansion potential. The best business computer must be able to handle all of your necessary apps without slowing down, and it needs to be able to store all of your files. As a result, the Dell OptiPlex is among the best business computers available.
The best aspect of the OptiPlex 9020 is the processor, which is an Intel Core i7-4790. This processor has an 8-MB cache and a base speed of 3.6GHz. The PassMark score is 10,017. This is among the highest scores in our review. The highest is 11,000. This score indicates that the processor is easily capable of handling significant multitasking and data-intensive tasks.
We determined that 6,000 was the minimum PassMark score for a processor to have a sufficient multitasking abilities. Since an increase of 3,000 in a score is reflective of an exponential increase in processing abilities, the i7-4790 is more than twice as powerful as the minimum passable requirement.
The OptiPlex 9020 has 8GB of memory, which is standard for an office PC. This is enough RAM to ensure your business can multitask without experiencing dips in performance. Most business-related software isn't data-intensive, so 8GB of RAM gives you ample room to run many programs at once. The one downside is that you can't upgrade the memory before purchase, which is important if you use data-intensive programs like 3D rendering or video editing software. However, you can manually install up to 64 GB of RAM to the motherboard, which gives you a lot of flexibility for future growth.
The hard drive has 500GB of storage, which is disappointing. Most business computers start at 1TB of storage. However, if you deal with videos, graphics and audio, then you can upgrade to a 2-TB hard drive. With four expansion slots, you have the ability to manually install additional hard drives as needed.
With eight USB 2.0 ports and four USB 3.0 ports, you have many options for plugging in external devices like flash drives, scanners and card readers. Most electronic devices that communicate with a computer connect via a USB port. USB 2.0 is still the most commonly used USB port, but USB 3.0 is the fastest connection.
A downside to the OptiPlex 9020 is the 290-watt power supply unit. The best business computers have a power supply unit rated between 460 and 490 watts. This is important for adding components like extra hard drives and optical drives. A weak power supply unit limits the computer's ability to expand with the needs of your business. Fortunately, you can upgrade the power supply.
The Dell OptiPlex 9020 is a powerful business computer because it comes with a quad-core processor and 8GB of memory. However, it only has a 500-GB hard drive, and the power supply unit is on the weak side. This small business computer performs, but it lacks the storage and expansion potential of the best PCs in our review.
Image Credit: Getty Images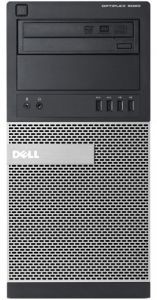 Dell OptiPlex
The Verdict
The Dell OptiPlex 9020 has an excellent processor and sufficient memory to run all your critical business software, but it lacks many upgrades and the option to add components.

business.com editorial staff
business.com Member
The purpose of our community is to connect small business owners with experienced industry experts who can address their questions, offer direction, and share best practices.