Dell XPS 15 Review
The Dell XPS 15 (9550) is the top-of-the-line model in the renowned XPS model line. Designed for use in the office or the home, this premium laptop is both a winning professional laptop and a premium consumer notebook. Thanks to an impressive blend of high-performance components, cutting-edge design and stunning 4K display, the Dell XPS 15 is our selection for the best business-class laptop.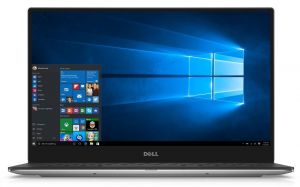 Dell XPS 15
The Verdict
The Dell XPS 15 is an impressive laptop that boasts powerful processing and graphics capability, an ultra-slim design, and an eye-popping 4K display with super thin bezels.
The unit we used in our evaluation is outfitted with an Intel Core i7-6700HQ processor, a potent 2.6GHz quad-core processor. It came with 16GB of RAM, though you can upgrade the laptop to a full 32GB if you want more memory. The combination of processor and memory offered up excellent performance, zipping through Laptop Mag's spreadsheet test in 216 seconds and scoring 13,502 points in Geekbench 3. Both results rank among the best in our review.
Graphics performance is just as impressive, thanks to an NVIDIA GeForce GTX 960M graphics card, a gaming-oriented piece of hardware that delivers plenty of muscle for demanding visual tasks like editing video or rendering complex visual models. In 3DMark Ice Storm Unlimited, the laptop scored 114,482 points, leading the category by a large margin in basic rendering capability. In the more demanding 3DMark FireStrike, which is designed specifically to stress high-end GPUs, it scored 3,949 points, again outpacing competitors.
While its graphics performance surpasses other top work laptops, it is worth noting that a gaming-grade graphics card isn't always the ideal solution for business. For applications like engineering and financial analysis, you want a graphics solution with independent software vendor (ISV) certification, ensuring that the hardware not only boasts the power you need, but also the compatibility and reliability that is essential when large investments or people's safety are on the line. The Dell XPS 15 is available with both Windows 10 Home and Windows 10 Pro.
The display is similarly premium, and not just because the 15.6 panel boasts 4K (3840 x 2160) resolution. Surrounding the touchscreen are bezels that measure less than 0.25 inches thick, allowing the 15-inch display to fit into a 14-inch chassis. The display is covered in edge-to-edge Gorilla Glass, which should ward off any scratches as you poke and prod the touchscreen.
The display uses an indium gallium zinc oxide (IGZO) in-plane switching (IPS) panel, which delivers wide viewing angles and impressive picture quality. In testing, the display had an average maximum brightness of 285 nits, which isn't the brightest we've seen – a few competitors top the 300 nit mark – but should be sufficiently bright enough for any office or media use. It also has great color accuracy, with a DeltaE rating of 0.7, one of the best results in our review. The only drawback to this impressive display is that powering a bright screen with more than 8 million pixels is a real drain on battery life. If you don't need all that eye-candy, or just want better battery life, the XPS 15 is also available with a full HD (1920 x 1080) non-touch display.
The XPS line is marked by a slim ultrabook-style design and distinctive-looking construction. The laptop measures just 0.66 x 14.06 x 9.27 inches, making it one of the slimmest laptops we reviewed. The chassis is made of sturdy carbon fiber, with a translucent soft-touch finish that's comfortable and rubbery but still lets the elegance of the carbon fiber shine through. The lid and underside of the chassis are backed with machined aluminum panels, and the entire thing weighs 4.4 pounds.
The backlit keyboard is full size, but without the numeric 10-key pad that often accompanies the keyboards on 15-inch systems. The touchpad has a glass surface, with clickable right and left corners instead of discrete buttons, and supports multitouch gestures like pinch-zoom and two-fingered scrolling.
Along the right and left sides of the laptop, you'll find two USB 3.0 ports, one USB-C port with Thunderbolt 3 support, HDMI output and an SD card reader. The USB-C port supports a number of connections, like HDMI, miniDisplayPort and Ethernet, though it requires a separate adapter. For networking, the laptop has standard 802.11AC Wi-Fi and Bluetooth 4.0.
Dell covers the XPS 15 with a standard one-year warranty, with options for extended coverage available at purchase. Free phone support is included, along with the usual online support materials and live chat through the Dell website. In Laptop Mag's independent rating of tech support services, Dell ranked seventh out of 10 major brands. For additional support offerings sometimes offered with business notebooks, like on-site support, accidental damage protection or asset recovery service, you need to pay an additional fee.
The XPS 15 is outfitted with a 512GB solid-state drive (SSD), which offers plenty of storage space – double that of the 256GB drives found in many competing models – while still offering all of the benefits of solid-state storage. With no moving parts, SSDs are much better suited to mobile use than older hard drives, and speedier performance makes for fast boot times and nearly instant resume from sleep. If you want even more capacity, you can configure the laptop with a full terabyte of SSD storage at purchase.
The Dell XPS 15 (9550) is one of the best laptops for work you can get, whether you buy it as an office laptop or a consumer notebook. With its sleek, slim design and impressive hardware, it will be at home in any boardroom and can handle all sorts of demanding tasks, including gaming and modeling financial estimates. While it does fall behind the competition in terms of battery life, it leads the pack in performance and features.
Image Credit: Getty Images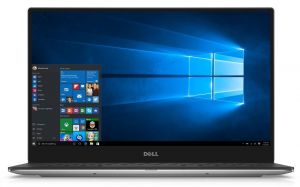 Dell XPS 15
The Verdict
The Dell XPS 15 is an impressive laptop that boasts powerful processing and graphics capability, an ultra-slim design, and an eye-popping 4K display with super thin bezels.

business.com editorial staff
business.com Member
The purpose of our community is to connect small business owners with experienced industry experts who can address their questions, offer direction, and share best practices.