DreamHost Review
By Matt D'Angelo
Last Modified: January 4, 2019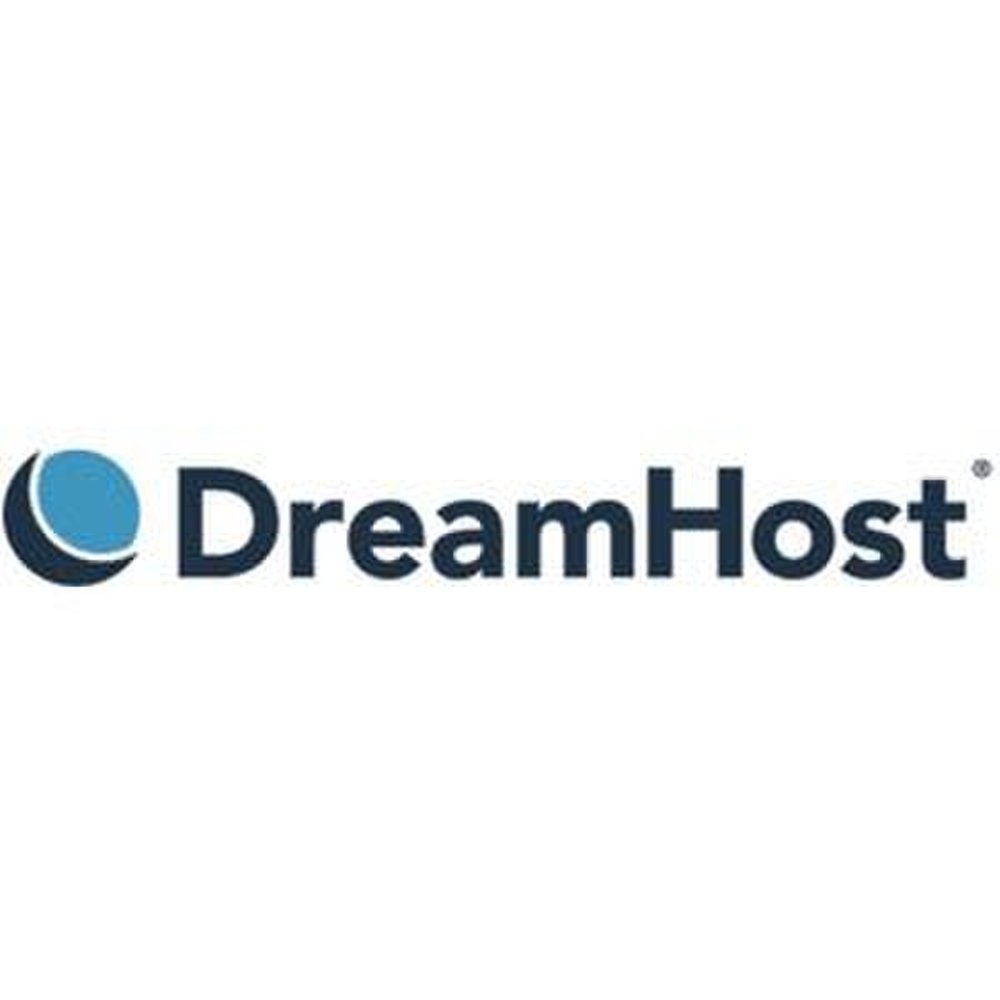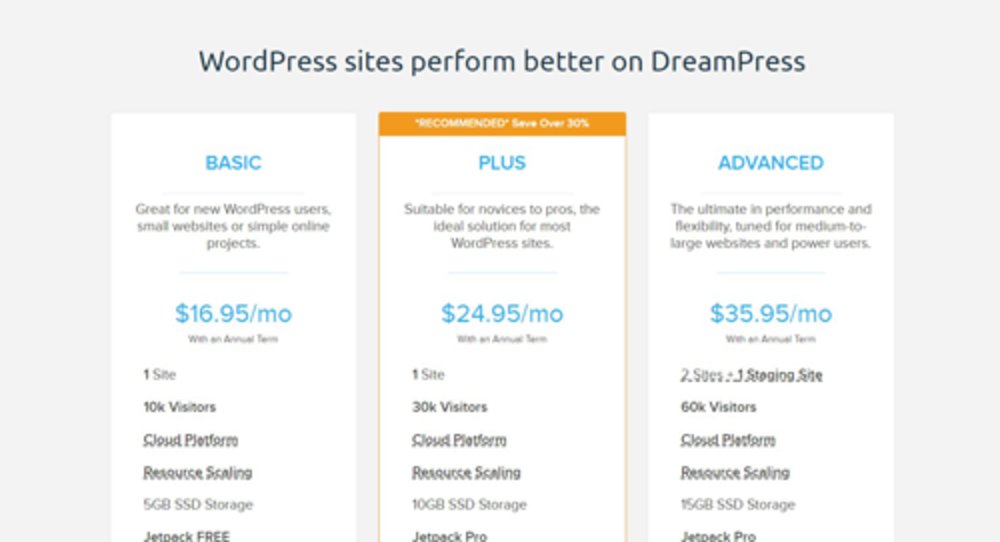 DreamHost has three WordPress web hosting plans to choose from.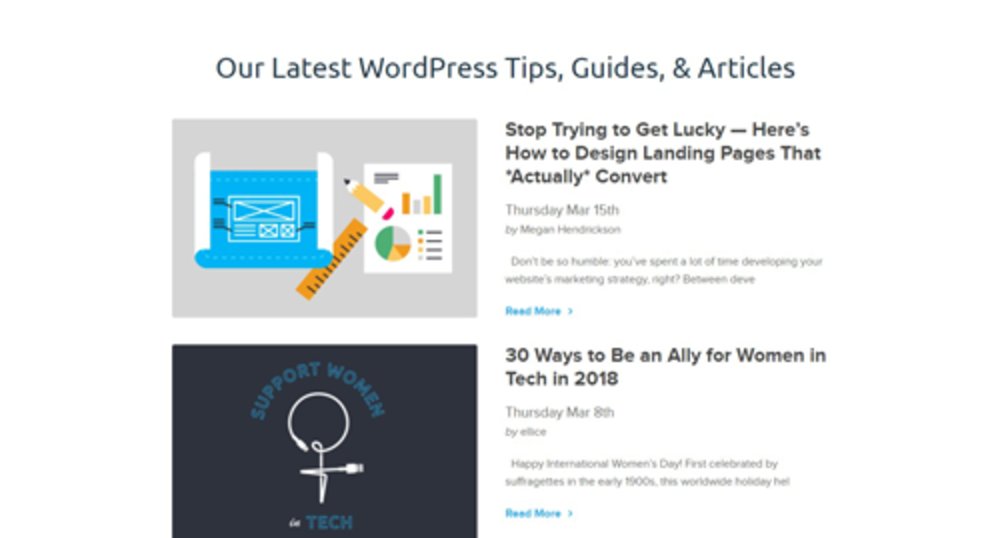 DreamHost has a lot of support options for customers. There is a blog with tips, guides and articles to help you troubleshoot various issues with WordPress. You can also contact a representative via live chat.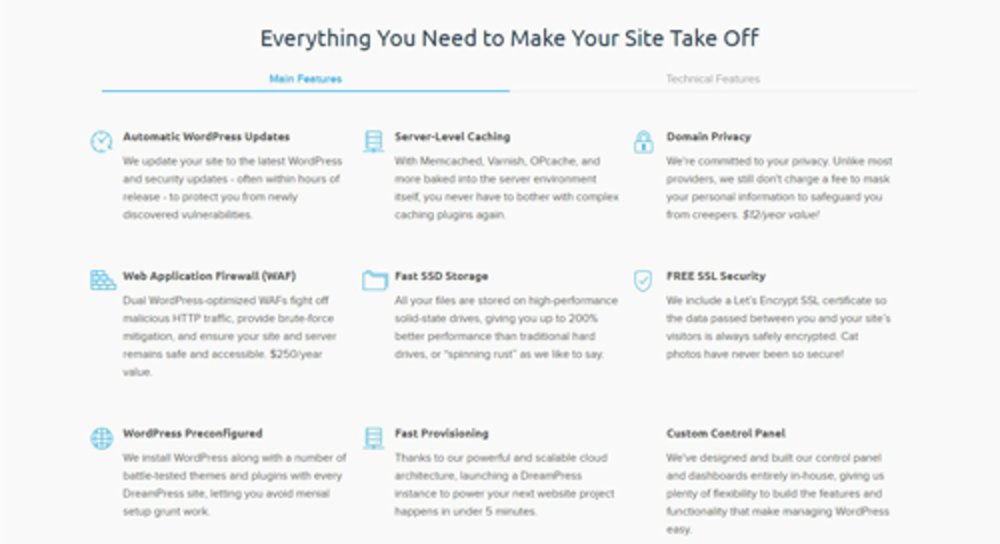 DreamHost's plans come with helpful features, such as automatic update, domain privacy, fast SSD storage and SSL security.
DreamHost has been providing web hosting services for over 20 years. It offers shared hosting, virtual private servers, dedicated and cloud hosting, and WordPress hosting. DreamHost is one of the few companies we reviewed that offers this variety of services to clients. It's the company's WordPress hosting, however, that stands out because of its competitive pricing and features. In addition, DreamHost provides a 97-day, money-back guarantee. Most companies we evaluated provide a 30-day money-back guarantee where you can get a full refund for your services. DreamHost was the only one that provided this long of a refund period, although you may not be entitled to a full refund during this time depending on which services you've signed up for and what fees are associated with your account.
View all our recommendations for web hosting services on our best picks page.

DreamHost has an A+ accreditation from the Better Business Bureau. It has a solid online reputation, and based on how long it's been providing services, it's a solid web hosting provider. DreamHost customers have access to support 24/7. You can also ask sales questions via live chat while you browse the company's various service offerings.
This web hosting provider has a solid mix of plans and services. Of all the different services it provides, there are multiple hosting plans within each type. The mix of plans and features means there are options for businesses of all sizes and types. Based on its extended guarantee, overall services and competitive WordPress hosting prices, DreamHost wins our best pick for best Wordpress hosting provider of 2018.
Pricing
DreamHost is very transparent in its pricing. Most companies provide promotional or slashed pricing to attract new customers. Once you've signed on, they then raise rates after a set period of time.
Instead, DreamHost advertises its normal WordPress hosting rates, which are competitive with many other companies we reviewed. The companies we looked at that specialize in WordPress hosting charged much higher prices than DreamHost. Its WordPress services are broken down into four plans: Starter, Basic, Plus and Advanced. The Starter plan is $7.95 per month, the Basic plan is $16.95 per month, the Plus plan is $24.95 per month and the Advanced plan is $35.95 per month.
The 97-day, money-back guarantee applies to the Start plan. The Basic, Plus and Advanced plans all have 30-day, money-back guarantees. All four plans come with 24/7 customer support. Some companies tier their support offering. It's a big plus that DreamHost provides the same level of great support to all its customers, regardless of the plan they choose.
It does tier other aspects of its service. Things like daily site backups, video and image CDN and other premium themes are available in the Advanced plan.
DreamHost advertises a free domain name with the first-time purchase of a yearly plan. Keep in mind this is only for yearly plans, so if you opt for month-to-month services, you won't receive a free domain name. In its terms of service, the company goes further, saying that all "annual shared hosting plans" receive a free domain name for a year.
It's not clear whether WordPress hosting falls under this "shared hosting plan" umbrella or if it is separate. When looking at the plan comparison, the company says the Starter plan has a free domain name with an annual plan, but the other three plans don't have this same listed feature.
If you're concerned about getting a free domain name when you sign up, it's something to discuss with DreamHost sales agents. When you pay for your domain name, it'll be just under $12 per year.
If you want to cancel your service, you could be entitled to a refund if you do it within the first 30 or 97 days of service, depending on your plan. If you cancel after this allotted time frame, you won't be charged an additional fee to do so.

Those who have a yearly contract, however, won't receive a refund. This is standard with just about all the companies we reviewed. According to the company's checkout page, it only provides either monthly or yearly terms for its WordPress hosting plans.
All the above pricing and term information is only for the company's WordPress hosting offerings. There may be other plan options, pricing and terms for the various services DreamHost provides. Fees may also differ depending on your plan and contract.
Features
DreamHost provides a solid list of features for its WordPress hosting customers. Its mix of plans means you'll be able to get the features you need, whether you're looking to get started with a basic hosting plan or if you want to host multiple WordPress sites. Its storage and bandwidth offering is transparent, and the company provides site backups and other good security features.
Storage and bandwidth: Most hosting companies claim to provide "unmetered" and "unlimited" storage and bandwidth. DreamHost spells out exactly what it provides, which is good for business owners looking to get a full understanding of exactly what the company has to offer. For the Basic plan, for example, users will have 10GB of SSD storage and enough bandwidth to support 10,000 monthly visitors. The Plus plan has 30GB of SSD storage and can support 30,000 monthly visits. The Advanced plan has 30GB of SSD storage and can support 60,000 monthly visitors. The Starter plan is the only one where the company claims to provide "unlimited" traffic and "fast" SSD storage. Unlimited, however, never means infinite. Instead, companies usually operate within a designated range. If you're interested in the Starter plan, it's a good idea to talk with the DreamHost sales team to get a better understanding of the storage and bandwidth provided.
Security: DreamHost provides varying security for all its plans. It offers one-click SSL services to encrypt your website regardless of what plan you sign up for. Otherwise, there isn't a lot of info about its security offering. The more advanced plans have things like daily site backups (to help in the event of data loss) and WordPress service updates, which keep your system patched and fully updated. DreamHost provides satisfactory security features, but some competitors provide better services.
Cancellation: You can cancel services with DreamHost at any time without paying an additional fee. If you don't cancel within the time period of your money-back guarantee (whether it be 30 or 97 days, depending on your plan) you won't receive a refund for unused services. If you're paying month-to-month, this isn't a big deal. If you're on a yearly plan, you may lose out on the months you've already paid for if you cancel early.
Pre-installed apps: DreamHost provides the latest version of cPanel to monitor and control your overall site. This is a standard offering of many other companies, but it's a nice benefit and could be more reliable than a company-specific control panel. In terms of integrations, we ranked DreamHost on its WordPress hosting offering. WordPress has thousands of plugins you can use for your site. DreamHost also supports these plugins.
Types of Hosting Offered
In addition to WordPress hosting, DreamHost provides virtual private servers, dedicated hosting, regular shared hosting and cloud hosting. All these plans and services have different pricing and contract structures.
The shared hosting plans, for example, range from $3.95 to $7.95 per month. This type of hosting is available on a monthly, yearly and triennially. You also get a 97-day, money-back guarantee with this type of hosting.
VPS hosting plans range from $13.75 to $110 per month and can support small businesses of any size. The RAM and storage offered on each plan is competitive with other VPS offerings we looked at. The dedicated servers DreamHost provide a range in price depending on the amount of storage and RAM you sign up for.
Dedicated servers are the most expensive service offering of the company, so if you're interested in these services, expect to pay a few hundred dollars per month to do so.
Domain Transfer
In some cases, DreamHost will provide a free domain name for the first year of service. This is for Starter WordPress hosting plans and annual shared hosting plans. It may also extend to other service plans, depending on your agreement. Either way, the yearly cost of a domain name with DreamHost is around $12. If you're concerned with a yearly domain name fee, it may be a good idea to talk with the DreamHost sales team.
Uptime
According to DreamHost's terms of service agreement, the company guarantees 100 percent uptime. Just about every company we reviewed guaranteed 99.9 percent uptime. What separates DreamHost, however, is that if your service is interrupted, you'll receive a credit of one day for each hour your service is down. Some companies won't offer a credit or any type of compensation when the service goes down. And while DreamHost's credit of one day for each hour of service interrupted isn't as generous as some companies, DreamHost has a system in place to hold itself accountable should your service go down at some point.
Reputation and Customer Service
DreamHost has a solid online reputation. It earned an A+ with the Better Business Bureau – the organization's highest score. It is not, however, officially accredited by the Better Business Bureau. This isn't a direct indication of services provided, as businesses need to apply to be considered by the organization in some cases.

Some companies we reviewed didn't score nearly as high, earning only an A or, in some cases, as low as a C. DreamHost only has 8 negative reviews on its site and 17 total customer complaints. These numbers are considerably lower than competitors we analyzed. However, it could be the result of a BBB page that was only recently set up – it doesn't say when the profile was started. Overall, the company has a 3.68 out of 5 on the website.
We posed as small business owners and reached out to DreamHost via live chat. We asked important sales questions to find out more about its offering and test the company's customer service. The representatives we worked with were both pleasant and helpful, going as far on one occasion as searching through company blog posts to find the answer to one of our questions.
At no point did we feel on the hook to buy the company's product. Instead, their sales representative answered our questions quickly and accurately via live chat. DreamHost had one of the best customer service experiences of any company we reviewed.
Drawbacks
While the company says it provides a free domain name for a year, this is only true in certain cases, like annual shared hosting plans or the Starter WordPress plan. If you don't mind paying for a domain name, though, for the first year, this is a minor hitch.

Ready to choose your The Best Web and Cloud Hosting Services of 2019? Here's a breakdown of our complete coverage:

Matt D'Angelo
Matt D'Angelo is a staff writer covering small business for Business.com and Business News Daily. After graduating from James Madison University with a degree in journalism, Matt gained experience as a copy editor and writer for newspapers and various online publications. In addition to his writing and reporting, Matt edits articles. He reviews small business services, including PEOs, small business loans and GPS fleet tracking services. He's been with Business.com and Business News Daily since 2017.