Toshiba e-STUDIO 3515AC Review
Office solutions provider Toshiba offers a reliable combination of specifications and features for small to midsize businesses needing an effective multifunction printer (MFP) with its e-STUDIO3515AC model. Besides printing black-and-white and color documents, the e-STUDIO can copy, scan and fax documents.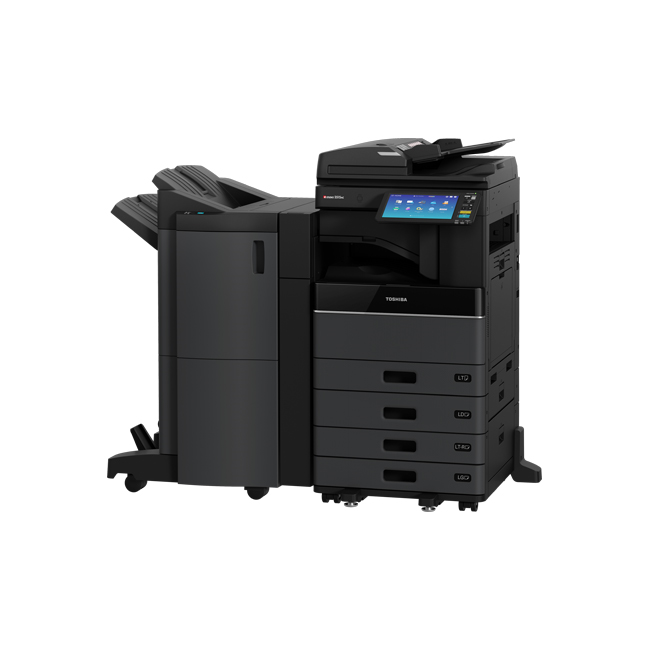 Toshiba e-STUDIO 3515AC
The Verdict
The Toshiba e-STUDIO 3515AC is worth considering for your small business thanks to its efficient and user-friendly interface and high duty cycle.
To view all of our recommendations for copiers, visit our best picks page.
Pricing
Expect to pay somewhere in the range of $14,051 to $26,241 for the e-STUDIO 3515AC. Leasing options are available. As with most of the MFPs we evaluated, you'll need to contact the manufacturer for a quote because there are several accessories, including paper, finishing, security and connectivity options, you may want to include with the e-STUDIO so it suits your needs.
The e-STUDIO is a laser printer, which requires toner cartridges. Cartridges are available from Toshiba; some retailers sell toner cartridges, and prices range from $80 to $160 per cartridge. Black toner cartridges yield approximately 38,400 pages, and colored toner cartridges yield 33,600 pages. The e-STUDIO is designed to be user-friendly. You can find instructions online about how to replace the toner cartridges online.
Toshiba e-STUDIO 3515AC Features
The e-STUDIO prints and copies 35 pages per minute. It prints its first color copy in 7.8 seconds and the first black-and-white copy in 5.9 seconds. It features a dual-scan document feeder. It can scan 120 images per minute with its simplex (single-sided) feature and 240 images per minute using the duplex scan feature (double-sided).
The print resolution for the e-STUDIO 3515AC is 1200 dpi, while copying resolution is 600 dpi. The model measures 23 x 25.2 x 31 inches and weighs 166 pounds.
The e-STUDIO3515AC is capable of producing 105,000 colored pages per month and 210,000 black-and-white pages per month. The standard paper tray holds 1,200 sheets. For an additional fee, you can add optional paper trays that bump up the capacity to 3,200 sheets.
The e-STUDIO has 4GB of memory storage and a 320GB self-encrypting hard disk drive. This amount of storage is beneficial, especially if you have a large print job and your documents contain a lot of images.
Some of this printer's more notable features include the open platform support, the 10.1-inch color WVGA touchscreen and the pull-out keyboard. These features offer your employees greater convenience productivity. Using the open platform support, employees can scan documents and email them through Microsoft Exchange. The 10.1-inch color touchscreen has a tilting display with an interface that operates much like a smartphone or tablet. There is a pull-out keyboard and number keypad that allows users to easily enter information and navigate the various screens to complete copy or scanning jobs.
In addition to its ease of use, the Toshiba e-STUDIO 3515AC is environmentally friendly. It is ENERGY STAR v2.0 certified, RoHS compliant and is an EPEAT-Gold rated product. The unit is manufactured using recycled materials, and it is designed to keep energy and operating costs low. Toshiba's e-BRIDGE Plus for Green Information displays usage information so your business makes smarter, more environmentally-conscious decisions.
e-BRIDGE Applications and Plugins
You can access a variety of apps and plugins that can further increase productivity in your office. Toshiba's e-BRIDGE Job Point can split up jobs across multiple Toshiba MFPs. e-BRIDGE Job Replicator is designed to help businesses speedily create multipart forms and documents. These applications can link with cloud-services like Google Cloud Print, OneDrive, Dropbox, SharePoint and others.
In addition to printing, you can scan and to cloud-based services using e-BRIDGE Plus apps, including e-BRIDGE Plus for OneDrive for Business, e-BRIDGE Plus for SharePoint Online, and e-BRIDGE Plus for Exchange Online.
Security
To ensure your data remains secure, Toshiba has equipped the e-STUDIO with multiple security features. Administrators can activate user authentication to restrict who uses the model and how it is used. There is also an onboard data scramble function, disk overwrite, IP address filtering, MAC address filtering, network service control and network port control. The e-STUDIO3515AC has a 320GB self-encrypting drive with automatic drive invalidation and data overwrite capabilities.
Toshiba Customer Support
Toshiba offers support via phone or online. Also, you'll find easy-to-use interactive guides, safety data sheets and manuals. You can also download drivers and installation software from Toshiba's website. To find the information you need specific to your model printer, you can search Toshiba's support page by model number.
Limitations
Unlike most MFPs in this class that come with a standard document feeder, the 3515AC does not; instead, it is an optional accessory. You can choose from an automatic document feeder or the reverse automatic document feeder. Similar to the document feeder, there are options to include a connector for SharePoint, Exchange and Google Docs, but they are not standard for this model either.
The cost of accessories can add up quickly, and you may be facing a higher price than you initially expected. The unit itself can be pricey for many small businesses or those on a budget, in which case, leasing may be the best option for your business.
Editor's note: Looking for the right copier for your business? Fill out the below questionnaire to have our vendor partners contact you about your needs.
Image Credit: Getty Images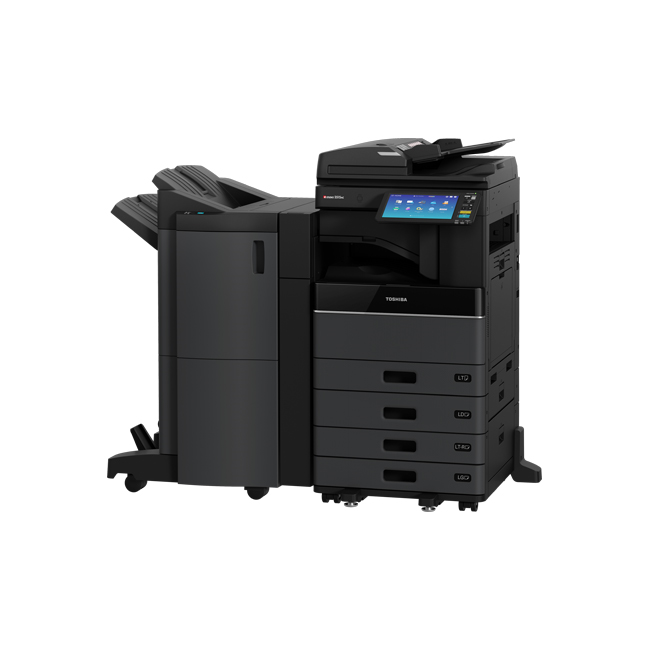 Toshiba e-STUDIO 3515AC
The Verdict
The Toshiba e-STUDIO 3515AC is worth considering for your small business thanks to its efficient and user-friendly interface and high duty cycle.

Kayla Harrison
business.com Contributing Writer
Kayla Harrison is a current Writing Arts graduate student at Rowan University and editor at The Urban Howl. She began freelancing during her junior year of college and fell in love with it. You can learn more on her blog, insearchofthewritedirection.weebly.com.