Egnyte Review
By Andreas Rivera
Last Modified: March 25, 2019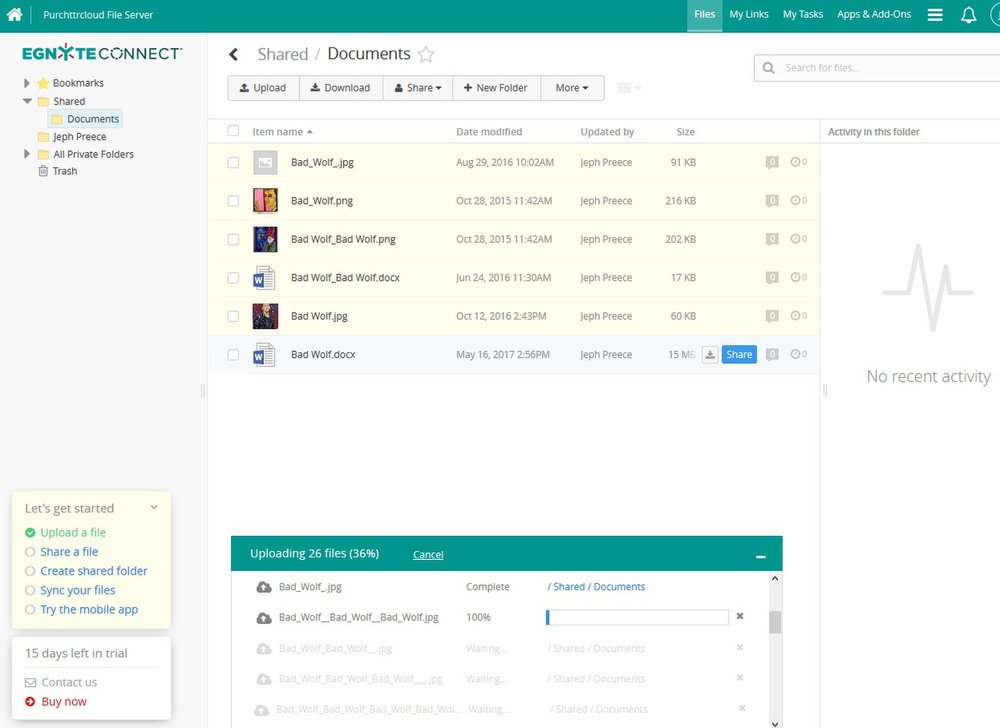 Egnyte has a familiar and easy-to-navigate interface.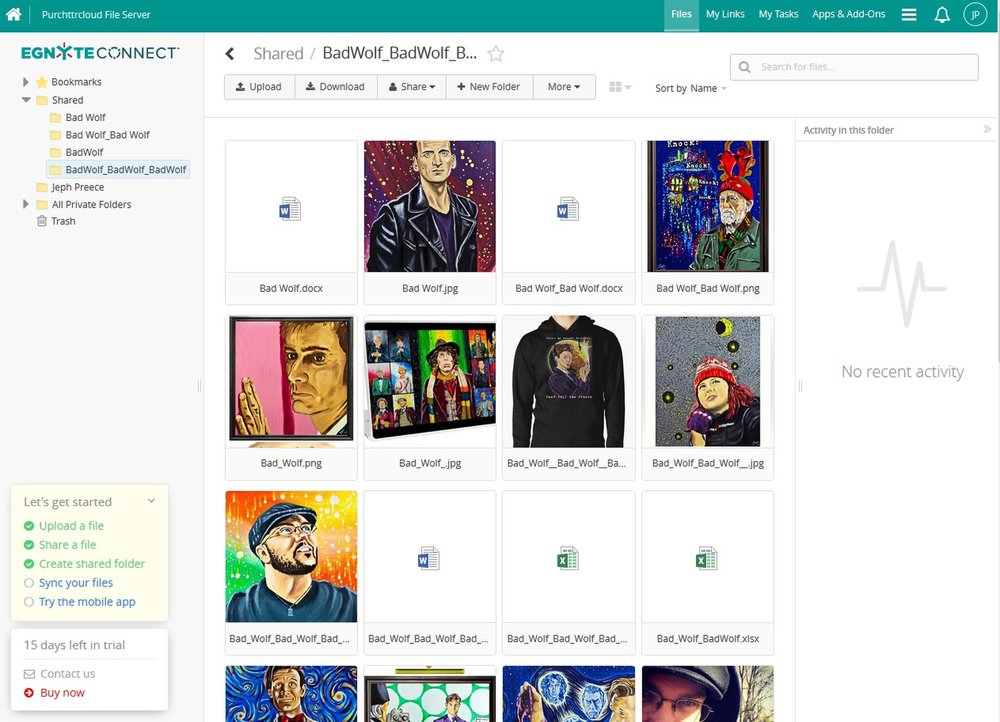 You can easily share files and collaborate with remote individuals from a single centralized access point.
The drag-and-drop functionality makes it easy to upload and share files.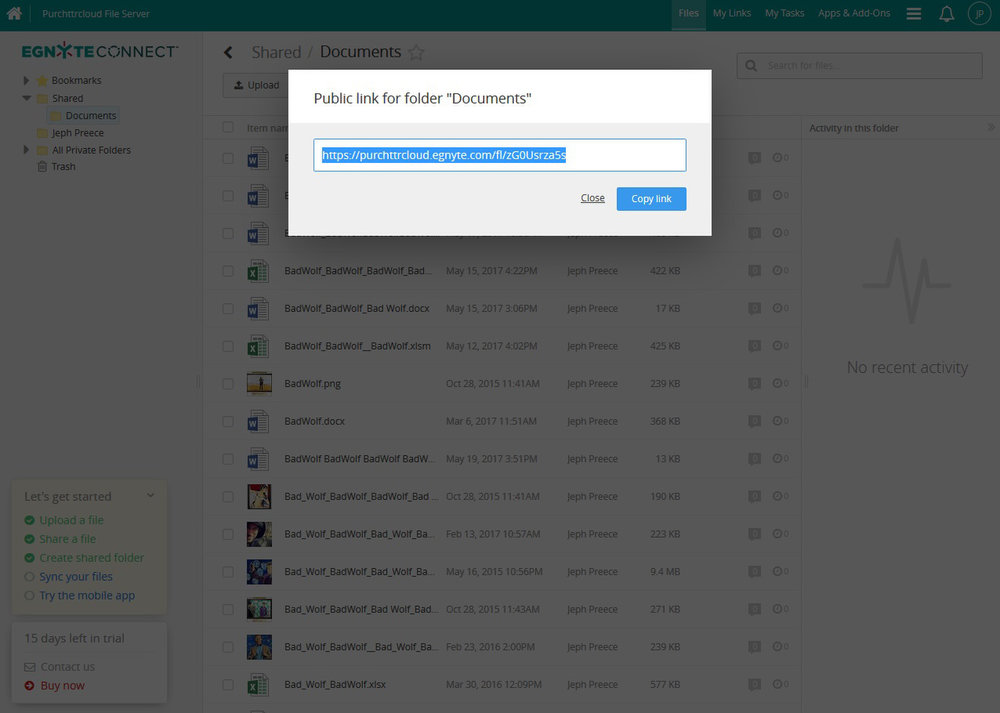 Public folders can be shared and accessed simply by sending your collaborators a link.
Egnyte is a business-focused cloud storage platform, complete with file sharing and collaboration tools, making it a comprehensive all-in-one service. Egnyte includes sophisticated administrative controls for management and IT. The backup aspect of the platform allows you to set it up as a hybrid system for redundancy and the best protection.
Editor's Note: We considered and reviewed Egnyte for both our cloud storage and backup, and online file sharing categories. Visit our Best Picks pages to view all our recommendations for cloud storage and backup services and online file sharing services.

Plans & Pricing
Egnyte features three plans, each one suitable for businesses of different sizes. Pricing is per user per month. The Office plan suggested for small businesses with five to 25 employees is $8 per month. The Business plan is suggested for 25 to 100 employees across multiple sites, for $15 per month. The Enterprise plan is for more than 100 employees, and the price is determined by quote.
The biggest differences between the plans includes the maximum amount of storage. The Office plan offers 5 TB, which is among the highest storage capacity we've seen for a basic plan. The Business tier doubles that capacity, and the Enterprise plan can be upgraded to unlimited storage.
Other differences include more administrative and IT tools for the Business and Enterprise tiers as well as hybrid environment features. The typical max file size is 10 GB; however, the service can work with you on a plan if you need to transfer larger files.
Features
Egnyte's rich feature set includes comprehensive file support, versatile file sharing and robust security measures. The service provides first-rate file support, allowing you to store virtually any type of file, including word processing documents, slideshows, videos and more. You can even store music files, though you'll need a third-party player to stream them.
The custom branding feature allows you to use your own URL for your interface and portal, complete with your company's logo and messaging. This adds a coat of professionalism that will impress clients and partners who have access to your portal.
With your Egnyte portal, you and your employees can easily share files and collaborate with remote individuals from a single centralized access point. Detailed folder permissions allow you to define tight rules around access to certain data, which is especially important if you are housing sensitive or confidential information. Not only can you specify what users can see what folders, you can set permissions that give specific users the ability to edit and delete files. Version history of files allow you to retain multiple versions of a document and craft audit reports if the need arises.
Egnyte also uses stringent security measures to safeguard data. All file transmissions to and from the Egnyte cloud file server are encrypted using 256-bit AES over SSL. Furthermore, all users are authenticated with a username and password, and as an administrator, you retain full control over access rights of all users and guests that you share data with. The upper tier plans allow you set multi-factor authentication for added security.
As a hybrid cloud and local storage solution, Egnyte conveniently provides continual and automatic synchronization between local files and online copies. The platform can detect changes to files and sync them between your local storage and cloud versions, keeping both copies up-to-date. Hybrid storage and backup give you double the protection, meaning if one source fails from disaster or is compromised by malware, you still have a source to back up from.
Drawbacks
Egnyte is a serious platform packed with advanced features. Even the base version will require IT expertise to setup properly – it isn't as simple as just signing up and uploading data. You'll need to set up your web user interface, as well as all the data policies for employees and other administrative controls. The advanced versions will especially need IT personnel to set up and manage.
It's also important to keep in mind that this platform can store and protect your files, but it isn't a purely cloud backup solution. Services that are primarily for cloud backup protect your entire system by backing up entire computers and servers, preventing outages of service if your data is compromised, while Egnyte is primarily for collaboration and short-term storage.


Ready to choose your The Best Cloud Storage and Online Backup Services of 2019? Here's a breakdown of our complete coverage:

Andreas Rivera
Andreas Rivera graduated from the University of Utah with a B.A. in Mass Communication and is now a staff writer for Business.com and Business News Daily. His background in journalism brings a critical eye to his reviews and features, helping business leaders make the best decisions for their companies.