Employment Record Service Review
Employment Record Service (ERS) provides employment screening, tenant screening, and employment verification services to assist a variety of employers, including hospitals, government partners, colleges, small businesses, and large corporations, in making informed hiring decisions.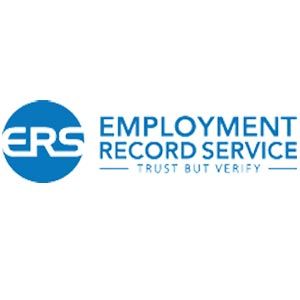 Employment Record Service
The Verdict
Employment Record Service (ERS) provides fast turnaround on FCRA- compliant criminal background checks, credit history checks, verifications, and motor vehicle record searches.
This background check company offers businesses the convenience of using an online system to quickly run background checks on job applicants. Since ERS launched its online system in 1997, which originally offered a simple background check, the site has grown to offer several options for seeking the information needed to make an informed decision about whom you plan to hire. These include FCRA-compliant reports like criminal background checks, credit history checks, verifications, references and motor vehicle records.
View all our recommendations for background check services on our best picks page.
ERS Pricing and Services
You do not pay a setup fee to open an account with ERS. This is especially convenient for employers who only need to run a limited number of background checks at an affordable rate.
The agency does not list pricing on its website. There are no bundled packages; instead, they offer screening services on an a la carte basis. To get started, you fill out a simple form on ERS' website, checking the services you're interested in and how many screenings you expect to perform each month. The quote is nonobligatory and free of charge.
Here's more about the screening checks ERS offers:
Criminal background checks
County criminal records search
Statewide criminal records search
Federal criminal records search
International background checks
Credit history
Verifications and references
Social Security number verification
Employment verification
Education verification
Professional license verification
Military service records verification
Character reference interview
In addition to the standard pre-employment screening reports, ERS provides other services, some of which are linked to partnered companies, like SmartBusinessReport.com and BrokerCheck by FINRA.
This list of associated services includes:
Business credit report
GSA exclusion search
OFAC-SDN and excluded parties list
FINRA Broker Check (formerly NASD)
I-9 form – Employment Eligibility Verification
Pros of Using ERS
During our research of background check companies and ERS, three features stood out to us as especially valuable:
Quick turnaround time – ERS claims it can provide a completed background check within hours. More detailed reports, like background checks on hospital workers, often return within 24 to 72 hours, which is in keeping with the industry standard. Since these searches yield such quick results, you are not left waiting several days or weeks to receive your reports.
Customizable reporting – Many competitors offer preset plans, but focuses on providing customizable reports, allowing you to select only the background checks and screenings you need. The screening agency then provides you a customized quote. This is ideal for businesses that only need a few select screenings.
Innovative technology – ERS offers innovative background screening technology that can be easily incorporated into online job applications, HRIS or ATS tracking software, which streamlines your business's hiring process.
Cons of Using ERS
We did have a few concerns with ERS, and they may be important to take note of as you consider this service:
Lengthier application process – The ERS application process can take longer to complete compared to the application process of other background check services. To open an account, you submit your company's information and fill out four forms. These forms include a client service agreement, access security requirements, end-user certification and credit authorization form. After completing these forms by hand, you must fax them to client services. After your application is received by ERS, a team member contacts you to set up your account. Although faxing these forms and waiting for a member to contact you is not an issue for many employers, it can be inconvenient for employers who want an online application process.
No online pricing – While many background check agencies list pricing for their screenings and services on their website, ERS does not. Instead, the agency will send you a price quote based on the screenings you select. Having a customized screening package is beneficial, but the lack of online pricing can be inconvenient for businesses operating on a limited budget that want to quickly check pricing to narrow down their choices.
No drug and health screenings – If you need to conduct health and drug screenings on your applicants, you'll want to consider another resource.
Customer Service and Support
To assist clients in understanding FCRA compliance and hiring laws, ERS compiled numerous resources. These documents include a Notice to Users of Consumer Reports: Obligations of Users Under the FCRA, an Employer's Guide, a summary of Consumer Rights, the Requirements for Disposal of Consumer Reports, and Additional State Requirements. ERS has also posted additional resources, including an Authorization and Disclosure Form and a Sample Adverse Action Notice, which employers can use in their job applicant screening process.
ERS can be reached by phone. The agency does not have a live chat feature, but for online inquiries, you can submit an online form and a representative will contact you within 24 hours.
Image Credit: Ivan-balvan / Getty Images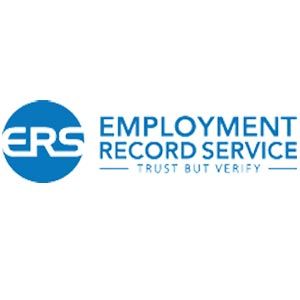 Employment Record Service
The Verdict
Employment Record Service (ERS) provides fast turnaround on FCRA- compliant criminal background checks, credit history checks, verifications, and motor vehicle record searches.

Skye Schooley
business.com Staff
Skye Schooley is a staff writer at business.com and Business News Daily, where she has written more than 200 articles on B2B-focused topics including human resources operations, management leadership, and business technology. In addition to researching and analyzing products that help business owners launch and grow their business, Skye writes on topics aimed at building better professional culture, like protecting employee privacy, managing human capital, improving communication, and fostering workplace diversity and culture.