EMSplus Review
By Lori Fairbanks
Last Modified: May 20, 2019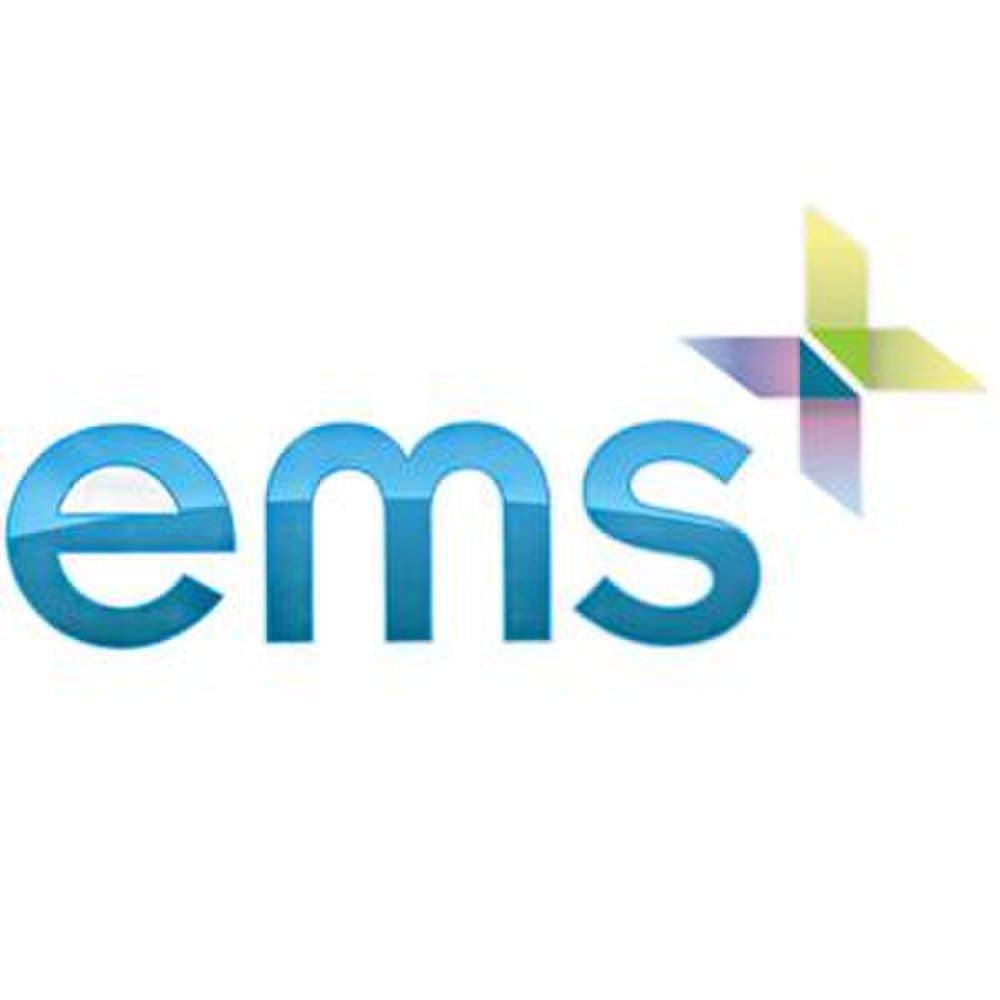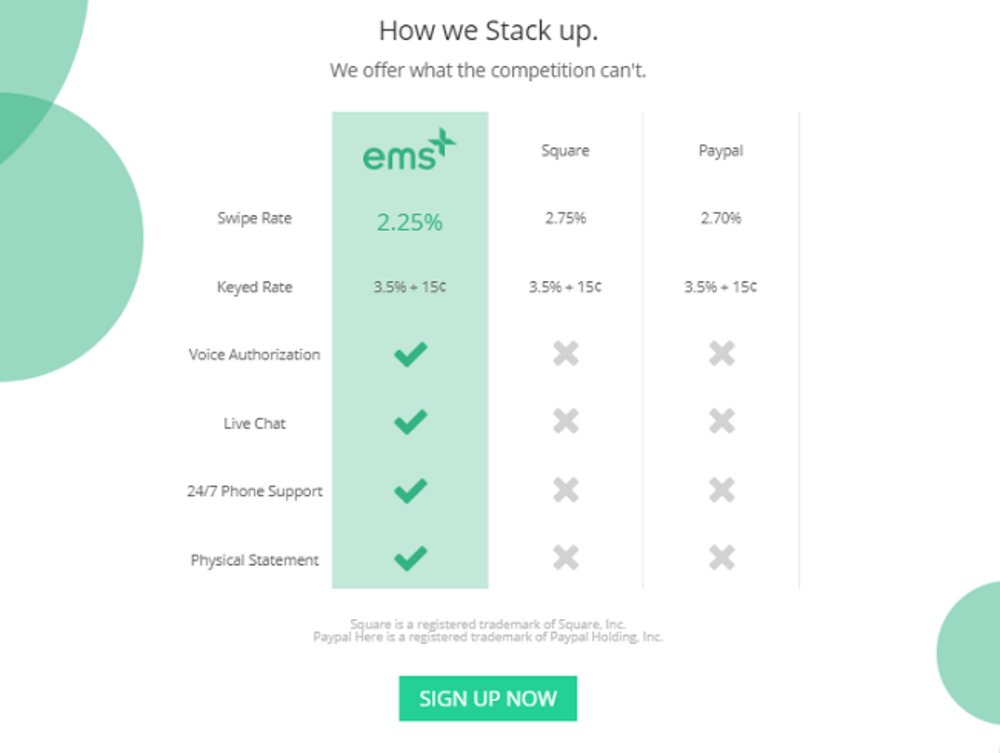 EMSplus uses the flat-rate pricing model. Its rate for cards you accept in-person is lower than its top competitors.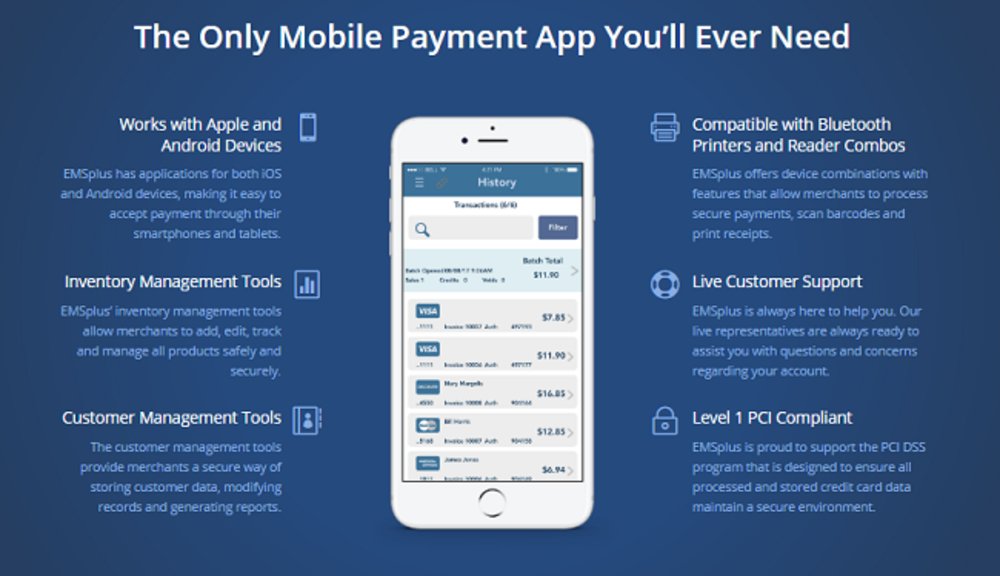 EMSplus's mobile payment app works on Android and Apple phones and tablets. It also works on the Apple Watch.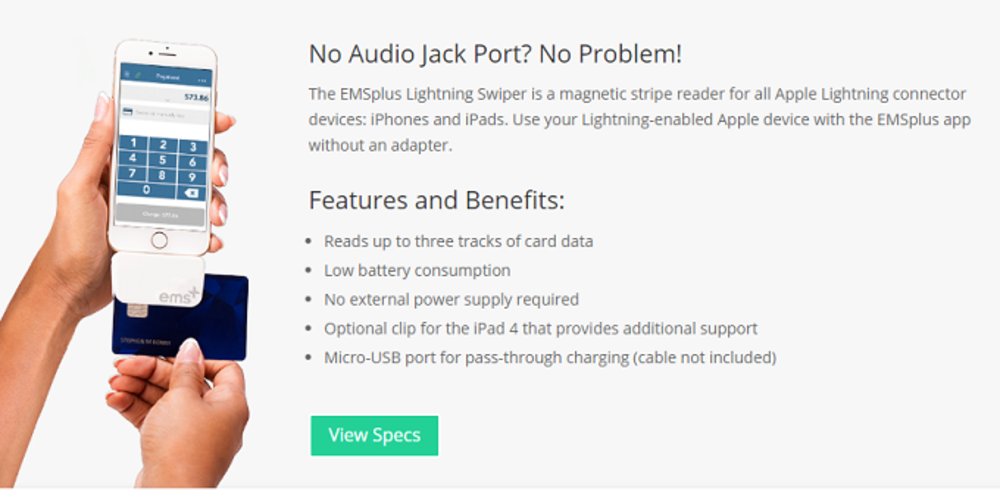 The iPhone lightning card swiper allows any user with the lightning port on their iPhone to accept payment. The device is also iPad compatible.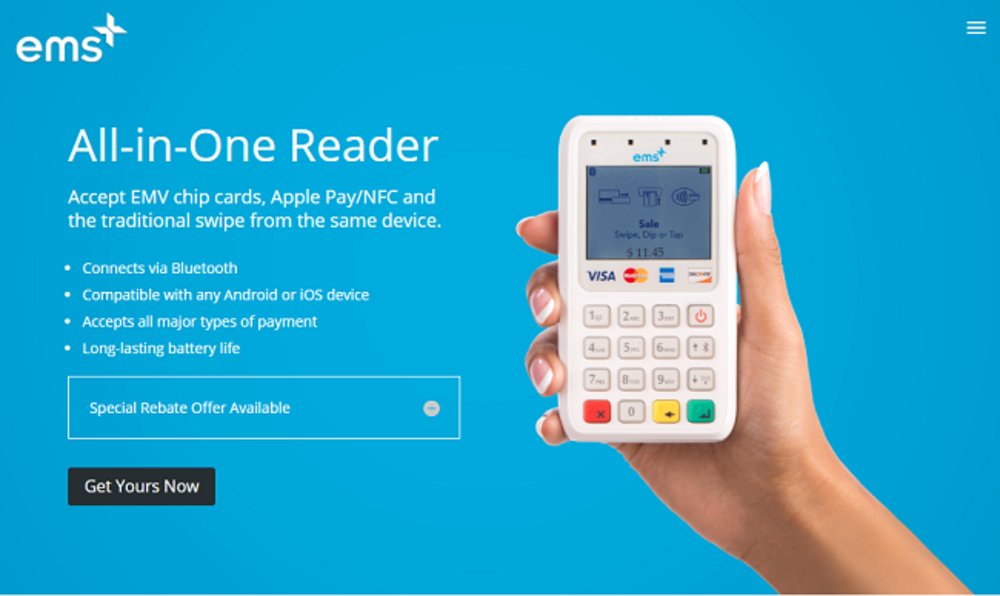 EMSplus's All-In-One Reader allows users to accept magstripe and chip cards as well as Apple Pay and Google Pay. It connects to your phone or tablet via Bluetooth.
EMSplus is the mobile processing branch of Electronic Merchant Systems, a payment processing service with 40 regional offices and more than 35,000 merchant customers across the country. EMSplus has simple flat-rate pricing with some of the lowest rates for card-present transactions, as well as 24/7 customer support. Although EMSplus offers apps and mobile credit card readers for both Apple and Android phones and tablets, we've named it the best mobile credit card processor for companies that prefer Apple devices because it has an app for the Apple Watch, which is a unique offering.
Visit our best picks page to see all our recommendations for mobile credit card processing companies.

Like many mobile processors, EMSplus provides its new merchants with a free swiper that connects via headphone jack, but it also sells a newer model that connects to the lightning port, which merchants with the iPhone 7 or newer may prefer. An EMV-compliant Bluetooth card reader that accepts chip cards and mobile wallets like Apple Pay is available for purchase as well.
Pricing & Terms
EMSplus is very transparent with its pricing and terms, posting its rates, fees, processing equipment costs and user agreement on its website so you can easily evaluate whether its within your budget before taking the time to speak with a sales rep. It has flat rate pricing, so you pay the same rate for all transactions made using Visa, Mastercard and Discover cards, whether they're debit, credit or rewards cards. American Express cards are slightly more expensive.
This processor's swipe rate for cards you accept in-person using a card reader are among the lowest of the mobile processors we reviewed. It has the same keyed-in rate as its competitors, Square and PayPal. Here's what it costs to accept credit and debit cards using EMSplus.
0.25 percent for Visa, Mastercard and Discover cards you accept in person using a card reader
0.95 percent for transactions made using American Express
0.5 percent plus 15 cents for cards you manually key in
Fees
You're not charged a monthly fee, nor do you have to meet a monthly minimum if you choose to use EMSplus as your processor. Like most mobile processors, there are also no PCI-compliance and noncompliance fees. If you have what the company considers to be an "excessive" number of chargebacks, you may be charged $45 per instance, which is more expensive than the $25 fee most processors charge.
Here's a list of fees you won't pay if you choose EMSplus as your mobile payment facilitator.
No application or setup fee
No monthly fee (sometimes called a statement fee)
No monthly minimum processing requirement
No gateway setup fee
No monthly gateway fee
No annual fee
No PCI compliance fee
No early termination or account closure fee
Optional fees
Even though there aren't any regularly recurring fees for EMSplus's basic processing services, there are services that you can add to your account for an additional monthly fee, such as the following items.
$5 per month: Recurring payment scheduling
$12 per month: Rental of EMSplus Bluetooth Printer/Swiper
Payout
It takes EMSplus two days to deposit your processed funds into your bank account, which is in line with industry averages. If you need your money faster than that, you can request next day funding. The company will manually review your application and may request additional documentation, as to qualify for faster funding, you must have a previous processing history.
Terms of service
Instead of a contract, EMSplus has a user agreement. It's posted on the company's website, so you can read it before signing up with the company. It states that the terms are month-to-month, which means that you can cancel your account at any time and there are no early termination fees to worry about.
As you would with any processor, you should read the user agreement to verify that you're familiar with all possible fees, you understand the acceptance guidelines you're agreeing to and you're aware of the actions on your account that may prompt the processor to hold your funds or close your account. Like other mobile payment facilitators, EMSplus has a lower risk tolerance than full-service processors, and you can find online complaints from merchants who have had their funds held or accounts closed.
For example, according to the user agreement, this mobile processing company may hold your processed money in a reserve account if it flags a suspicious transaction, or if you have too many chargebacks, retrieval requests or rejected ACH transfers. It may choose to close your account if you file for bankruptcy, have an excessive number of chargebacks, or if the processor discovers that you misrepresented your business type on the application.

Features
With your EMSplus account, you use the company's mobile payment app and a card reader to accept all major credit and debit cards. Here are some of the features it offers as part of its mobile credit card processing service.
Mobile credit card payment app
EMSplus has apps for both Apple and Android devices. You'll notice that the apps look different, though at the time this review was written, the version histories of both apps indicate that they've been recently updated. The Apple version supports iPhone, iPad and Apple Watch.
The EMSplus apps include a variety of standard features such as tip prompts, on screen signature capture and the option to email receipts to your customers. It also includes some basic POS features, such as inventory and customer management. Here are some of the things the EMSplus payment app can do:
Manage products: add photos, organize items into categories and track inventory
Search for products and add them to orders
Prompt for tip, with suggested amounts
Accept credit and debit cards, cash, and PayPal payments; using the All-In-One reader, you can also accept mobile wallets like Apple Pay
Scan barcodes
Store customer data
Generate reports
You can watch a how-to video for running a transaction on an iPhone and an iPad on the company's website, but there isn't a user manual or searchable knowledgebase. If you have questions about how to use the app, you can contact customer service by phone or live chat.
Apple Watch app
EMSplus is one of the only mobile payment facilitators to offer this feature. With it, you can quickly see your daily sales total at any time, from wherever you are. It also displays subtotals for card payments, cash transactions and refunds.
Virtual terminal
Included with your account for no additional cost is access to EMSplus's virtual terminal. With it you can accept credit card payments from phone or mail orders and create and send invoices to your customers.
Email invoicing and recurrent billing
You can use the virtual terminal to email invoices to your customers. The emails include a link that they can click to pay their invoices online. If you want to set up automatically recurring invoices, you can do so for a $5 monthly fee.
Processing equipment options
EMSplus gives you four card readers to choose from, including one with a built-in printer. However, only one of these options is EMV-compliant. Even though the company provides a free swiper, you should purchase and use the EMV model to protect yourself from counterfeit fraud liability. Here are the mobile credit card readers EMSplus offers.
EMSplus Free Swiper. First unit is free; additional units cost $10 each.The company sends this mobile card reader to you when you open your account. You can check the website to see if your device is compatible. If your device isn't listed, the company recommends purchasing the EMSplus All-In-One Reader. The free swiper connects to the headphone jack on your Apple or Android phone or tablet and comes in five colors. You can accept magstripe cards with this reader.
EMSplus Lightning Swiper: $79.95. This iPhone and iPad credit card reader connects to the lightning port on newer Apple devices. While it's nice to have another card reader option for merchants that use the iPhone 7 or newer devices, it only reads magstripe cards, so in most cases, you'll want to buy the EMSplus All-In-One Reader instead.
EMSplus All-In-One Reader: $49.95 after rebate, or $149 without it. This Bluetooth credit card reader connects to Apple and Android phones and tablets. It reads magstripe, chip and contactless cards and also has NFC capabilities and can accept payments made using mobile wallets like Apple Pay and Google Pay. To qualify for the rebate, you must be a U.S. resident, at least 18 years old, have an EMSplus account in good standing and process $3,000 within three months of purchase. If you need multiple readers, you can get the rebate credit again by meeting the $3,000 processing requirement for each unit.
EMSplus Bluetooth Printer/Swiper: $399.This pocket-size, lightweight printer and swiper combo connects to Apple and Android phones via Bluetooth. It only reads magstripe cards and a 10-pack of paper rolls cost $29.90.
Additional Considerations
Here's more information about EMSplus to keep in mind as you look for the best Apple-compatible mobile credit card processor for your business.
EMSplus only works with businesses, not individuals, so it's not an option if you're looking for a processor that you can use to accept cards at a garage sale.
The application is online and only takes a few minutes to fill out. You enter your name and basic information about your business, including your business type, address and Social Security number. The company runs an eight-point security check using this information and can setup your account within 24 hours. It then ships your card reader within three to five business days.
Although the website states "no credit check," the FAQs page notes that the company checks your credit report with a "soft pull." It says that a low credit score usually won't prevent your account from being approved.
If you need to begin processing before your iPhone card reader arrives, you can manually enter card details into the app or the virtual terminal, though you'll pay the higher keyed-in rate on these transactions.
EMSplus offers live chat and 24/7 phone support. In our testing, we found EMSplus's chat agents to be prompt and helpful.
Drawbacks
As mentioned above, one of the issues that mobile processing merchants frequently cite in online complaints is having their funds held or their accounts closed without notice, and you can find complaints from EMSplus merchants about this issue as well. To reduce your chance of experiencing these issues, you should read the user agreement before signing up with the company to make sure you can comply with its terms.

If you have a lot of chargebacks, the company will begin charging you $45 each, which is a higher than average amount for this fee. The exact number that triggers this fee isn't disclosed in the terms, but chargebacks are typically less common for in-person transactions than e-commerce and other card-not-present transactions.
EMSplus's online self-help resources are limited compared to those offered by other mobile payment facilitators. Although there are FAQs, an overview of app features with a video tutorial, a blog and a device compatibility page, there's no searchable database or how-to guides to help you solve or troubleshoot issues on your own. There's also a lack of information on the company's website about how to use the virtual terminal, how your customers pay the invoices you email them, how to set up recurrent billing and what reports you can run.
Editor's note: Looking for a credit card processor? Click the Compare Quotes button below to have our sister site Buyer Zone connect you with vendors that can help.

Ready to choose your The Best Mobile Credit Card Processing Solutions of 2019? Here's a breakdown of our complete coverage:

Lori Fairbanks
Lori Fairbanks has years of experience writing and editing for both print and online publications. After graduating from Brigham Young University with a Bachelor of Arts in English, she worked as a magazine editor and then as a freelance writer and editor for a variety of companies, including marketing firms and a medical university. She now writes for Business.com and Business News Daily about financial systems and services for small businesses, such as accounting software, credit card processing and point-of-sale systems.