Epson SureColor 7000 Review
The Epson SureColor 7000 is one of the better large-format printers on the market for producing photographs and graphic art. It produces prints up to 24 inches wide, which isn't massive but is noticeably bigger than you can get with tabloid printers. If you're looking for an affordable option to produce quality prints above tabloid size, the SureColor 7000 is right in your wheelhouse.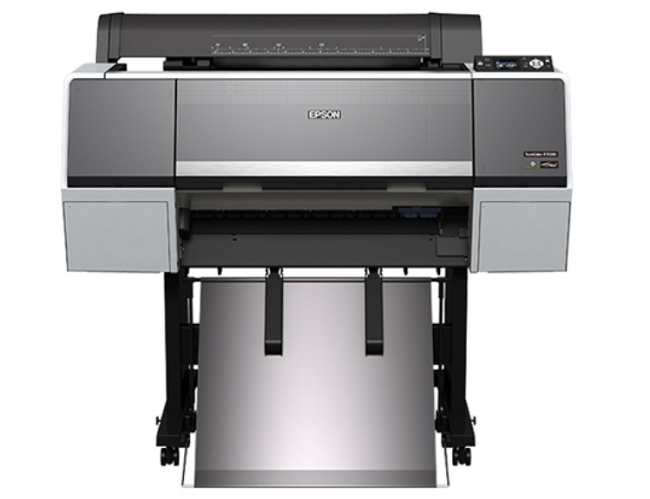 Epson SureColor 7000
The Verdict
The Epson SureColor 7000 works well for graphic designers and photographers due to its reliability and size.
To view all our recommendations for wide-format printers, visit our best picks page.
Pricing
Listed at $3,995, the Epson SureColor 7000 is on the low end of the pricing spectrum for wide-format printers, making it one of the more affordable options for small and midsize businesses. If you're looking for an affordable large-format printer with a great range of colors, this printer is worth a close look.
Many of the more expensive printers print in larger sizes than the Epson SureColor 7000, but for its size and price, this device sits among the leaders in the industry.
Product Specs
At 54 x 26 x 48 inches and 223 pounds, the SureColor 7000 is not small, but you won't find many large-format printers that aren't hulking. As far as large-format printers go, the SureColor 7000 is on the more manageable side.
The printer can produce prints at 2880 x 1440 dpi, which is a good resolution. Print speeds are roughly 2-12 minutes depending on the size of the print. If you get the SureColor 9000, which prints up to 44 inches wide, it may take closer to 40 minutes to complete some prints.
The wide range of colors makes the printer's ink options some of the best in the industry. The printer uses Epson UltraChrome HDX pigment inks, which include 10 different colors. One of the best aspects of the ink is the option to use four different versions of black, which helps create detailed images. This printer uses a PrecisionCore TFP printhead.
The shelf life of the ink is two years from the production date or six months after opening. This allows plenty of time to use the ink, so businesses shouldn't feel rushed to go through all 11 colors.
The printer has an accuracy rating of +/- 0.2% of the specified length. That's a small room for error and shouldn't be a major concern for photographers using the printer. Sheet loading for the printer is automatic if the sheet is less than 0.5 mm thick; otherwise, it's a manual process.
Like most of the top options on the market, the SureColor 7000 works with both Windows and Mac operating systems.
Features
The various inks stand out as one of the Epson SureColor 7000's top features. With its variety of color options, this printer makes sense for photographers and graphic artists. The different blacks are denser than in previous generations of ink, which makes for better contrast within images. The prints from the SureColor 7000 pop off the paper. The inks are also designed to be long-lasting, with about twice the permanence as the previous generation of ink.
The ability to create borderless prints at widths of 10, 13, 16, 17 or 24 inches makes this a versatile printer that appeals to most photographers printing within the 24-inch mark. If you're looking for prints up to 44 inches wide, the SureColor 9000 will meet your needs.
A built-in media cutter is another perk, especially for photographers and artists. The cutter is exact and can cut fine art without damaging it. This is another feature that shows Epson designed this large-format printer with artists and photographers in mind.
An optional internal print server can store up to 200 jobs. The internal server has strong security measures and allows your business to save print data from both PCs and Macs. This add-on can be an enticing feature for businesses expecting to use the printer frequently. Another add-on that businesses may benefit from is the SpectroProofer UVS, which helps with color calibration and UV prints.
Overall, this printer offers a competitive set of features. The offerings won't blow you away, but it's a solid model that deserves serious consideration by artists or photographers in the market for a printer. Even if you aren't pursuing that career path full time, this printer is affordable and effective enough to be worth the cost for amateur or side-business photographers who need an elite printer.
Customer Support
The Epson SureColor 7000 comes with a one-year warranty, which includes priority toll-free technical phone support should you run into any issues with your printer. You'll hear back from a representative in a timely fashion, since you're on a priority list, so you should be able to quickly resolve any problems and put the printer back to work.
The warranty is void if you break any of the specified rules, like using unapproved inks that aren't from the Epson brand. The printer is designed to work with the specific Epson inks, and while the inks might be pricier than a knockoff brand, using cheaper ink puts you at risk of losing your warranty.
Buying a two-year warranty is an option, and that's something you should discuss with the seller if you decide to purchase the printer and want additional protection.
We found it easy to reach Epson representatives during our research. They're happy to not only walk you through the sales process, but also explain which of their printers are the best for certain use cases. Helpful customer service is a benefit of using an Epson printer.
Image Credit: wir0man / Getty Images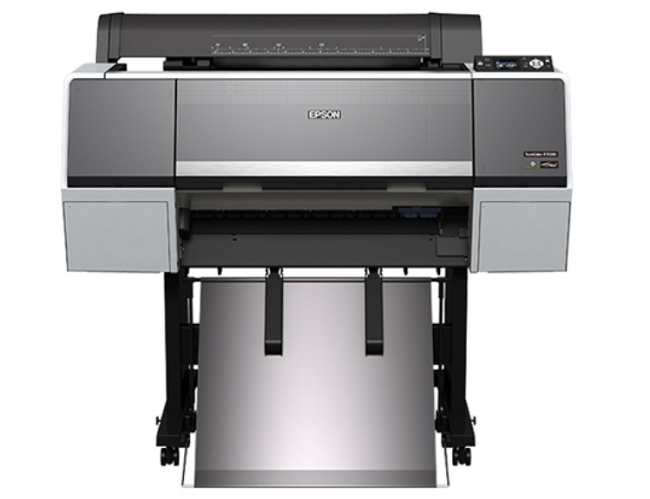 Epson SureColor 7000
The Verdict
The Epson SureColor 7000 works well for graphic designers and photographers due to its reliability and size.

Bennett Conlin
business.com Member
Bennett is a B2B editorial assistant based in New York City. He graduated from James Madison University in 2018 with a degree in business management. During his time in Harrisonburg he worked extensively with The Breeze, JMU's student-run newspaper. Bennett also worked at the Shenandoah Valley SBDC, where he helped small businesses with a variety of needs ranging from social media marketing to business plan writing.