Epson SureColor P20000 Review
The Epson SureColor P20000 is on the larger side of the wide-format printers that might help small and midsize businesses, but its pricing is reasonable, and its prints are reliable and detailed. Its use of the new Epson UltraChrome Pro nine-color pigmented ink set makes this printer an ideal option for both color and black-and-white prints. Prints can go up to 64 inches wide, which is wider than most of the competition offers.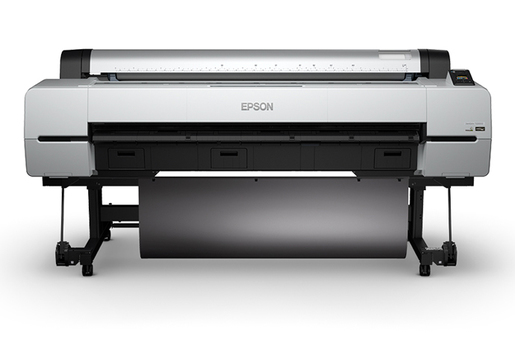 Epson SureColor P20000
The Verdict
The Epson SureColor P20000 is a quality option for midsize and large businesses, producing quality prints both in black and white and in color.
This isn't one of the most expensive wide-format printers around. Its $11,995 price tag is at the high end within the middle of the pack, making it a reasonable pick.
To view all our recommendations for wide-format printers, visit our best picks page.
Pricing
The P20000 can more than pay for itself with top-quality prints and the reliability to assure you that each will turn out well. Its ink comes in 110-, 300- and 700-milliliter cartridges. At about $200 for the large size, it's on par with similar inks from other brands, but a full ink set can set you back $2,000. The P20000 also has three separate maintenance ink boxes (each costs $75) to catch the overflow. They typically last for hundreds, if not thousands, of prints and take less than a minute to change.
Given its color range and different abilities, the printer's price of just under $12,000 is fair. Small and midsize businesses that print large-format items consistently should take a close look at the Epson P20000. It's reliable, and it has a variety of quality inks, making it well worth the price tag if you use it frequently.
As with other printers, you may want to consider leasing options instead of purchasing the printer. Leasing allows you to pay smaller amounts over time rather than $11,995 upfront.
Product Specs
At 95.1 x 45.1 x 38.4 inches, the P20000 is a lot of printer. Weighing a substantial 377 pounds, it requires a few people during the setup process. It comes with a wheeled stand that includes a fabric basket to catch its output.
This printer is also so long that it will likely be best set up in its own room or in an out-of-the-way corner of an office. The P20000 is one of the larger printers we reviewed, and space is critical to consider when you're looking for the wide-format printer that best works for your business. If you go with the P20000, make sure you can fit the printer in your office.
Using Epson's PrecisionCore micro-inkjet technology, the P20000 has 800 nozzles that combine to print up to 1,200 x 2,400 dpi images. That's a total of nearly 2.9 million dots per square inch at its highest quality setting. Inside, the P20000 has a 320GB hard drive for holding images and software.
Its UltraChrome Pro aqueous pigment inks set this printer apart from the crowd. With 10 colors at its disposal, the P20000 has a single yellow ink, two shades of both cyan and magenta, three different grays, and two blacks. The result is excellent photorealistic prints with smooth gradients and details that other printers often miss.
This printer is appropriate for creating a photographic museum exhibition, theatrical posters or a marketing campaign. However, its output can't withstand prolonged outdoor weathering. For indoor displays, though, the P20000 is one of the top options on the market.
Unlike its competitors, the P20000 has only a single roll available for input media, but it can also use precut sheets of paper, cardstock or poster board of up to 40 x 62.2 inches and 0.07 to 1.5 mm thick. It can use matte or glossy photographic paper, and Epson also sells a variety of fabrics to print on. However, there's no outdoor vinyl stock available for this printer.
Features
As the paper moves through the P20000's rollers, a CMOS optical sensor tracks its movement. If it is fed at the wrong speed, develops slack or starts to skew, the sensor detects the problem and corrects it on the fly. The printer also alerts you if there's not enough paper to complete the job.
When it's finished printing, the P20000's automatic sheet cutter avoids skewing the edge, making perpendicular cuts. The output print falls into a fabric catcher, ready for pickup.
Unfortunately, there's neither a multifunction model nor an optional scanner for copying large items or turning them into digital files. The printer has a 2.6-inch color touchscreen for checking ink levels, altering the configuration and making adjustments.
It may not exactly be a speed demon, but the P20000 churns out prints at 1,311 square feet an hour in single-pass draft mode on plain paper, according to Epson. That falls to 209 or 104 square feet an hour for top-level fine art production printing. A D-size (24 x 36-inch) print takes less than two minutes. For exhibition-quality prints, the speed drops to 68 square feet an hour, as 24 passes are necessary. Clearly, there's a wide range of speeds depending on the quality of image you're looking to produce. The printer excels at producing large posters, indoor display graphics, fine art and exhibition-quality images.
With the ability to produce some of the sharpest and most vibrant prints around, the Epson SureColor P20000 is in a class by itself. It can deliver 64-inch prints, which is wider than its competitors offer. Its nine-color ink system and good variety of compatible print media combine to make exceptionally high-quality prints.
That said, it falls short of the mark with expensive ink that can't be used outdoors and the lack of a second input roll for quickly changing the media feedstock. Epson doesn't sell an optional scanner for the P20000 either.
Customer Service
The P20000 has a one-year warranty, with two- and three-year extensions available for about $1,000 a year. If you want an extension, you need to buy it while the original warranty is still in effect. The Epson website offers drivers, accounting tools, remote operations software, ICC color profiles for all the available media and other add-ons.
Additional reporting by Brian Nadel.
Image Credit: wir0man / Getty Images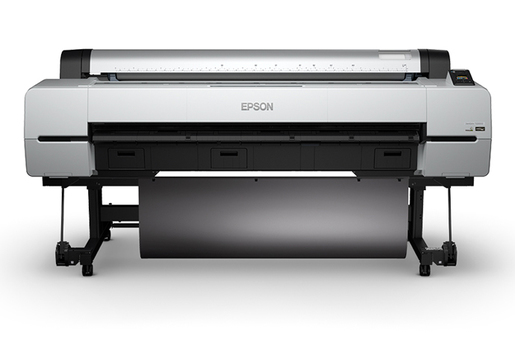 Epson SureColor P20000
The Verdict
The Epson SureColor P20000 is a quality option for midsize and large businesses, producing quality prints both in black and white and in color.

Bennett Conlin
business.com Member
Bennett is a B2B editorial assistant based in New York City. He graduated from James Madison University in 2018 with a degree in business management. During his time in Harrisonburg he worked extensively with The Breeze, JMU's student-run newspaper. Bennett also worked at the Shenandoah Valley SBDC, where he helped small businesses with a variety of needs ranging from social media marketing to business plan writing.